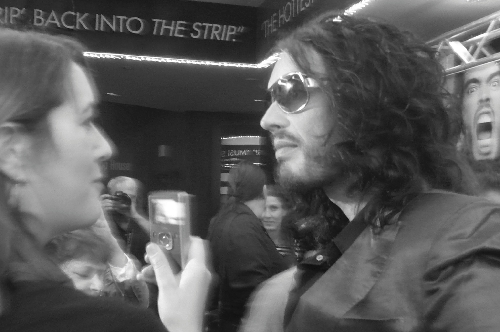 There's an idiotic scene at the end of Martin Scorsese's dull movie "Casino" where the infamous narrator whines: Boo hoo, all the dangerous mobsters are in jail, so now the only people left in Vegas are decrepit oldsters who eat at buffets, with their walkers.
No offense to the mob, or old people, or buffets, but Scorsese can eat it.
The Vegas Strip is a far more entertaining thrill ride than the graffiti-puke of Scorsese's New York — especially at night here, especially in suites and showrooms, especially when famous people are in proximity, no matter how dumb they are.
And now for a second summer in a row, Hollywood — which has for decades focused on casino thieves, mobsters and Elvis impersonators — is finally capturing our contemporary Vegas glitz (what I call "Gatsby parties").
First came last year's "The Hangover," the surprise screwball-comedy hit of the summer, depicting a sobered-up bachelor party amid sleek Caesars suites, a shiny Mercedes Benz, and Mike Tyson's tiger.
The movie's influence has been downright bizarre. Alec Baldwin has snarked that kids think a film experience is watching "The Hangover" over and over. Last Halloween, the trend on the Strip was wearing the "Hangover" costume of the bearded-guy-with-a-baby. And at industry trade shows, men are often overheard repeating "Hangover" lines ad nauseam (not, mind you, "Casino" lines).
In a way, "The Hangover" was an antidote to President Barack Obama's dour put-downs of Las Vegas. The president told America, don't waste your money here. The happy-go-lucky tone of the film said, yes, you should if you want some crazy, ostentatious fun in your life.
And so, this Friday brings the release of "Get Him to the Greek." Will it be this year's "Hangover?"
"Greek" is also a madcap comedy doing up Vegas. This one follows a drug-addled rock star (Russell Brand) and his record industry lackey (Jonah Hill) as they enjoy a long, troubled stop in Planet Hollywood suites, enjoying glamorously intoxicated hookups and humor, during a trek from London to L.A.'s Greek Theater.
By embracing the wildness of Vegas, the tone of "Greek" will serve as tourism promotion (incidentally, as the "Hangover" did).
Actually, it already has served up tourists.
A little more than a week ago, Brand and Hill headlined a red carpet premiere at the Planet Hollywood theater where Holly Madison takes off her clothes nightly.
The main floor of the hotel was lined with hundreds of people craning to glimpse any speck of celebrity.
And on the mezzanine level, we the constant press (scores of us) waited our turns to perform flash interviews.
First came Madison (all smiles) and Matt Goss (hugs and handshakes), then Tom Felton (a playful Brit), who plays Draco Malfoy in the "Harry Potter" movies, and who has a brief cameo in "Greek."
Then Jonah Hill walked the carpet, answering obligatory questions about what it's like to film in Vegas: "Fun … blackjack … full throttle."
Hill was guardedly nice but gave me and the guys from People and In Touch exactly 90 seconds before he stormed off when someone (not me) asked him about his diet. (Hill is getting larger.)
At last, British comedian and acting sensation Russell Brand walked the carpet in dark sunglasses. He feigned indifference about the state of his wedding plans with singer Katy Perry. ("I don't know, because I'm not a girl.")
He wouldn't be opposed to a Vegas wedding: "Why not be married by Elvis Presley — or even Aaron Presley in his unnourished form in a jar!" (I'm sure he was referring to Elvis' stillborn twin, Jessie Garon.)
Filming in Vegas was "bedazzling. It was beyond Satan's wildest dreams for us as a species."
On camera for the film, he said: "I got set on fire, I got pushed in a fountain, I snugged (kissed) Jonah Hill, I pretended to put heroin up Jonah Hill's bottom. Those are just some of the memorable moments."
His description is accurate. In "Greek," Brand reprises his role as a fallen-off-the-wagon addict and rock star, a spinoff character from "Forgetting Sarah Marshall."
Throughout the screening, the audience laughed heartily, as producers certainly hoped. Afterward, Hill, Brand and writer/director Nick Stoller sat on stage for 11 minutes of Q&A.
Russell joked that he, like his character, might go into music someday: "I may release a series of sea shanties. … Arrr."
Stoller said filming in Vegas posed a fun-factor challenge: "It's a tiny bit tiring, shooting here."
After the Q&A, I heard through the grapevine that Hill and Russell (an actual recovered addict) were tired and didn't party. Meanwhile, tourists and various locals (including some of my friends) did their best to turn the rest of the night into a hangover-worthy evening. But those are stories for another day or another movie more modern than "Casino."
As for "Greek," reviews won't come out till the end of the week. But regular people who saw "Greek" in Vegas and at a college screening elsewhere have posted thoughts online.
Someone at CinemaBlend.com said "Greek" is not as good as, or similar to, "Forgetting Sarah Marshall," but it's "hilarious" and it's "kind of like 'The Hangover' meets 'Almost Famous.'"
That writer also pointed out, "there isn't a drug that isn't taken or a random drunk slut who isn't taken advantage of" in the movie; Brand is funny as usual; Hill is "this generation's John Candy"; and Sean "Diddy" Combs steals the movie. Don't be surprised if a lot of reviews come down like that.
If "Greek" doesn't become a big hit, it will merely join the ranks of other Vegas also-rans.
If it does blow up, the line I'll be waiting people to repeat ad nauseam has to do with singing karaoke into a woman's hi-there.
Doug Elfman's column appears on Mondays, Tuesdays and Fridays. Contact him at 383-0391 or e-mail him at delfman@reviewjournal.com. He also blogs at reviewjournal.com/elfman.