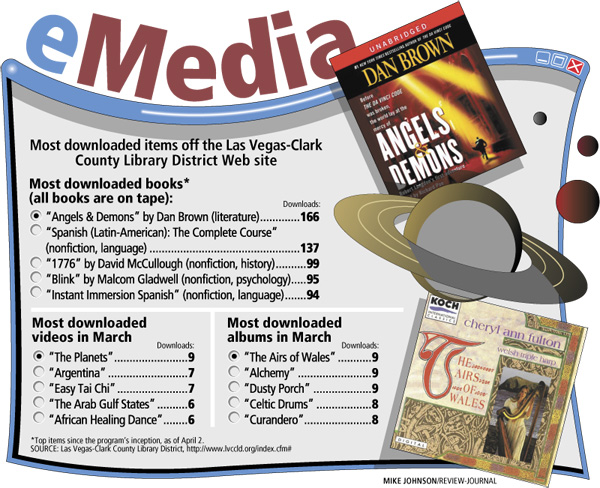 When Lauren Stokes travels, she brings a library book to entertain her.
But she doesn't have to worry about picking up a book when the library is open, and she doesn't have to bother returning it.
With the library district's eMedia section, patrons can download books, music, movies and books on tape from their home and not worry about library fines.
Stokes, manager of the virtual branch for the Las Vegas-Clark County Library District, said offering library books online was just the latest of the district's efforts to make its services more available.
"With the library closed and you need a book, how nice is it that you can just download it?" Stokes said.
About 21,000 books and other files have been downloaded for free from the library district's Web site since the service was introduced three years ago, and the district expects to spend roughly $300,000 on the eMedia program during the fiscal year ending in June.
That's still a minuscule amount compared with library checkouts. More than 7.8 million books, CDs and movies have been checked out since July 1, 2006.
The library district has managed to keep up with emerging media by offering DVD movies and music CDs at its 24 branches, Stokes said.
With the bar code from a library card, eMedia users can download various books for viewing on a PDA or a computer. They can also download books on tape, movies and music.
The files expire on their own after three weeks.
Early this year, a video-on-demand service called MyLibraryDV was added to the Web site. Library spokeswoman Patricia Marvel said the library district is one of the first to begin offering the service in a test-trial form.
MyLibraryDV offers cooking, travel shows and classic and independent films. Patrons can install the program for free off the library's Web site, www.lvccld.org.
Among the most popular downloads from the eMedia section are popular fiction books on tape, such as Dan Brown's "Angels & Demons."
Rick Warren's "Purpose-Driven Life" — one of the best-selling books of all time — is also high on the list.
But self-help books, including the "Dummies" series, and foreign language programs are most popular with users, according to Robb Morss, deputy director for the library district.
Struggling high school students might also enjoy the entire collection of "CliffsNotes," which can be viewed from the district's Web site for free.
"It runs the gamut," Stokes said. "We have something for everybody."
There are a few drawbacks to the program, however.
Most of the audio files are downloaded in Microsoft Windows Media format, which can be problematic with Apple Macintosh computers, and MyLibraryDV doesn't support Macs.
Also, those audio files won't play on Apple iPods, the most popular portable music player on the market.
"Right now, our primary goal is our content," Stokes said.
Many popular books and a few popular movies are offered for download, but Stokes and Morss said copyright laws are restricting most popular titles from being offered.
"Whatever the industry is supporting, we'll support," Stokes said.
A wide selection of IMAX movies and independent movies are available. Most of the music is classical and world music.
Since the services are downloaded without the user ever stepping into a library, Morss and Stokes said they could only speculate on the demographic of people using the service.
"They're probably folks that are ahead of the curve," said Morss. "They're probably people who bought CDs when they were 20 and 30 dollars."
ON THE WEB Las Vegas-Clark County Library District www.lvccld.org/ index.cfm#