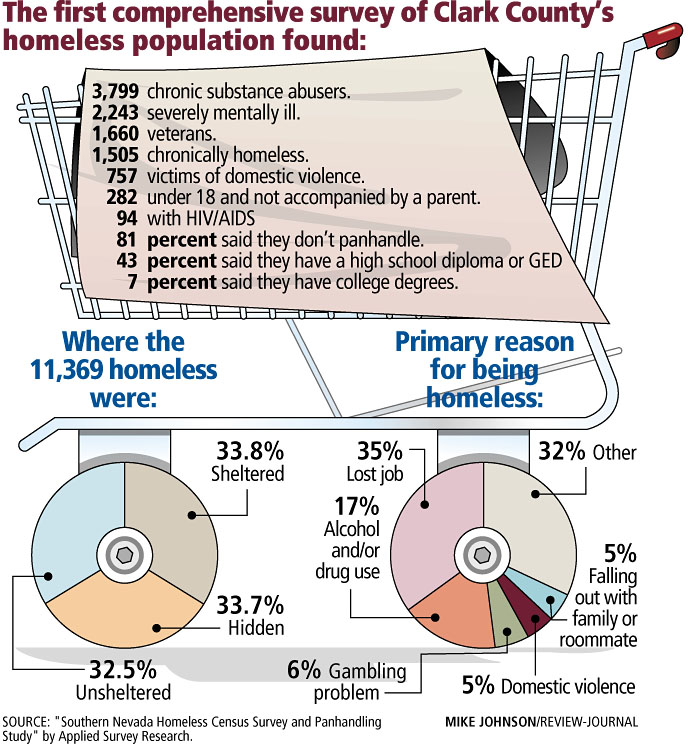 A large-scale count of Clark County's homeless population found a significantly lower number of homeless people living in the valley than many officials and advocates had expected.
On any given day, about 11,370 people are homeless in the county, according to results of an intensive January homeless count released Thursday by the Southern Nevada Regional Planning Commission's Committee on Homelessness.
Social service providers and advocates for the homeless had estimated 14,500 homeless people lived in the valley.
The last homeless census, conducted in 2005, put the tally at about 13,000.
The 2005 estimate was based on a sampling of the homeless population rather than a person-by-person visual count.
Because the general population has continued to grow and the pool of low-rent housing has continued to shrink in the past two years, the 2007 count's organizers had predicted a moderately larger number of homeless people than the 2005 figure.
The new, lower total was little consolation to those who work to help the homeless in the valley.
"It's a sad, horrible number that should not be celebrated," said Linda Lera-Randle El, director of the Straight from the Streets homeless outreach program. "Whether it's 11,000 or 100, it's too many."
She was "glad that it appears to be less than we estimated," however, and is "hoping that means we're actually ending some people's homelessness."
Shannon West, Clark County's regional homeless coordinator, said the 11,369 total doesn't mean the valley has gotten a handle on its homeless problem.
"It's a point-in-time number that doesn't take into account the different incidents of homelessness," West said. "It doesn't indicate how many incidents we've had in a year."
The new count, in fact, estimates that 50,500 people in Clark County experience homelessness at some point each year.
Joey, a 26-year-old homeless man who was hanging out Thursday afternoon in downtown's homeless corridor, said he doesn't think the number of homeless people in the valley is shrinking.
"I don't know where they are getting their facts from," he said. "There are more people out on the street by about tenfold than there were a year or two ago. The shelters are filled up. There are people everywhere."
Joey, who is clean-cut and was wearing a black bandanna wrapped around his head, said he has been homeless off and on for two years.
In many ways, he fits the profile that emerged from the report released Thursday.
He's white, became homeless after losing a job, sleeps on the street and often visits area shelters for free food.
He doesn't consider himself a "typical homeless person."
"I don't drink or do drugs," Joey said.
The survey that followed the count of Clark County's homeless population found that a significant number of homeless people are chronic substance abusers or are severely mentally ill.
Many of those findings were expected, but the report contained disturbing details, advocates for the homeless said.
In an electronic message, Kathleen Boutin, director of the Nevada Partnership for Homeless Youth, said she was disheartened that the census found 282 unaccompanied homeless youths younger than 18.
Boutin said that number, "on any given day, is high."
West said she was alarmed that the count found 1,505 people who were considered "chronically homeless."
Service providers typically define chronic homelessness as experiencing several bouts of homelessness over a few years or being homeless for a year or more.
The point-in-time estimate of homelessness included shelter, hospital and jail numbers, people counted on the street and those identified through a telephone survey as living with others because they can't afford their own residences, a category the report refers to as "the hidden homeless."
Count organizers recruited homeless and formerly homeless people to help with the count, and those recruits later returned to the field to survey homeless people about demographics and shelter use.
The surveys found that chronic substance abusers made up the count's largest number of homeless people, at 3,799.
Severely mentally ill homeless people made up the next largest group, at 2,243.
Homeless veterans made up about a quarter of the valley's homeless population.
But some people were counted in more than one category. A homeless veteran, for example, might also have substance abuse problems and a severe mental illness.
"Some have a bunch of co-occurring conditions," said Peter Connery, vice president of Applied Survey Research, the company that conducted the count.
He said the survey also found that about 70 percent of the valley's homeless population is male.
The top five reasons people said they ended up homeless were loss of a job, alcohol or drug use, gambling problems, domestic violence and arguments with family or friends with whom they had been living.
Other findings include:
• While 47 percent of the valley's homeless population is white, "African Americans are obviously over-represented" at 33 percent, Connery said.
• Sixty-five percent of those counted said they were living in Southern Nevada when they became homeless. That "disproves the magnet theory" that the valley draws most of its homeless population from other areas, Connery said.
• Nineteen percent of those surveyed said they panhandle.
• Ten percent of the valley's homeless people are Hispanic.
West said results of the January count will soon be posted on the homeless committee's Web site at www.helphopehome.org.
The census was part of a $325,000 contract with Applied Survey Research, a California-based nonprofit social research firm that has completed similar counts in Los Angeles and Atlanta.
The homeless committee's contract with the company also calls for a summertime count.
"We'll check back in to see if we trend differently in the summer," West said.
Joey hopes to be off the street by then.
"I'm job-searching all day," he said.