Homeless families find relief
October 29, 2008 - 9:00 pm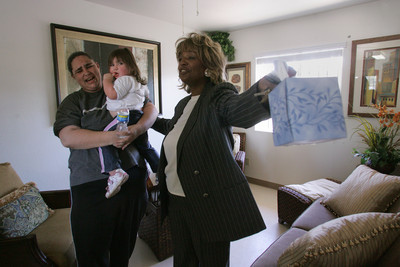 Peggy Luken walked through the door of her new home on Tuesday and immediately burst into tears.
"I'm so excited," Luken said while clutching her 18-month-old daughter, Savannah. "I can't believe it."
It had been years since Luken, a homeless single mother, had a place to call her own.
Hers was among five homeless families who will move this week into newly refurbished housing units on Adams Avenue and D Street.
The five, one-bedroom units, owned by Lutheran Social Services of Nevada, recently received $100,000 in renovations courtesy of local builders Pardee Homes and Newland Communities and the nonprofit HomeAid Southern Nevada.
The units were gutted, painted and given new bathroom and kitchen fixtures, flooring and furniture in preparation for being turned over to the families.
Luken, who with her daughter has been staying with a friend and at The Shade Tree shelter, said she was overwhelmed with joy over her new home and looked forward to having some privacy for the first time in years.
"Now I can say, 'Welcome to my home,' " she said. "I'm going to work on keeping my home, getting a job and raising" Savannah.
The families can stay in the homes up to two years, said Denise Goodwin, program manager for Lutheran Social Services. In the meantime they undergo intensive case management and take classes to build parenting, job and other skills, she said.
The five families include four single mothers, one couple and eight children, all of whom have been homeless for varying lengths of time.
Their new neighborhood isn't perfect.
Those gathered for Tuesday's housewarming party for the families, for example, paused to watch as Las Vegas police suddenly surrounded a home across the street and arrested several men.
Still, it's a far cry from a local homeless shelter.
"To have this kind of generosity — I never thought it would happen," Luken said.