Homes focused on family and fun — PHOTOS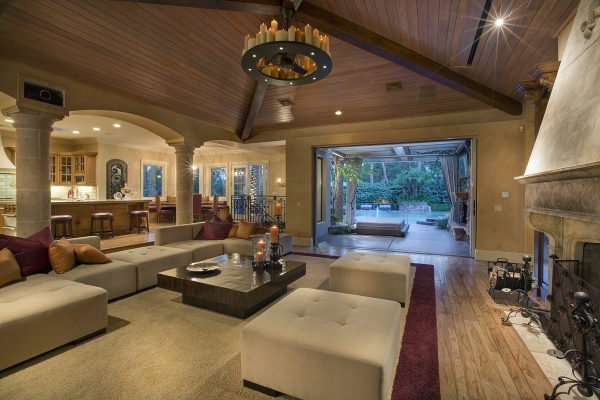 Shaded by voluminous trees on a quiet cul-de-sac in northern Summerlin'€™s Trails village, a surprising home balances two essential aspects of contemporary upscale home living: entertaining guests and everyday life.
The pair doesn'€™t always align perfectly, but Gene Northup, of Synergy Sotheby'€™s International Realty, points out that this 7,565-square-foot residence unites both as he gestures toward the grand room.
The immediately inviting space,€" which opens up just beyond the front entrance,€" is pillared and features a gorgeous fireplace with a fleur de lis motif high above the mantle. Easily accommodating a large sofa-banquette arrangement, the sunken gathering spot exudes the robust aesthetic of a French country lodge.
"We'€™re in a home that is very focused on family and fun," Northup said. 
And it is brimming floor to rafter with entertainment amenities.
"€œIt is very much a '€˜guy'€™s toy box,'"€ he said, while noting that the architecture maintains a refined sense of décor at the same time.
But this is definitely a home for good times, which is deftly demonstrated as Northup pushes a button on one of its many touch-screen command consoles.
"Let me show you this," he said as a broad projection screen swiftly descends from the ceiling in front of the fireplace. voilà. it'€™s movie night.
The wood-lined residence is fully loaded and wired for cutting-edge media enjoyment. Northup next opens a pair of slender cabinets in the corner of the great room. They contain a state-of-the-art Kaleidescape system.
"€œYou drop a DVD in it. It rips the DVD in full-res,"€ Northup said. "€From any TV in the house, you can pull that DVD."€
"€œWe call it distributed audio and distributed video,"€ he added.
Kaleidescape technology also plays Blu-ray discs. Music can also be streamed throughout the home.
The great room is also notable for being completely open to the professionally appointed kitchen.
As prodigious food and beverage preparation is so essential to quality entertaining, the gourmet galley comes with a heavy-duty Dacor oven and range set. The refrigerator-freezer is Sub-Zero. The kitchen also has dual Fisher & Paykel dishwashers. These can each be run in separate half-sections. In reality, the kitchen has a quartet of dish-cleaning appliances.
Northup points out that Fisher & Paykel equipment won'€™t drown out mid party meet-ups around the large, marble-topped island.
"€œThey'€™re extremely quiet. You can do a wash and still have a conversation,"€ he said.
The kitchen is flanked on both right and left sides with the formal dining room and a breakfast nook, respectively. Both are open to the great room and can easily accommodate simultaneous buffet service and a sit-down area for guests in the dining phase of a major get-together.
Walking outside, Northup moves the tour to the pool area just beyond the great room.
"€œYou'€™ve gotta have a swinging bed," said Northup, tugging on a rope of a large, all-weather cushion suspended in a solid, square frame above the patio floor.
Along with plenty of room for daybeds and outdoor lounge furniture, the poolside also features a built-in Dacor barbecue station for serious grilling. There also is a twist taken from al fresco-forward restaurants: A circular bar table has a glass pebble-lined, gas-lit "fire pit"€ at its center. It makes nighttime soi·rées even more evocative.
The pool is triple-scalloped in shape. It has a built-in fountain and an elevated whirlpool, too. It is ringed by trees and verandas,€" so valuable in sweltering, mid-summer afternoons.
Adjacent to the pool is the casita. It is one of the newer elements of the property.
"€œTwo years ago, the owner went through a $2 million remodel,"€ Northup said.
"€œThis originally this was the garage,"€ he said, while opening the casita'€™s front door. "€œThey turned this into a pool room/game room/guest room."€
It is a true game room, indeed. It contains a billiards table, and a glass-tiled corner is taken up by a wet bar that includes a microwave-convection oven combo, two-burner cooktop, refrigerator and dishwasher. There also is a full bathroom and a Murphy bed that swings down when the party'€™s over.
Looking out the casita'€™s windows to the new four-car garage and a loft level above, Northup comments on the optical illusion of the home. It's much bigger inside that it appears from the front yard.
"The home is very much a sleeper,"€ Northup said. "€œStanding on the street, you don'€™t realize how much is there."€
As the home was upgraded for a family with school-aged children, it has an entertainment aspect made for youngsters: The loft has a media room for conversations and video game-playing.
"You can send the children upstairs and still have your adult time down here. They'€™re separated areas,"€ he said.
For overnight guests, the home also has two en-suite bedrooms just down a hall from the great room.
Walking through the kitchen area, Northup heads for a corner with a downward staircase.
"We'€™ve saved the best for last,"€ he said.
At the bottom of the stairs is another game room. It could accommodate a billiards table, just like the casita. It currently holds a pingpong table.
At the head of the wet bar, Northup demonstrates one of the Crestron automation panels that controls the home'€™s lighting, environmental comfort levels and security system.
"€œI can turn the whole house down,"€ he said as every interior bulb dims to dark. Then he hits a different button and the lights instantly dial back up.
"€œI can set the lighting to different modes,"€ he added.
Oh yes, the subterranean game room also has a climate-controlled wine cellar that can hold some 1,000 bottles.
Of course, even consummate hosts need some down time and personal space between events.
The master bedroom area fits this bill wonderfully. The spacious bedroom itself has a fireplace, cathedral ceilings and French doors opening onto the pool area. The master bath has accoutrements such as a raised jetted tub, a large stand-up shower, separate commodes and a bidet. It is adjacent to a shelf-lined walk-in closet the size of an average home'€™s junior bedroom. Further, it is linked to an exercise room that has a wet bar for handy access to chilled bottled water and sport drinks.
It'€™s an imminently livable residence for a family. But, as Northup points out, it was consciously built for socializing and having fun with guests.
"€œIt entertains inside and outside. It just flows seamlessly,"€ he concluded.