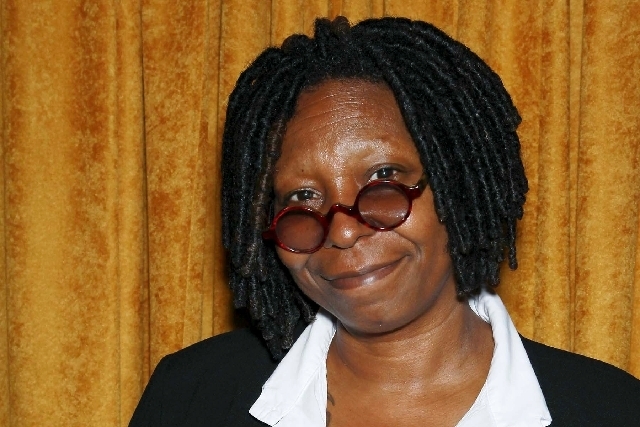 Dear Republicans, here comes liberal icon Whoopi Goldberg to ruin your day again. She will be doing stand-up Friday at Treasure Island, and she is so popular, there aren't many seats left.
"I will be performing in a hoodie, just FYI — just to prove you have something to be worried about," Whoopi tells me to tell you.
But Republicans should be happy to know the man atop Whoopi's joke list is Anthony Weiner, the married Democrat who keeps showing us photos of his primary sexual characteristic.
I asked Whoopi what she makes of Weiner.
"Whatever I make of him, I certainly don't make him mayor," she said. "Should we all be looking forward to the new Hanukkah cards?"
Whoopi still isn't smoking. She quit cigarettes a year ago. The results?
"I ate myself into a new ass," she says. "It kept getting bigger and bigger. Frightening."
She loves Vegas enough to move here someday — "maybe."
"I'm a good neighbor, because I like (things) to run smoothly."
But even if she moved here, she wouldn't try to capitalize on her long-standing love of singer Tom Jones.
"I adore him," she says. "Now I know his kid. You can't bang somebody whose father you know. I just had to let it go."
If you're wondering, Whoopi is always one of the nicest and silliest famous people I talk to regularly. I asked her what else I should tell you.
"Tell them what a bitch I am. Tell them how horrible I was to you: 'I called that bitch and she was just as nasty as can be. She was horrifying. She kept fartin' on the phone.' "
DENTISTRY JOKE
Comedian and actor Kevin Pollak is also in Vegas this Labor Day weekend, performing stand-up Friday through Sunday at Harrah's Improv.
Pollak will soon direct a documentary, "Misery Loves Comedy," about comedians.
"It's one of those weird actual jobs that everyone thinks they can kind of do, which is to tell a joke," Pollak says.
"On average, as much as 80 percent of the populace shares jokes with each other. That's like dabbling in dentistry. And who does that? No one."
Pollak hosts two podcasts online. He interviews famous people on his established podcast "Kevin Pollak's Chat Show."
In his new podcast, "Talkin Walkin," he does the whole thing in the voice of actor Christopher Walken.
"To me, Christopher Walken talking about going to Trader Joe's is the funniest thing possible."
This weekend, you can also find Pollak in the Bellagio poker room. He finished 134th in the 2012 World Series of Poker.
'PAWN STARS' DOWN
Hey tourists, don't go to the Gold & Silver Pawn Shop of "Pawn Stars" fame this week. It is closed through Friday for some renovations. That little store gets 4,000 visitors a day. Crazy.
MOOLAH
A Cincinnati woman (identified only as Sherryl C.) won $1 million from Vanna White on Saturday during filming of a future "Wheel of Fortune" broadcast, taped at Penn & Teller's Rio theater.
VIDEO GAME WHOOP
Are you looking for the coolest thing ever in video games this week, where you can play the upcoming PlayStation 4 and Xbox One? Then I will see you Wednesday at the Sands Convention Center (GameStop.com/expo/info).
'BREAKING BAD' IN VEGAS
"Breaking Bad" co-star RJ Mitte had his 21st birthday party Friday in the Palms' renovated ghostbar nightclub. He brought his mom Dyna, plus co-star Daniel Moncada, Lindsey Haun of "True Blood" and Amanda Fuller of "Last Man Standing." Earlier Friday, he partied at the Palms pool with hip-hop star Lupe Fiasco.
Doug Elfman's column appears Mondays, Tuesdays, Thursdays and Saturdays. He also writes for Neon on Fridays. Email him at delfman@reviewjournal.com. He blogs at reviewjournal.com/elfman.