Hoover Dam plaza's work of art faces monumental repairs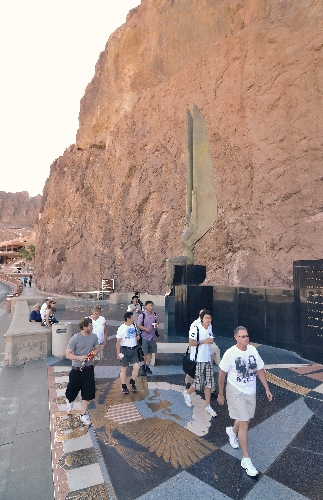 Artist Oskar J.W. Hansen wanted Monument Plaza to carry the story of Hoover Dam and the men who built it for generations to come, but his creation began to fall apart almost immediately.
The plaza on the Nevada side of the dam needed several extensive repairs within 20 years of its completion in 1938, and it is long past due for another major fix, according to the U.S. Bureau of Reclamation.
"What we need to know is what is causing this thing to fail," said Pat Hicks, the bureau's regional archaeologist for Hoover Dam and the lower Colorado River. "This one's had us flummoxed for a number of years now."
The terrazzo floor surrounding Hansen's iconic Winged Figures of the Republic has been a particular problem. The surface is cracking, and the brass expansion joints and inlays that form its intricate star chart are being pushed up.
Considering the punishment it takes, it's no wonder the floor is deteriorating, said Dennis McBride, a historian and author of several books on Hoover Dam and Boulder City.
"It's not surprising because of the weather and the thousands and thousands – hundreds of thousands – of people tromping across it every year," McBride said.
The bureau recently commissioned a $124,300 study by a national engineering firm to determine the cause of the damage and recommend ways the plaza can be preserved or restored.
Hicks said the terrazzo was first fixed in 1948. Ten years later, Hansen himself was called in to supervise as the floor was taken up and rebuilt.
Bureau officials have been talking about repairing the plaza since 1985, but it's hard to put a job out to bid with no clear sense of what the problem is or how best to fix it, Hicks said. "You don't know whether to propose for $500,000 or $6 million."
Funding has been a problem. In the past, the bureau had to pay for restoration work like this out of its limited visitation budget or go directly to Congress for the money, Hicks said.
This time, the bureau is tapping a new funding source: the Southern Nevada Public Land Management Act, which helps pay for conservation and recreation projects with the proceeds from federal land sales in the area.
Hicks said they hope to use that money for both the survey work and the eventual repairs.
It won't be easy. Hoover Dam is not your average historical site. It operates day and night as both a tourist destination and a major power and water producer for millions of people across the Southwest.
"It's a living industrial facility," Hicks said. "It's always interesting trying to do historic preservation under these circumstances."
That's where Wiss, Janney, Elstner Associates comes in. The Illinois-based firm, commonly known as WJE, was hired to examine Monument Plaza and develop a plan to save it – all while the area remains open to tourists.
The company has performed a wide variety of high-profile historic preservation work, from seismic upgrades at Alcatraz to the relocation of the 200-foot brick lighthouse on Cape Hatteras, N.C.
"We're a forensic engineering company," said Bill Kirk, corporate counsel and director of administration for the firm. "We do stuff that really no one else does."
Remember the pictures from last year of workers rappelling down the Washington Monument looking for earthquake damage? That was a crew from WJE.
Hicks said any improvements that are made to Monument Plaza will have to balance its history and intended use with the need to protect it from Black Canyon's punishing heat and heavy tourist traffic. As Hicks put it, they have to be careful not to destroy it – or radically change its character – in the course of trying to save it.
"That's going to be the really tricky part," she said. "This is a piece of art and an artifact."
Hansen's terrazzo star chart is meant to show – albeit in terms only an astrophysicist might understand – the exact positions of certain heavenly bodies at the time and date that President Franklin Delano Roosevelt dedicated the dam in 1935.
The plaza also features a rock and brass compass, a variety of plaques and Hansen's famous Winged Figures – a pair of 30-foot-tall bronze sentinels that flank the dam's flagpole from pedestals of black diorite.
McBride said Hansen wanted the finish on the brass statutes to dull with time, but their toes are kept polished by visitors who rub them for luck.
More than 3 million people visit Hoover Dam each year, Hicks said, "and probably a good number of them" walk past Hansen's creations.
After WJE completes its study, bureau officials will have to apply for more SNPLMA money to pay for whatever improvements they decide to make. Hicks said that process can take about 18 months, so it could be several more years before any restoration work is done.
Until then, she has a simple request for visitors to Monument Plaza: "Walk softly," Hicks said with a laugh.
Contact reporter Henry Brean at hbrean@reviewjournal.com or 702-383-0350.