Hopefuls fight fire with fire
October 31, 2008 - 9:00 pm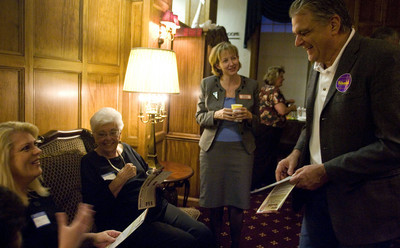 Two political rivals are assaulting each other's character in a brutal advertising blitz that's intensifying as their race enters its final stretch.
Rather than slam voting records and political stances, the candidates in Clark County Commission's District A claim to have unearthed damning skeletons from one another's past.
Regent Steve Sisolak, 54, a Democrat, accuses his Republican opponent, Brian Scroggins, 45, of being in the pocket of developers and running a failed business venture.
Scroggins says Sisolak, a former telemarketer, is linked to shady industry lobbyists who went to prison, and that he ran afoul of Alaska's consumer-protection laws.
The two are grappling for a seat that will be vacated by incumbent Bruce Woodbury, who, in contrast, has a reputation as a soft-spoken peacemaker.
Each candidate says the bare-fisted attacks are distasteful but necessary to show how the other man is unworthy of handling the public's money and of holding a powerful political office.
"What's sad is I wanted to talk about the issues, versus who can throw the bigger bucket of mud on the other guy," Sisolak said.
Scroggins said he's fending off lies that, if told enough, will be believed.
"I get frustrated," Scroggins said. "I don't like negative campaigning. He (Sisolak) is in the process of spending a half-million dollars to tear my reputation down."
By his own estimate, Sisolak has spent $550,000, mostly of his own money, on TV ads. Including his donations to himself, Sisolak has raised $1.1 million compared with the $621,000 that Scroggins has drummed up, making the two fairly even when it comes to supporter contributions.
Sisolak can pump tons of his own money into the campaign thanks to a huge sum he won from the county, Scroggins said, referring to a $6.5 million court settlement Sisolak received because of airspace restrictions. The restrictions kept Sisolak from building a high-rise development on land he owned near McCarran International Airport.
"He's trying to buy a seat on the county commission," Scroggins said. "I think we've had enough of that."
NOT SO DIFFERENT
Despite the political pummeling, the rivals have some things in common.
Both men are college-educated entrepreneurs who have lived in the county for decades. Scroggins has owned a sign company for 14 years and is a building contractor. Sisolak owned two telemarketing companies for a quarter-century before selling one and closing the other four years ago.
Both were lobbyists for their respective industries. Both describe themselves as fiscal conservatives and consensus builders. And sometimes they echo each other's ideas.
"I think Steve and Brian are very similar," observed Regent Bret Whipple, a friend of both candidates. "I think the similarities are greater than the differences."
It's not unusual for candidates who lack obvious contrasts on issues to bash each other's character in a competitive race, said David Damore, political science professor at the University of Nevada, Las Vegas.
"You have to give voters something to remember," Damore said, adding that nothing sticks in people's minds like a negative ad.
TOO MUCH OF A GOOD THING?
Perhaps the issue that the two candidates differ on most is how far they would go to curb labor costs in the tough economy.
In 2007, county workers received an average yearly raise of about 8 percent, which represents combined cost-of-living and merit increases. This year the average raise has dropped to 6 percent, county officials say.
Sisolak believes that 8 percent is too high, and that a 4 percent to 5 percent raise is more reasonable. But if funds are scarce, then the county might have to forgo wage increases when the next labor contract is negotiated, he said.
The local Service Employees International Union and Culinary Local 226 endorsed Sisolak. He insists he promised them nothing.
"I made no commitments," Sisolak said.
He recalled how college faculty had to do without pay raises for six months during a downturn. As a business owner, he couldn't raise his workers' pay for 18 months, he said.
When the economy is healthy, workers should get raises, Sisolak said, because they deserve to be compensated.
Sometimes a larger raise is needed to cover rising health-care costs, he added. "That has to be factored in."
Scroggins said he supports a wage freeze and some sort of hiring freeze.
A study commissioned by the Las Vegas Valley Chamber of Commerce showed that government workers on average earn at least 20 percent more than those in the private sector, he said.
"That is just unacceptable. I don't think it makes economic sense," Scroggins said.
Unions won't like his views, he said, but then he, as a Republican, is already unpopular with labor leaders. Still, he's not averse to sitting down and talking with them.
"It's not in the unions' interest to bankrupt the system," Scroggins said.
Both candidates say they would be open to layoffs as a last resort but would hope to avoid them. They also said they would pick through next year's budget to see what programs could be cut.
BUILDING SUPPORT
Sisolak touts his experience sifting through $2 billion budgets as a regent. He also was known as a student advocate, reflecting his desire to include everyone in the system, he said.
A student body president agrees on both counts.
Among the regents, Sisolak worked the hardest to ensure students had a voice about financial matters that affected them, said David Waterhouse, who heads student government at the College of Southern Nevada.
"He was one of the driving regents in shaping the budget," said Waterhouse, a finance major. "He's very outspoken.
"He knows what he's talking about."
Scroggins boasts of having Woodbury, a fellow Republican, endorse him.
Woodbury, Scroggins said, earned much credibility during his 28 years on the commission.
Sisolak, he said, aimed one of his attack ads at Woodbury to undermine the endorsement.
NASTY CAMPAIGNING
The candidates are attacking each other through multimedia and have set up Web sites to smear each other.
Sisolak bashes Scroggins in TV commercials and fliers. Scroggins slams Sisolak in mailers and auto-dialed messages.
Sisolak accuses Scroggins of launching a failed business, separate from his sign company, that racked up 10 tax liens. The debt-ridden venture reflects poorly on Scroggins' ability to oversee taxpayers' money, Sisolak argues.
He also said when Scroggins ran for secretary of state in 2006, he received campaign money from developers he had regulated while on the state contractors board, then lied to the state ethics commission about taking the money.
Scroggins said his rival was twisting the truth. He simply asked the ethics commission whether it was OK for him, as a former regulator, to take donations from developers, he said. "That should be commended."
Scroggins was a registered agent in the venture Sisolak mentions, he said, but was never a partner and owes no back taxes.
Returning fire, Scroggins accused Sisolak of consorting with shady telemarketing lobbyists, several of whom went to prison for various crimes.
He also said Sisolak's telemarketing business was told to cease and desist in Alaska because it broke consumer laws. Scroggins provided a list of telemarketers that received cease-and-desist letters in Alaska during the 1990s. It included American Distributing Co., which Sisolak owned.
Sisolak dismissed his opponent's claims as "absolutely, categorically false."
He said he was never involved in anything that landed his colleagues in jail. They simply belonged to the same lobbying group, Sisolak said.
Sisolak said he withdrew a branch of his business from Alaska in the mid-1990s when the state began imposing steeper fees for licensing. All telemarketers received letters stating they had to comply with the new rules or quit doing business in the state, he said.
He never got an official cease-and-desist order from the court, he said.
Cindy Drinkwater, Alaska's assistant attorney general, said there is a difference between a cease-and-desist letter and a court order.
State consumer officials send the letters as a warning to businesses they suspect violated codes, she said. The court typically imposes restraining orders on companies after a judge determines wrongdoing, she said.
However, the state would not send blanket letters to all telemarketers, she said. Rather, it would target the businesses it thought were breaking the rules, she added.
Sisolak insists he did nothing wrong. Scroggins, he said, is the one who can't be trusted because he has cronies in the building industry who have donated heavily to his campaign.
RESPECT THE MASTER PLAN
Scroggins said that although he has ties to the building industry, he is not beholden to developers.
He understands why people get upset when new development changes their surroundings, he said.
He served four years on the Enterprise Town Advisory Board, which he said gives him a clear perspective about the effects of growth.
"The county commission needs to listen to their town boards because they are the ones that live in the trenches," Scroggins said.
John Hiatt, the Enterprise board's chairman, said Scroggins sought to balance the goals of developers with the concerns of neighbors.
"He's conflicted," Hiatt said. "He's strongly pro-development, pro-growth, but he doesn't think that should happen at the expense of every single homeowner."
Both Scroggins and Sisolak think the master plan should be followed.
"You must stick with the master plan unless there are very, very extenuating circumstances to justify that change," Scroggins said.
Hiatt complained that the race has lacked discourse about those kinds of pressing issues.
The candidates have chosen instead to trash each other, he said, which ultimately shortchanges voters.
"What we have is character assassination," Hiatt said.
Contact reporter Scott Wyland at swyland@reviewjournal.com or 702-455-4519.