Horsford, Heck clash on immigration
November 13, 2013 - 8:28 pm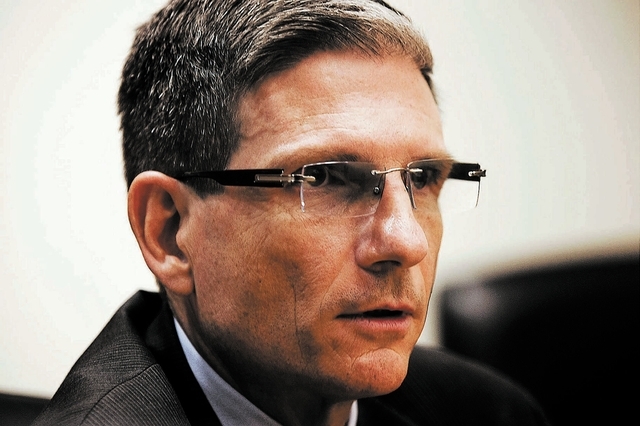 WASHINGTON — Immigration reform might be all but dead in Congress for this year but it is very much alive in the politics of Southern Nevada.
And now it's getting personal, too.
At a press conference on Wednesday, Rep. Steven Horsford took the unusual step of publicly criticizing fellow Nevada Rep. Joe Heck by name as part of an eleventh-hour push by Democrats to free up an immigration bill.
Heck, a Republican, has faulted GOP leaders for not calling up immigration bills in the final weeks of the session. Horsford challenged Heck to back it up by co-sponsoring a pending Democratic bill.
"I want to call out one of my colleagues from Nevada, Congressman Joe Heck, who claims he is for immigration reform," Horsford announced at the event.
"Show the Republican leadership and your constituents that words mean action," Horsford said. "We will not allow members to just talk about support but it is time for them to demonstrate that support."
"It's time for all of us to stay on the right side of history," Horsford declared. "I'm ready, and I'm asking my colleague Joe Heck to do the same thing."
Heck was not pleased.
"If he would like to talk to me about my stance on immigration reform he knows where my phone is," said Heck, who added he and Horsford were together at a Veterans Day event in Las Vegas and there was no heads-up to the impending attack.
Heck has declared support for elements of immigration reform, and is writing legislation to address the issue of young people brought into the country illegally.
He advocates taking up immigration in piecemeal bills that he says lend themselves to more thoughtful debate.
He is not for the comprehensive measure that passed the Senate this summer, and the one being pushed by House Democrats.
"I am not a fan of a 1,200-page bill," he said.
Democrats seized that as an opening to challenge Heck's commitment to immigration reform.
Horsford's move is part of a campaign to escalate the issue in Heck's 3rd Congressional District that includes parts of Las Vegas, Henderson, Boulder City and unincorporated parts of Clark County south to Laughlin.
Pro-immigration and organized labor groups have targeted Heck in television ads after conducting polls that have shown support for immigration reform in the district that is home to a substantial Hispanic and Asian population.
Erin Bilbray, a Democrat and Heck's declared opponent, is starting an online petition today to keep heat on the incumbent, her campaign manager said.
Heck charged critics are more interested in using immigration to beat on him than to work with him.
"No matter what I do it is not going to be enough," he said. "It is not going to go far enough. It is not going to be what the other side wants.
"I have had meetings in my district office with representatives of the AFL-CIO on this very issue and they know exactly where I am and what I am trying to do.
"And for them to go up on the air and put out press releases, they are more concerned about politics than about policy."
Contact Stephens Washington Bureau Chief Steve Tetreault at stetreault@stephensmedia.com or 202-783-1760. Follow @STetreaultDC on Twitter.