Horsford slams Tarkanian on immigration stance
August 1, 2012 - 11:51 am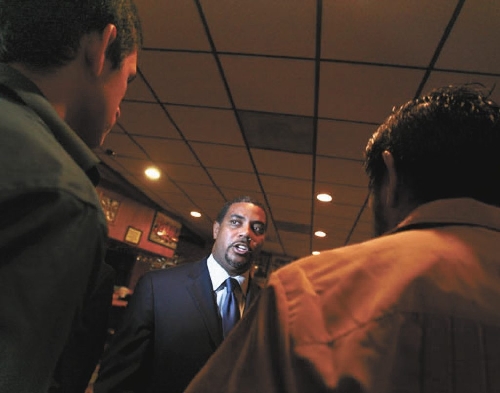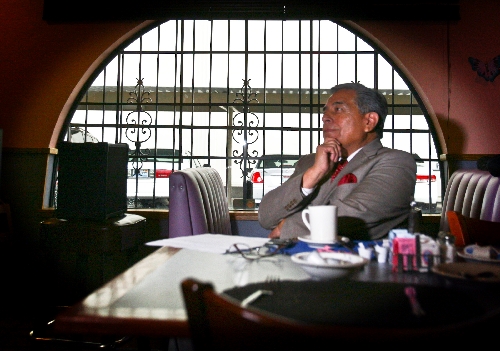 Democratic congressional candidate Steven Horsford on Wednesday slammed his GOP opponent Danny Tarkanian for accusing President Barack Obama of using Hispanics as a "political tool" to win re-election by offering two-year work permits to young illegal immigrants.
"Nothing could be more cynical or further from the truth," Horsford said, speaking to a Hispanics in Politics breakfast two weeks after Tarkanian criticized the president in front of the same group.
Horsford said he supported Obama's executive action in June to end deportations of immigrants brought to the United States as children by their families without documentation. The president said he acted because Congress hasn't passed the DREAM Act, which would give young immigrants a path to U.S. citizenship if they attend college or join the U.S. military. Horsford said he supports the DREAM Act, which Tarkanian opposes.
"He would be just another vote for the party of no," Horsford said of his opponent without naming Tarkanian.
Horsford reminded the supportive Hispanic crowd that Tarkanian took a hard immigration line during his failed 2010 U.S. Senate campaign when he was competing with other conservatives in a GOP primary.
At the time, Tarkanian said he supported a harsh law in Arizona, including profiling of Hispanics by police, who could ask if they're in the country legally if stopped for any reason. The U.S. Supreme Court threw out most of the law, although it held up the "show us your papers" provision, saying it's open to future legal challenges.
Tarkanian also argued for cutting health, education and other benefits for illegal immigrants in order "to take away the incentives for people coming into the country illegally."
Two weeks ago, Tarkanian faced a largely hostile reception at the breakfast of Hispanic activists. He told the group Obama purposely failed to deliver on the promise of comprehensive immigration reform.
"Why wasn't it passed?" Tarkanian asked. "Maybe it wasn't passed because … they want to use this as a political tool. … They're using it as a tool to get votes back in Washington."
Tarkanian said he does support offering U.S. citizenship to immigrants who join the U.S. military, a popular idea among Republicans, but he said he does not back the full DREAM Act. He said he also wanted to make it easier for immigrants to get guest worker visas so they can provide needed farming and other labor in the United States.
Horsford said he backs comprehensive immigration reform, which would include the DREAM Act and cutting red tape so it's not as difficult for immigrants to legally apply to work and live here. More than 11 million illegal immigrants are thought to be living in the United States.
"We are a nation of immigrants, and we have to live up to that standard now," Horsford said during a wide-ranging 24-minute speech to the group that was interrupted by applause several times.
Horsford is the chief executive officer of the Culinary Training Academy, where 50 percent of the graduates are Hispanic, he said. About half of those who train at the academy are un­employed or underemployed, he said, while others are looking for new careers in Southern Nevada's hospitality industry.
The academy works with the Culinary union out of a small trailer office to provide free help to immigrants to "navigate the process" of getting legal papers to live and work in Las Vegas, Horsford said.
"Nearly one-third of all successful applications were processed through that trailer," Horsford said.
Horsford, the outgoing Nevada Senate majority leader, was an early supporter of Obama and helped the Democrat win Nevada four years ago. Like the president, Horsford needs to win a hefty portion of the Latino vote in the Silver State, where Hispanics have grown into a political force at the ballot box.
Horsford and Tarkanian are competing for Nevada's new 4th Congressional District, which has a Hispanic population of 27 percent. The sprawling district covers nearly half of Nevada, from North Las Vegas in Clark County to part of Lyon County and all of Esmeralda, Lincoln, Mineral, Nye and White Pine counties.
In the district, Democrats have a voter registration edge over Republicans of about nine percentage points. Horsford is expected to do well in the minority-rich urban core of the district, which he has represented in the state Senate for eight years. Tarkanian, who has lost three previous attempts to win political office, enjoys strong support among the more conservative rural part of the district, where Republicans prevail.
Contact Laura Myers at lmyers@reviewjournal.com or 702-387-2919. Follow @lmyerslvrj on Twitter.