Horsford works 'undercover' in Las Vegas — for the UPS
March 19, 2014 - 10:36 am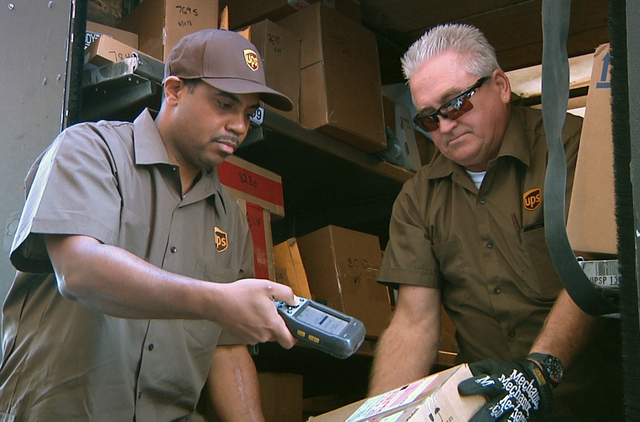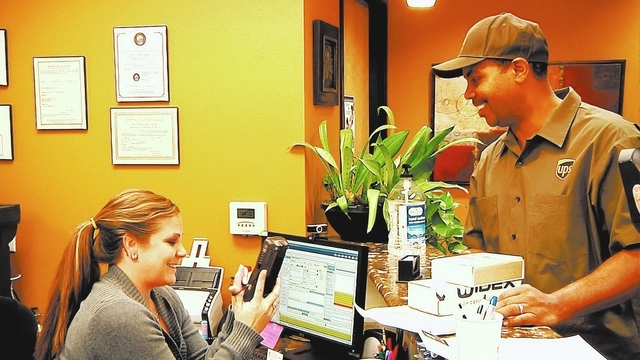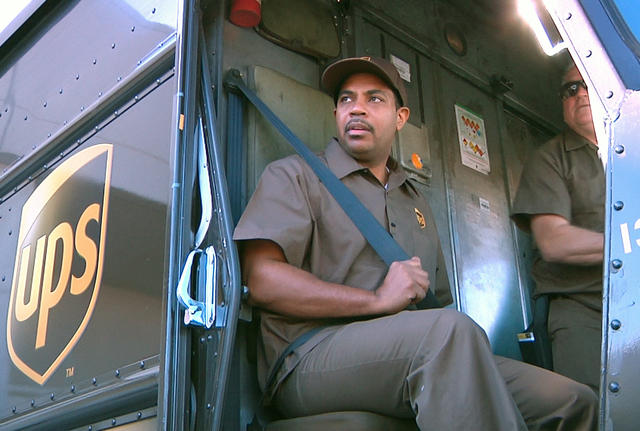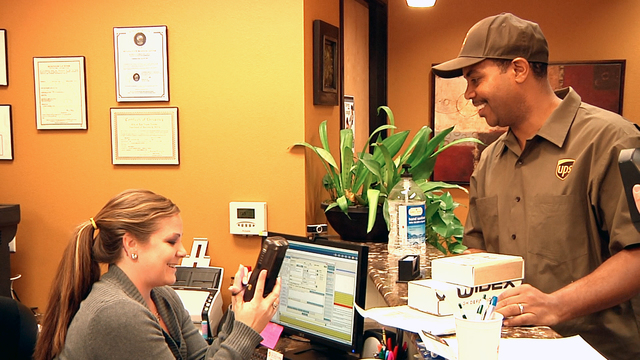 "I'm Congressman Horsford. I'm here to deliver your package," said the man in the brown UPS uniform.
Leslie Osei, the office manager in a doctor's office at Centennial Hills Medical Plaza, said she didn't at first recognize U.S. Rep. Steven Horsford, D-Nev., because he was wearing a UPS cap, too.
"I didn't notice it was him and I've been to a lot of his community events," Osei said, laughing at herself. She added she was happy to see him — as well as the flat package containing employee paychecks that he dropped off.
Horsford, as part of a constituent outreach effort, went "undercover" Friday morning to help a UPS driver deliver packages to the medical office building and the nearby Centennial Hills Hospital in his 4th Congressional District.
He said he wanted to get a from-the-ground perspective of the working man and woman in Las Vegas.
He also used the opportunity to argue for raising the federal minimum wage from $7.25 per hour to $10.10. He said UPS pays its drivers an average $32.50 an hour, a salary that maintains a loyal workforce and a strong bottom line for the company. Even the company's entry-level loaders make $11 to $12 per hour, he said.
"UPS stands as an example of a company that's already doing great things," Horsford said. "And they do it because it's good for their workforce. It's good for the economy, but it's also good for their customers."
On raising the minimum wage, he said, "We need to do the best we can to lift people out of poverty."
Horsford began his day meeting with company officials at a major UPS processing hub at the corner of Martin Luther King Boulevard and West Bonanza Road, just outside downtown Las Vegas. The hub has 100 package cars, or vans, that run 100 routes throughout the Las Vegas Valley, delivering about 30,000 packages a day. In all, UPS delivers about 115,000 packages a day in the Las Vegas area, with the rest being distributed from a second UPS distribution center.
UPS delivers 16.3 million packages per day worldwide, making total annual revenues of $54 billion, according to the company. About 2,800 of its vehicles use alternate fuels, something President Barack Obama touted in a 2012 visit to Las Vegas.
In Horsford's district, UPS employs 477 workers — part of a 2,700-strong workforce statewide and 400,000 nationwide.
At the MLK hub, the day begins at 4 a.m. when loaders arrive to sort packages for routes.
The drivers start at 8:30 a.m. and end their day anywhere between 4:30 p.m. and 8 p.m., getting paid time and a half for extra hours.
Horsford, wearing the brown UPS uniform with short sleeves and long pants, arrived about 8 a.m. After meeting with company brass, he stretched out with other drivers, a daily routine. Then he jumped into a package car with driver Mark Sidman, who has worked at UPS for 16 years. By 8:45 a.m. the two were on the road.
The two delivered packages together for about an hour. Horsford operated the electronic device that tracks packages along the delivery route, a hand-held DIAD, or Delivery Information Acquisition Device. Sidman called Horsford a fast learner.
Horsford said, "I've just got to make sure I pass my apprenticeship. If I can't do this, I'll be in trouble."
Horsford, a former state Senate majority leader, said his first job was cleaning out kennels at night. He also worked at a Pizza Hut, but nothing prepared him for the heavy-lifting and hustle involved in the UPS delivery job.
"I should have stretched more," he joked at one point while helping distribute packages at the hospital.
Yet Horsford appeared to enjoy himself, introducing himself and making small talk with customers.
"Sometimes in Washington you get a little disconnected," he said. "I want to make sure I know what people are actually doing each day. It's hard work! … It reminds me of who I'm fighting for back in Washington."
Horsford drew curious looks from people who didn't recognize him, but saw a TV camera recording him working.
"That must be some UPS driver," one woman passer-by said as Horsford posed for photos while sitting in the van.
Sidman, the driver, asked Horsford to return next Christmas holiday season to help him with the extra work.
"It's amazing how much more can get done with a second set of hands," Sidman said.
Horsford, who's running for re-election this year, said he's keeping the UPS uniform.
Contact reporter Laura Myers at lmyers@reviewjournal.com or 702-387-2919. Follow her on Twitter @lmyerslvrj.