Horticulturist Mills, 76, dies after hip operation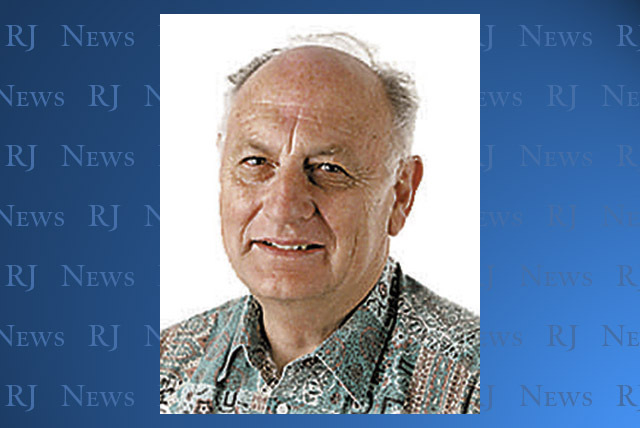 Linn Mills, a leader in the Southern Nevada horticultural community and a longtime Review-Journal columnist, died Friday morning, following surgery a day earlier for a broken hip. He was 76.
Mills was born in Salt Lake City on April 7, 1937. He moved his family to Overton in the late '60s, returning to Salt Lake from 1978 to 1981, when they returned to Las Vegas. He was a horticulturist both with University of Nevada Cooperative Extension and the Las Vegas Valley Water District. He also was a dedicated member of the Church of Jesus Christ of Latter-day Saints.
"He's somebody who will be really deeply missed," said Pete Duncombe, a senior horticulturist at the Springs Preserve.
Duncombe first worked with Mills in the '80s, when Duncombe was an intern.
"I've known him for a lot of years," he said. "After he retired from the extension service and came to work here at the water district, we worked together a lot. He'd say he used to be my boss, and now I was his.
"He was just one of those people who always made you — whoever he was talking to — feel like you were the most special person in the world. He was truly a great one. He was my greatest mentor and friend."
Mark Ruben, director of Gilcrease Orchard, where Mills was a board member, expressed surprise Friday afternoon on hearing of the death of Mills, a tall man with a strong physical presence.
"He just called me last night," Ruben said.
"He was like everybody's cheer­leader," he said. " 'Oh, you do the best job.' That was one of his real unique and good qualities.
"He loved to teach people and entertain them as he taught them. He was always very optimistic and positive — unless he was listening to Rush Limbaugh. I could always tell when he was listening to Rush Limbaugh because he was very angry and irritated. I said, 'You have to listen to some music or something.' "
Jim Johnson, water district spokesman, said Mills "was like part of the family. He was a great guy. He lit up everyone around him."
Pat Morgan, R-J deputy features editor, said Mills was a delight to work with.
"He knew everything worth knowing about desert gardening, but what's more, he was always engaged in life, fully in the moment," she said. "He wouldn't drive down a street without noticing the condition of the plants in every yard. But he also saw the big picture, the way the plants looked in certain types of sunlight or in a breeze. I think he appreciated natural beauty more than anyone I've ever known. And he worked to capture that in his column."
Mills' final column will appear in Sunday's Living section.
Mills is survived by his widow, Barbara Hansen Mills; daughter, Missy Cahill; and son-in-law, James Cahill. He also is survived by four grandchildren, Noah, Calley, Courtney and Jacob Cahill.
"They were his pride and joy," Missy Cahill said.
He also is survived by two brothers and one sister; one sister pre-deceased him.
Services are pending.
Contact reporter Heidi Knapp Rinella at hrinella@reviewjournal.com or 702-383-0474.