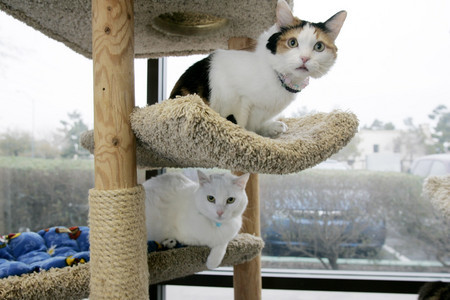 Before you walk into Bonanza Cat Hospital, you worry this place will be too depressing to experience. But then you open the door and find it's the happiest cat place you've ever seen in your entire life.
Bonanza Cat Hospital (home of the cat-rescuing Poppy Foundation) is like an indoor cat park where scores of cats live with chronic but treatable conditions: diabetes, leukemia, a missing ear, a missing leg, and so on. Many were abandoned by their "human" owners.
The cats are so happy here, some Las Vegans often visit just to pet them and relax amid feline contentment. The cats walk around freely (not stuck in cages). They purr like crazy. They lounge atop computer printers and waiting room chairs. They sleep in cat tree houses, like domesticated little jungle kings.
They almost never fight. You should meet some of them.
This is Vons (a smoky domestic), named for a Vons grocery store where he was found, suffering neurological damage. When he walks, his head always tilts to his left side.
Leo (a Manx) hops like a bunny, the product of overbreeding and inbreeding at a cat mill. He drops little bunnylike poops.
Polly Pocket (white domestic) walks with three legs and has no tail. She was rescued at a gas station. It's assumed she climbed under a car and got caught in an engine fan.
Ninja (black domestic) is diabetic, abandoned by owners who wanted him put to sleep. I hold Ninja's face to mine. He purrs and lovingly pokes his nose at mine.
"His parents didn't want to be bothered with giving him insulin," says hospital staffer Saundra Schaffer, who also rubs noses with Ninja and adds sarcastically about his ex-owners: "Clearly he should be put to sleep because he has nothing left to offer."
Gump is a $3,000 Ocicat. His owners didn't want to give him insulin twice a day for diabetes. As it turns out, Gump's diabetes just needed a diet change. Now Gump is no longer even diabetic, but simply a high-breed cat living under this roof.
Itty Bitty (tortoise shell) was one of two cats owned by the guy taken to a hospital two years ago from a Las Vegas hotel room, where he harboring ricin, the deadly bio weapon. Itty Bitty and Bekin (gray shorthair) were brought here. Bekin died of kidney failure. Itty Bitty lives. Regardless of whatever the guy had in mind with his ricin, he took great care of his cats.
And yet, here's Rocky (Siamese) who was abandoned by owners who didn't want this one-eyed kitty anymore.
And Katie (gray domestic shorthair) is quadriplegic. Katie was brought here Dec. 31, 1999, by a visibly shaken man after he discovered his troubled young boy tossing Katie around like a baseball, causing injuries which sped up a degenerative neuromuscular disease. Here, Katie receives range-of-motion stretches and deep-tissue massages. Years ago, Animal Planet's "Pet Psychic" Sonya Fitzpatrick came to meet Katie and suggested acupuncture. Ever since, Katie's received chiropractic and acupuncture help from Dr. Nancy Brandt. This makes Katie less stiff and reduces pain.
Some cats were abandoned because they were "pee-ers" (peeing outside their litter boxes), which can be due to stress from kids or other cats or low attention, but "peeing" is often due to another solvable problem: Crystals in their urinary tracks, brought on by the wrong diet, tap water or sprinkler water.
Look here at tranquil Chester (black-and-white domestic). He was a pee-er, possibly from stress due to family neglect.
"He sits on the counter and points his paws out, like he's praying, like he's davening at the Wailing Wall," Schaffer says.
Some cats are brought here after a violent couple breaks up.
"We're like Shade Tree for cats," Schaffer says, referencing the domestic violence shelter.
The hospital and foundation go to great lengths to save cats. Dusty (Maine Coon) was first brought in as just a patient years ago, and got an identifying microchip implanted under his fur. Dusty's parents moved to New York, divorced then abandoned Dusty. Dusty was found in the streets and turned over to Animal Control, which used Dusty's chip to call Bonanza Cat Hospital, which made plane arrangements to bring Dusty back.
Some cats get adopted, like fluffy black-and-white Petuna. She came in with a pen-sized bamboo stick protruding from between her eyebrows. Someone had sharpened the stick and shoved several inches of it through her skull. Miraculously, Petuna was left with only enough brain damage that she ended up kind of "slow" but mostly normal.
"She's fat and happy," Schaffer says.
I ask office manager Linda Newman why the cats never fight with each other.
"Maybe they know this is their last stop, and they have to get along," she guesses.
The doctor/owner is Linda Steelman. In 1995, she and her husband left San Francisco for less expensive Vegas. She expected to open a routine private practice, first on Bonanza Road before relocating to this 2,700-square-foot spot at Buffalo Drive and Lake Mead Boulevard.
She quickly realized she couldn't send cats to their deaths just because humans rejected them. (Although, a few crying pet owners had become homeless or jobless and couldn't afford long-term sick-cat care.)
Steelman has built a thriving practice as a veterinarian. (Regular client cats do not come in contact with "resident" cats.)
But it takes a toll. She works weekends. She's cried over hundreds of cats.
She looks down at a sweet feline at her feet.
"That's Jazz. Someone called us and asked us: 'How much to put her to sleep?' She was peeing" away from her litter box.
Jazz had crystals in her urine. Steelman put Jazz on better food, and on water not from a tap, changing Jazz's body chemistry. Now healthy, happy Jazz purrs on.
"I love to come to work. I don't think there's that many jobs you can say that about," Steelman says.
Steelman says pet owners can often find simple solutions if they'd take their pets to vets when they first spot trouble. (One owner waited eight years before bringing a peeing cat in.)
Steelman says a few people get rid of pets because they don't "fit in anymore" with the color schemes of their houses.
"It's kind of like redecorating," she says. "You can't change that person's values. And they think you're a lunatic, because you take your cat to the vet."
The Poppy Foundation was started to take official responsibility for these cats. The foundation always needs donations.
"We have to make a certain amount of money, or we can't stay open," she says.
Cat lovers can donate through PoppyFoundation.org or by calling 702-228-0146. (Newman is president; Schaffer is treasurer.) None of the money goes to Steelman or her vet practice, but covers care for Poppy cats.
Another top priority is finding volunteers to pet cats and change their boxes.
The foundation's long-term goal is to save or raise enough money to create a sanctuary/retirement home.
I ask Steelman if there's one thing she'd like to tell everybody in this column. She gives the same answer everyone gives at the hospital: "Spay or neuter your cats."
"It's the overpopulation that's caused this," she says.
She wishes no one would abandon cats. The Poppy Foundation is at capacity. Besides, it's more important for owners to care for their pets' conditions.
I ask her why this oasis is such a joyful place and not sad.
"The sad cases are the cats who get put to sleep," she says. "These are the lucky ones."
All around her is hope. That is, Hope, a black tabby who has no inner eyelids. There's also one-eared Merv (domestic shorthair), the likely result of scratching too long at ear mites. There's T.J. (domestic shorthair) who has leukemia.
I ask her which cats are her favorites.
"The ones that are my current favorites — they're the ones that are the sickest, because they're the ones that need attention. And that's just the way it needs to be."
Doug Elfman's column appears on Mondays, Tuesdays and Fridays. Contact him at 383-0391 or e-mail him at delfman@reviewjournal.com. He also blogs at reviewjournal.com/elfman.