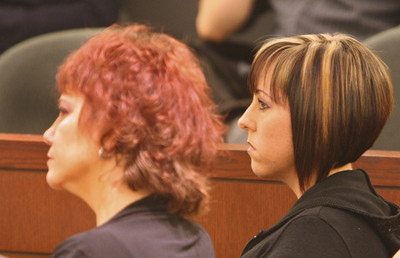 During closing arguments Friday in a medical malpractice case, attorney Lanny Waite asked jurors to send a message to MountainView Hospital with their verdict.
Waite represents survivors of Morton Scheinbaum, a 59-year-old Las Vegas man who suffered a fatal heart attack in the hospital's emergency department on Nov. 4, 2005. The attorney claimed 41 minutes passed from the time Scheinbaum arrived with complaints of chest pain until he received any hands-on treatment.
"You're the ones who can send a message to MountainView Hospital that this conduct was wrong and likely led to the death of Morton Scheinbaum," Waite told the jury.
Jurors deliberated about two hours Friday afternoon before returning a verdict in favor of the hospital.
"If it sent a message to MountainView, the message was: You can spend lots of money and still beat the little guy," Waite said outside the courtroom.
In a prepared statement, MountainView Hospital extended its sympathy to the Scheinbaum family.
"We at MountainView are pleased with the jury's verdict and that the facts in the case could be revealed during the trial," according to the statement. "Our records and a thorough review showed that our caregivers followed appropriate procedures and protocols and did everything they reasonably could to save this patient's life."
Henderson resident John Darin, the jury's foreman, said the panel reached a 7-1 verdict.
Although "everything didn't go as perfectly as it could have" after Scheinbaum arrived at the emergency department, Darin said, "we don't think it was proven that the hospital caused his death."
Linda Scheinbaum, Morton's wife of 20 years before the couple divorced in 2002 for financial reasons, and Wendy Cannon, the man's daughter from a previous marriage, filed their lawsuit against the hospital in June 2006. The case went to trial last week in District Judge Valorie Vega's courtroom.
"I guess we're just appalled," Linda Scheinbaum said after hearing the verdict. "We just feel as if we just lost him all over again."
Cannon and her daughter lived with the Scheinbaums at the time of Morton Scheinbaum's death. Linda Scheinbaum now lives in North Carolina. Cannon and her 8-year-old daughter now live in California.
No one disputed that Morton Scheinbaum had a history of heart trouble. He had his first heart attack at the age of 36, when he was diagnosed with coronary artery disease, and suffered his second heart attack about a week before his death.
But Waite argued that the nursing staff's substandard care — and not Morton Scheinbaum's underlying medical condition — caused his death.
When Morton Scheinbaum came to the MountainView emergency department on both Oct. 25, 2005, and Nov. 4, 2005, the lawyer said, he was having symptoms that were caused by a heart rhythm disorder called atrial fibrillation — not coronary artery disease. Waite said Morton Scheinbaum received appropriate treatment during the earlier visit.
During his closing argument, hospital attorney Michael Prangle said nothing could have been done to save Morton Scheinbaum's life the night he returned to the hospital.
"The sad reality is Mr. Scheinbaum's heart had sustained too much damage to continue working," the lawyer said.
Linda Scheinbaum said she never will forget the sight of Morton collapsing in pain on the hospital floor while he waited for care.
"We wanted him to get his day in court, and he got his day in court," she said. "We know what happened. My husband knows what happened, and God knows what happened."
Contact reporter Carri Geer Thevenot at cgeer@reviewjournal.com or 702-380-8135.