Hospitals lose $133.1 million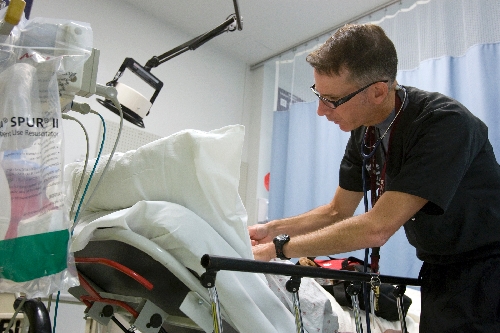 The faltering Las Vegas economy showed up on another front as hospital operating losses nearly doubled last year to $133.1 million.
While struggling University Medical Center of Southern Nevada accounted for much of the problem, with an operating loss of $92.2 million, eight of the valley's 12 other hospitals also lost money, financial reports posted this week by the state's Department of Health and Human Services show.
Only three hospitals improved their bottom lines, including two that reduced their losses. Lower patient counts, higher charity care write-offs and reduced Medicaid reimbursements took their toll across the board.
By contrast, the cumulative deficit in 2008 ran $70.4 million as seven hospitals operated at a loss. As recently as 2006, the countywide profit ran $16.7 million.
Revenues collected after numerous deductions from the bills rose 4.9 percent to $2.85 billion.
With tourism and construction weakening and pushing unemployment above 13 percent and costing thousands of people their medical insurance, the hospital industry suffered collateral damage.
"If people are not paying their mortgages, then they are not going to pay their health care bills," said Jack London, president of consulting firm London Medical Management. "Even with people who have kept their jobs, they face the question, 'Do I pay health premiums or feed my family?'"
Among all hospitals, deductions taken for discounts to people without insurance and charity care rose 31 percent to $414.2 million. At the same time, however, bad debt write-offs dropped 9 percent to $484.4 million.
Looking at the numbers close up highlighted the problems hospitals faced. The average patient produced a loss of $518, 27 percent higher than in 2008. This occurred although the average bill rose by 8 percent to $53,320 because the amount the hospitals collected from each patient dropped by $78 to $10,582. Average expense rose $32 to $11,100.
Several industry experts noted that a growing number of patients have turned to a hospital only after putting off problems as long as possible.
"One of the sad realities of the managed care system is that it works best when people go to doctors not just when they are sick, but for their annual physicals," said David Samuels, president of consulting firm EthiCare Breakthrough Solutions. "With this economy, people are delaying and delaying going to the doctors. And hospitals don't get paid extra money if patients have greater acuity."
Some payment structures, including government sources, pay set amounts for certain illnesses or procedures and do not expand if it costs a hospital more to restore someone to health.
Moreover, the observers said, more people have put off elective procedures, willing to endure aches of a worn knee, for example, rather than pay to have the knee repaired.
Also, Las Vegas is suffering from something of a hospital bubble, London said. For better than a decade, new wings or new hospitals went up rapidly not only to try to keep pace with the rapid population growth but also with what was projected for the future.
"Now there are areas where we are clearly in an overbedding situation," he said.
In southwest Las Vegas, St. Rose-San Martin and Southern Hills hospitals posted a combined $43.9 million in operating losses, as plan after plan to convert desert into subdivisions was shelved.
However, London does not foresee any facility shutting down.
"It would be a very tough call to close a hospital at a cost of $1 million per bed to build one," he said.
But wings or entire floors have remained mothballed or unfinished.
Spokesman Andy North for St. Rose Dominican Hospitals, which has three facilities in the southern part of the valley, disputed the idea of a surplus.
"I think we are still underbedded in Southern Nevada," he said. "The ratio is still low compared to the rest of the nation."
In the near term, North does not see much improvement, so St. Rose will continue to watch its costs. Recently, it laid off 57 management-level employees. He said St. Rose expects a rebound but does not predict a time frame.
The four-hospital Sunrise Health Systems, a division of Nashville, Tenn.-based HCA, has also looked to reduce expenses where it could, spokesman Dan Davidson said. One note of optimism came earlier this year when the state Legislature did not cut Medicaid reimbursements again as it did in 2008.
At the flagship Sunrise Hospital and Medical Center, Chief Financial Officer Lana Arad said, first-quarter results have started to improve partly because visitor volume, an important source of traffic due to the proximity to the Strip, has shown signs of recovery.
Contact reporter Tim O'Reiley at
toreiley@lvbusinesspress.com or 702-387-5290.
more coverage, more costs
WASHINGTON — President Barack Obama's health care overhaul law is getting a mixed verdict in the first comprehensive look by neutral experts: More Americans will be covered, but costs are also rising.
Economic experts at the Health and Human Services Department concluded in a report issued Thursday that the health care remake will achieve Obama's aim of expanding health insurance — adding 34 million to the coverage rolls.
But the analysis also found that the law falls short of the president's goal of controlling runaway costs, raising projected spending by about 1 percent over 10 years. That increase could get bigger, since Medicare cuts in the law may be unrealistic and unsustainable, the report warned.
It's a worrisome assessment for Democrats.
In particular, concerns about Medicare could become a major political liability in the midterm elections. The report projected that Medicare cuts could drive about 15 percent of hospitals and other institutional providers into the red, "possibly jeopardizing access" to care for seniors.
The report from Medicare's Office of the Actuary carried a disclaimer saying it does not represent the official position of the Obama administration. White House officials have repeatedly complained that such analyses have been too pessimistic and lowball the law's potential to achieve savings.
The report said some cost-control measures in the bill — Medicare cuts, a tax on high-cost insurance and a commission to seek Medicare savings — could help reduce the rate of cost increases beyond 2020. But it held out little hope for progress in the first decade.
THE ASSOCIATED PRESS