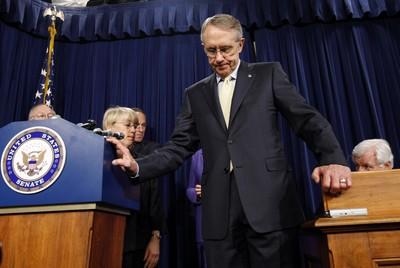 WASHINGTON — Despite polls showing an approval rating of about 25 percent for Congress, members of the House last week voted to give themselves a pay raise of about $4,400 next year.
That would increase the annual salary of a lawmaker from $165,200 to almost $170,000.
The House voted 244-181 to reject a motion by Reps. Jim Matheson, D-Utah, and Lee Terry, R-Neb., that would have blocked a cost-of-living increase otherwise awarded to members of Congress each year.
The automatic pay raise became a campaign issue in last year's election, and Congress opted to forgo the salary boost for the first time in seven years. The decision cost each lawmaker about $3,100 this year.
Advocates of the raise said it helps retain experienced lawmakers. Without the pay raise, they said, Congress might become an exclusive club for the rich.
Opponents argued this is not the right time for lawmakers to accept a pay raise. They said Congress should be willing to make sacrifices when many Americans are struggling.
Reps. Shelley Berkley, D-Nev., and Dean Heller and Jon Porter, both R-Nev., voted against the automatic pay raise.
IMMIGRATION REFORM DIES
In a setback for President Bush, the Senate voted 53-46 against moving toward final passage of a bill calling for the most sweeping changes in immigration law in 20 years.
The vote effectively killed the bill, which would have provided a way for millions of illegal immigrants to gain legal status while upgrading security at the nation's borders.
Supporters acknowledged the bill's flaws, but said it would have improved the current immigration system, which they said is broken.
Critics, including many Republicans who ignored Bush's pleas for passage, said the bill would have provided amnesty to millions of illegal immigrants and did not go far enough in border protection.
Sen. Harry Reid, D-Nev., voted for the immigration bill. Sen. John Ensign, R-Nev., voted against it.
UNION CARD CHECKS REJECTED
The Senate defeated an effort to allow union organizers to gain certification at a job site without secret-ballot elections.
Previously approved by the House, the bill would have allowed workers to certify a union if a majority of them signed "card checks."
Backers of the measure said current law favors management, which often fires employees who try to organize unions.
Opponents said the bill would take away a worker's right to have a federally supervised private-ballot election to certify a union.
The Senate voted 51-48 to proceed to final passage of card checks, but 60 votes were needed to cut off debate.
Reid voted to allow card checks instead of secret-ballot elections. Ensign voted against card checks.
FAIRNESS DOCTRINE DENIED
The House voted 309-115 against reviving the fairness doctrine, which required broadcasters to present controversial issues in a balanced manner.
The vote followed reports that Democratic senators, including presidential candidate Hillary Clinton, D-N.Y., want to pass legislation to counter talk radio attacks from conservative hosts like Rush Limbaugh.
Rep. Mike Pence, R-Ind., who is a former talk show host, introduced an amendment to bar the Federal Communications Commission from spending money to restore the "fairness doctrine," which was repealed 20 years ago.
Heller and Porter voted for the Pence amendment. Berkley voted against it.
OIL DRILLING BARRED
An attempt to permit energy companies to drill for natural gas 25 miles off the East and West coasts failed in the House, 233-196.
Advocates of the expanded drilling said it would increase domestic production and offer relief from skyrocketing fuel prices.
Critics said Congress should develop alternative energy sources to end America's addiction to oil and gas.
Heller and Porter voted for expanded drilling. Berkley voted against it.
CHENEY KEEPS FUNDING
The House voted 217-209 to reject an amendment to cut off funding for the office of Vice President Dick Cheney.
Rep. Rahm Emanuel, D-Ill. who is the chairman of the House Democratic Caucus, offered the amendment after Cheney claimed his office is exempt from regulations governing the release of classified documents by executive branch agencies.
Berkley voted to cut off Cheney's funding. Heller and Porter voted to maintain the vice president's funding.