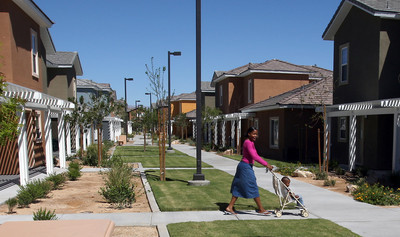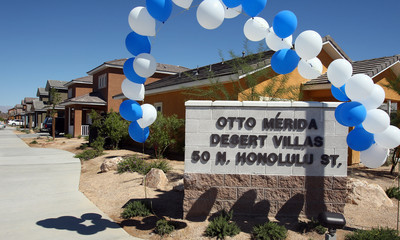 The Las Vegas Housing Authority on Monday celebrated the opening of its first new family public housing complex in more than two decades.
Named after the local Latin Chamber of Commerce's longtime executive director and former housing authority chairman, the Otto Merida Desert Villas is a $16 million complex on eight acres along Honolulu Street near U.S. Highway 95 and Charleston Boulevard.
The 60 subsidized rental units for low-income residents include two-, three- and four-bedroom single-family homes and duplexes. They range in size from 1,240 to 2,292 square feet. Each has its own one-car garage, desert landscaping and sizeable front porch.
All of the units have been rented, housing authority staffers said. Children could be seen playing on many of the complex's porches or riding bikes around the cul-de-sac.
Carl Rowe, the authority's executive director, said the new complex will serve as "incentive" housing for current public housing residents.
"We opened it specifically for current residents of public housing who had shown that they were making a legitimate attempt to better themselves," he said. "They have to be working or going to school, and enrolled in our family self-sufficiency program.
"They're kind of role models for everybody else to do good things."
The agency's self-sufficiency program involves teaching people budgeting, time management and other skills.
Monthly rent for the units ranges from $369 to $883. To qualify, residents may earn only 30 percent to 60 percent of the area median income, which is about $50,000.
The new development was funded in part from the sale of low-income housing tax credits and U.S. Department of Housing and Urban Development funds.
It marks the first time the housing authority has used non-HUD funds to build public housing, Rowe said.
New public housing complexes have become rarer in recent years as HUD has put more emphasis on the Section 8 housing program, which provides vouchers to pay private landlords for rent, Rowe said.
The Las Vegas Housing Authority has a budget of about $60 million and manages more than 2,000 housing units and about 4,300 Section 8 housing vouchers.
Las Vegas Mayor Oscar Goodman said the new complex "is not a 'project.' "
"Projects are a thing of the past," he said. "This is a pretty nice way to live."
Otto Merida, who came to the United States in 1961 as a political refugee from Cuba, got choked up while talking about the complex that is named for him.
"I am deeply touched," he said. "I'm very humbled by this incredible recognition."
Merida helped found the local Latin Chamber of Commerce and has been its executive director since 1978. On Monday, he credited the chamber for his success.
"Whatever I have done, the chamber got me here," he said. "The Hispanic community in Las Vegas is what I truly believe is being recognized today."