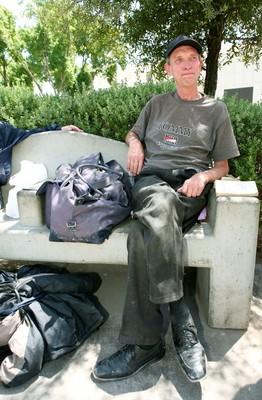 While discussing how hot it was on Wednesday afternoon, several homeless people hanging out in downtown's Frank Wright Plaza repeated the local cliche: "But it's a dry heat."
"In Michigan, we'd be soaking wet," said Tony Pfeifer, who was sitting with a female friend in relative comfort on a shaded bench.
Even triple-digit heat — Wednesday's high was 102 degrees — isn't too difficult to handle if you drink lots of water and stay in the shade, Pfeifer said,
Pfeifer, 56, and others at the park don't plan on using a summer day shelter for homeless men that will open at Catholic Charities of Southern Nevada on July 1, or when "extreme heat" hits, whichever comes first.
"It's a long walk," Pfeifer said.
"Just drink lots of beer and you'll be OK," said Pfeifer's friend, who would not give her name.
In Southern Nevada, homeless people sometimes lose their lives to the heat.
At least eight people died last summer of environmental heat stress or a combination of factors that included heat stress or hyperthermia, according to the Clark County coroner's office.
In 2005, heat was a contributing factor in the deaths of 12 homeless people.
Catholic Charities' day shelter is an attempt to counter that. The agency is using a $150,000 grant from the Southern Nevada Regional Planning Coalition to open the air-conditioned shelter from 9 a.m. to 5 p.m. each day through Sept. 30.
The shelter is at the Catholic Charities campus on Las Vegas Boulevard and Foremaster Lane.
"We're watching the weather," said Phillip Hollon, Catholic Charities' director of residential services. "We're not contracted to open until July 1, but we're ready to go at any time."
Hollon said the shelter would consider opening early if the temperature rises above 105 degrees.
Weather forecasters have predicted that could happen today.
The shelter has chairs, a television, restrooms and showers. It can accommodate 100 men at a time. Case managers will be working in the shelter.
"They'll be available to meet with the gentlemen to talk about homelessness and finding ways to get them into some kind of program to end homelessness," Hollon said.
Last year, 300 to 500 men visited the shelter each day. Individuals stayed for an hour or two at a time, Hollon said.
Women must seek shelter elsewhere, such as the Salvation Army or Shade Tree.
Some advocates for the homeless say the summer day shelter isn't enough.
"I'm a firm believer that we should have year-round day shelters strategically placed around the valley," said Linda Lera Randle-El, director of the Straight from the Streets homeless outreach program. "To say, 'it's just not sweltering enough' (to open the shelter) isn't very compassionate."
Civil rights leaders also have criticized Catholic Charities' shelter for its policy of issuing breath sobriety tests and refusing to admit those who show signs of alcohol use.
The agency defended the practice, which is still in place, citing safety concerns.
Catholic Charities also operates a winter shelter that houses about 400 men each night during the coldest months.
About 11,370 homeless people live in Southern Nevada, according to a January homeless census conducted by the Committee on Homelessness.
Many of the valley's homeless tend to shun shelters, even in extreme weather.
"I'll just stay in the shade or sit in a casino sports book all day," Pfeifer said.
Besides, he said, the hot, dry weather is one reason so many people move to Las Vegas.
"That and divorce," Pfeifer added.