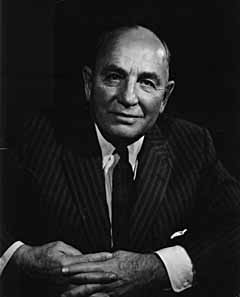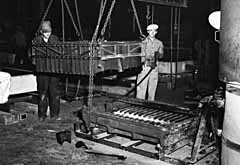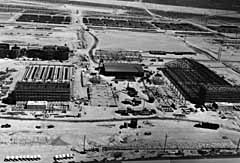 The city he started was named for somebody else, and other folks ended up running the industry he brought to Nevada. Far from spreading the welcome mat, one of Nevada's senators demanded that Congress investigate him.
But Howard Eells endured it all, and Henderson exists because he did. Now the third largest city in Nevada, Henderson is also one of the youngest. Most people born the same year as Henderson, 1941, aren't even retired yet.
Eells, of Cleveland, inherited his father's manufacturing business in 1919. At the time the company made only flux for blast furnaces, but Eells expanded into a wide range of products. In the 1930s he made firebrick, used to line furnaces and fireplaces. And in 1939 he sent geologists into the mountains of Nye County looking for heat-resistant materials.
They found or acquired deposits of magnesite and brucite containing more than 70 million tons of good ore — the largest deposit ever found.
Hitler's invasion of Poland reminded Eells his ore had other uses. German dive bombers could turn on a dime because of lightweight magnesium components. German paratroopers had a huge advantage over other infantry, for they were able to carry their own artillery — lightweight 25mm cannon made of magnesium.
Magnesium was the key component of bright-burning tracer bullets, essential to accurate machine gun fire. It was the key component of incendiary bombs and of the flares used to light battlefields or signal rescue craft. Yet the United States had been caught napping; little was made in this country. And through patents, Dow Chemical Co. and Alcoa monopolized even this.
Eells tracked down Maj. John P. Ball, who had bought production patents from a German company shortly after World War I and founded a company to produce magnesium in England. Ball would provide the know-how to make the light metal in America.
Getting plans for a magnesium factory would not prove easy. Dispatched to America in six large crates, accompanied by two of Balls' employees, the first set of plans went down when the ship was torpedoed. Both escorts were rescued. A second set of plans was microfilmed and dispatched by airplane, while the waterlogged escorts boarded a different plane as a decoy. Both airplanes got through.
Meanwhile, Eells searched the country for financing and friends.
He found the friends in Nevada Sens. Key Pittman and Patrick McCarran. It helped that Charles P. Henderson, a former U.S. senator from Nevada, was chairman of the Reconstruction Finance Corp., a federal agency that financed businesses including defense plants. They considered locating the factory near the magnesite deposits, at Gabbs, but the site lacked both water and electrical power. Making magnesium requires plenty of both.
They eventually settled on a site about halfway between the generating facilities of Hoover Dam and the railroads at Las Vegas.
However, there are those who contend it wasn't logical to build a new magnesium factory at all, and especially not in Nevada. In his book "Resort City in the Sunbelt," UNLV history professor Eugene P. Moehring explained why it happened anyway. "Both men (Ball and Eells) needed a factory, and Nevada's congressional delegation had the clout to build it. Efficiency would have dictated that the ore be hauled to existing plants in California, but then Nevada would have lost the factory. Efficiency also might have demanded that the magnesium deposits in nearby Overton (only 50 miles from Las Vegas) be used, but then Eells owned the deposits at Gabbs, 350 miles away. So, at first, the federal government paid an exorbitant price to transport Gabbs magnesite 1,100 miles by rail via Salt Lake City to Las Vegas. Eventually, Washington built road connections (including a new Las Vegas thoroughfare, Rancho Drive, to prevent the heavy trucks from tearing up existing city roads.)
There are other arguments. C.F. DeArmond, an engineer and member of the Colorado River Commission, said in 1941 that the nearby ores were more expensive to process, so using the Gabbs ore was cheaper even when transportation costs were calculated.
Southern Nevada folk wisdom says the site was chosen to disperse war industry and make it harder to hit should carrier-based Japanese aircraft attack the mainland. The neighboring mountains would require bombers to fly high and make their bombing less accurate.
Eells took the trouble to deny that in 1953. "The selection had nothing whatever to do with 'decentralization against enemy attacks,' "he wrote in a letter to Business Week, clarifying mistakes in a story.
On July 5, 1941, the U.S. Defense Plant Corp. signed an agreement with Eells' newly formed Basic Magnesium Inc. to build the plant. With war looming, the federal government was to own all buildings, land, equipment and magnesium produced. It controlled sales and production quotas, and it paid the workers. But BMI managed the operation and recruited, hired and fired them.
A few days after the contract was signed, the government asked Eells to build a plant 10 times the size originally contemplated. It would be a mile and three quarters long and three quarters of a mile wide, the largest magnesium plant in the world.
The scale of the construction staggers imagination even today. The BMI newsletter, appropriately named "The Big Job," commented on July 30, 1942:
"It detracts nothing from the splendor of the Boulder (Dam) accomplishment to point out that the big job at Basic is of even more gigantic proportions.
"At the peak of employment the dam project had 5,250 at work. Last week the employment count on the Basic job was 13,618. The weekly payroll at this project is greater than the monthly payroll at the dam. Anderson's (the company which contracted to feed workers) had a mess hall at the dam that seated 1,300. Anderson's here can serve 2,500 at a sitting."
More than 13,000 workers constituted 10 percent of Nevada's population, and that didn't even include the number building a second plant at Gabbs to partially refine ore, reducing the weight by half before shipping it.
Workers still trying to rebuild their bankrolls from the waning Depression hastened to Las Vegas. The numbers quickly overwhelmed local accommodations. Ragtag campsites, which would have been called "Hoovervilles" only a few years before, grew up along Boulder Highway. There were tents, trailers, makeshift shacks – even some hogans built by Indians working on the plant.
Eells wanted to house workers in Boulder City, which was originally built to house dam workers. But the Bureau of Reclamation, which still ran Boulder City, said it couldn't handle so many. Eells started talking about building housing near the plant.
Las Vegas business interests promptly declared the honeymoon over. They had missed out on many of the economic benefits from Hoover Dam, because the federal government built Boulder City as a complete town with its own stores, entertainment and restaurants. Now Las Vegans saw the same thing about to happen again.
Their champion became Berkeley Bunker, the Las Vegan appointed to the Senate at Pittman's unexpected death in 1940. Bunker wrote the president of the Defense Finance Corp., urging that Las Vegas be designated the official homesite for the plant and charging that Eells wanted to build a new townsite because of "visions of personal financial profit."
Eells didn't even want a company town, just worker housing. But growth-hungry Las Vegas had never developed water, sewer and street facilities to accommodate such a windfall of new population.
In the end, federal authorities forced Eells to do what neither he nor Las Vegas wanted. DFC refused to finance housing unless it met U.S. Public Health Service standards requiring on-site stores, streets and recreational facilities. A company town was born.
Construction began on Feb. 17, 1942. As a concession to Las Vegas interests, the houses were built on wood foundations so they could easily be moved after the war. Some were moved, but many remain today, their temporary foundations long since replaced with concrete.
McNeil Construction Co. of Los Angeles got the contract to build both the plant and the townsite. President Bruce McNeil became a Nevada hero when the BMI administration office, containing all the plans for the plant, caught fire. McNeil drove a bulldozer through flames to push out the filing cabinets containing the critical plans.
Bunker publicly suggested that the fire was intentionally set to cover the facts about the "company town." This led to a fact-finding mission by Sen. Harry Truman, chairman of the Senate Investigation Committee. He held hearings in Las Vegas, never bothered to visit the plant site and issued a report calling the new plant "one of the most flagrant attempts at war profiteering."
Bunker faced re-election in 1942. If he was trying to make hay with his anti-BMI crusade, he was badly out of touch with constituents. Democrats voted to nominate not Bunker but former Gov. James Scrugham, a pro-BMI candidate, who subsequently won the general election.
Eells sold BMI and its management contract to Anaconda Copper Mining Co. in 1942.
It would remain for Anaconda to complete the townsite and bring the plant to full production. The town was named for Henderson, at the urging of the Colorado River Commission, in gratitude for the former senator's role in getting the plant financed and built.
Despite work that was brutally hot and hard, and created serious turnover problems, BMI under Anaconda management broke both production and safety records.
So hard did the war workers toil that by July 1943 the plant was producing magnesium at 10 percent greater than its rated capacity. So much did they make that in November 1944, with fighting still raging in Europe and the Pacific, the federal government decided it needed no more magnesium. Basic Magnesium was ordered to suspend production. Within a few days, the production lines closed down and workers were dismissed.
Finding a new job in the war-hot economy of 1944 was no great hardship, but the workers had to look somewhere else, so more than half the houses soon stood empty. Henderson nearly became one more Nevada ghost town.
Henderson, McCarran, Vail Pittman, and many other Southern Nevada leaders were determined to have another outcome. The War Assets Administration sought to sell the whole operation — factory, tools, hospital and Henderson itself — to private industry. Some assets were sold, but WAA retained the real estate for several years, largely because title was clouded. In the housing shortage brought on by Las Vegas' postwar boom, all the single-family dwellings built for the townsite, and most of the apartments, were once more occupied.
Urged to keep the hospital open to meet public need, the federal government gave it to the Dominican Order of Catholic Sisters. And in 1948, through negotiations involving the Colorado River Commission, the state purchased the entire complex for $24 million — $1 down. The announcement in the March 17 Review-Journal noted, "As a tribute to Senator McCarran, WAA rushed through all legal entanglements so transfer would be formally recorded on St. Patrick's Day."
New manufacturing firms were found to use portions of the plant, giving Southern Nevada the industrial base which had been a civic goal for more than 40 years. In 1951 the tenants organized a company called Basic Management Inc. The new BMI bought the property from the state in 1952. Another legacy of the plant was the federally financed water line from Lake Mead, first ever extended into the valley from the lake, which also became a basis for the Las Vegas Valley Water District.
Industrialization also had brought great changes to the social order. Women had worked outside the home, in large numbers, for the first time. Many of them never went back to traditional roles. The plants offered jobs to blacks from poverty-stricken Southern regions and changed the racial demographics of Clark County. Organized labor became important. Henderson became a city.
Meanwhile, the man who started it all was forgotten. Then, in the 1960s, Maryellen Sadovich, a writer who had come to Henderson in 1954 when her miner husband was transferred to one of the new plants, began wondering who was originally responsible for the war industry. Nobody knew.
Somebody had heard it was a guy from Cleveland. "Then some photographer told me he thought the guy's name was Eells," said Sadovich, now 73. "I looked his name up in the Cleveland phone book and wrote him a letter. … I ended up going to Cleveland and interviewing him in his office."
Eells gave her dozens of boxes of correspondence, photographs, documents, and souvenirs relating to the nativity of Henderson's war industry. Sadovich based her master's thesis on them and gave most to UNLV.
Eells died in 1978, at the age of 85.
---
Part I: The Early Years
Part II: Resort Rising
Part III: A City In Full