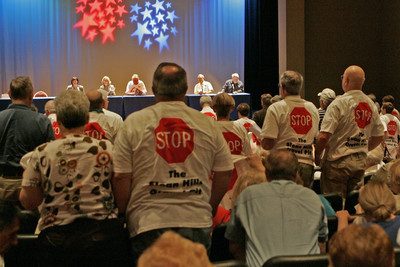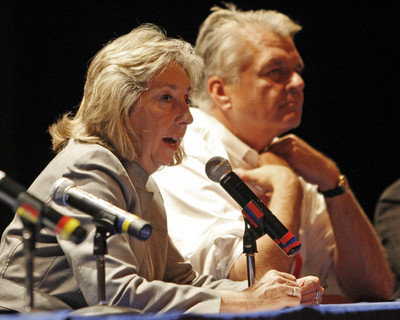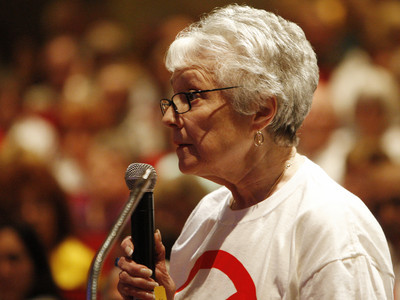 A proposed open-pit mine where crews would blast the earth, crush rocks and kick up dust for decades drew almost 400 outraged residents to a forum Monday.
Most hailed from Sun City Anthem, several miles from where two companies want to scoop out sand, gravel and decorative rock at a 640-acre site east of Interstate 15. Most wore T-shirts that read: "Stop the Sloan Hills gravel pit."
A couple of dozen neighbors vented to a panel of public officials, including U.S. Rep. Dina Titus, D-Nev., who was preparing to catch a plane to Washington, D.C.
Donna Dickey, a fierce opponent, asked panel members whether they'd be more apt to halt the project to protect the desert tortoise, which is listed as a threatened species.
"I would like you to consider us an endangered species," Dickey said.
About 5,500 people signed a petition opposing the quarry. Many argue that airborne dust would make breathing difficult for the elderly and children, especially those with respiratory problems.
They also worry that the blasting and rock-crushing would ruin the area's tranquility. And they say trucks hauling out 500 loads daily would jam up traffic and damage roads.
Titus said she sided with residents.
"This is not what we need in this area," Titus said, drawing hearty applause. "I'm telling you I'm on your side and trying to put a stop to what's happening."
Titus noted that the affected areas actually fall in the district of Rep. Dean Heller, R-Nev. She and Heller need to reach across party lines and work together on this issue, Titus said.
An aide to Heller read a statement that expressed a more neutral stance. Heller said companies by law can apply for the right to mine the land, but there's no guarantee they'll be granted that right.
One resident asked where in this drought-stricken region will the companies get the estimated 5 million gallons of water per week needed to do their mining.
"The simple answer is I don't know where all the water is coming from," said Mark Chatterton, a Bureau of Land Management representative.
Cemex, a Mexico-based cement company, and Service Rock Products, based in California, want to lease the site from the BLM.
However, they would have to outbid any competitors.
The BLM is studying the environmental effects of the gravel pit before taking bids from operators who would pay the federal government a fee for every ton of material removed from the site, said Kirsten Cannon, an agency spokeswoman.
If the site proves unsuitable to mine, the agency will absorb the $350,000 cost of the study, Cannon said. Otherwise, the highest bidder will pay the cost.
The BLM will take 45 days of public comment in late November and should issue a final impact statement by mid-2010, Cannon said, noting that mining could begin in 2011.
Mining at the site could be in operation for about 20 years or less, depending on the demand for the minerals, Chatterton said.
Delmar Brim, who has lived in the area for 10 years, said mining is a bad fit because of brisk southwest winds that would blow dust into people's homes.
"We have a lot of people with respiratory problems," Brim said.
When asked whether the mining companies could do anything to placate him and other neighbors, Brim had a terse reply.
"Just move it somewhere else," he said.
Contact reporter Scott Wyland at swyland@reviewjournal.com or 702-455-4519.