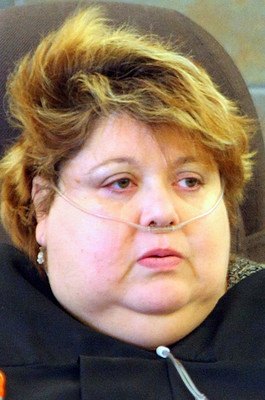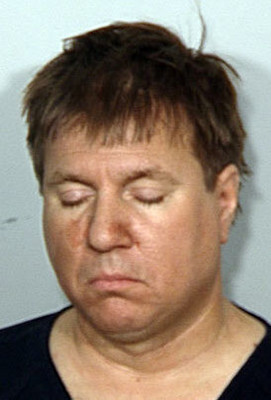 Metropolitan Police Department officers who first attended to beaten and bloodied District Judge Elizabeth Halverson on Thursday later discovered an empty bottle of bleach in a master bedroom trash can.
The 50-year-old judge told officers that her husband, Edward, "was using the bleach to clean up all the blood that was splattered in the bedroom from him striking and beating her," according to a Las Vegas police report.
After responding to a late-night domestic violence call, police found Elizabeth Halverson sitting on her bed bleeding profusely.
She had bruises on her chest, hand and around her right eye. She had "gaping wounds" on her head, and her scalp was partially removed, the police report said.
She told police her husband tried to kill her by beating her with a frying pan.
Edward Halverson was booked into the Clark County Detention Center on charges of attempted murder, battery with substantial bodily harm and battery with a deadly weapon. He is scheduled to appear before Justice of the Peace Karen Bennett-Haron at 8 a.m. today.
Elizabeth Halverson remained at Sunrise Hospital and Medical Center on Monday.
The suspended judge, who lost her bid for re-election last month, placed a 911 call at 10:49 p.m. Thursday and said, "send police," according to the report.
When officers arrived at her home in the 4100 block of Oxnard Circle, the front gate was locked, and no one answered the buzzer. They used a pry bar to open the gate. As they attempted to open the front door, Edward Halverson appeared in the doorway.
The 49-year-old was bare-chested and wearing camouflage shorts that were covered in blood, the report said.
"There was also blood on his arms, on his legs and smudges on his back," according to the report.
Officers detected the scent of bleach inside the home.
Edward Halverson resisted arrest as police escorted him to a patrol car, the report said. Attempts to interview him Monday were unsuccessful.
Elizabeth Halverson's longtime friend, Bobbi Tackett, said Edward Halverson attacked his wife after she told him to leave their home.
"This is an intelligent woman who stayed with a man who brutalized her; he's threatened her," Tackett said. "This time, she told him he had to leave, and he beat her half to death."
Tackett said her friend has already undergone five blood transfusions.
Elizabeth Halverson was in severe pain Monday morning as she struggled to give her account of the incident to police officers preparing for this morning's hearing.
Elizabeth Halverson, a former law clerk turned judge, has experienced a turbulent term on the District Court bench. She was banned from the Regional Justice Center in May 2007 after she allowed two private bodyguards into secured areas without security checks.
She was called before the Nevada Judicial Discipline Commission this summer after she was accused of mistreating staff members, falling asleep on the bench and improperly communicating with jurors.
She has continued to receive her $130,000 annual salary during her suspension.
She fought to hold onto her Department 23 position, but the primary elections came about during her discipline hearings. She garnered less than 10 percent of the vote and will be out of office in January.
Tackett said she has been appalled at the public's treatment of Elizabeth Halverson, including the reaction to Thursday night's incident.
Tackett countered acquaintances' comments that Edward Halverson quit his job to care for his wife. Tackett said the judge carried the family financially and had no help around the house.
"There is more to this story," she said. "Nobody deserves to be beaten like this. Nobody."
Contact reporter Adrienne Packer at apacker@reviewjournal.com or 702-384-8710.