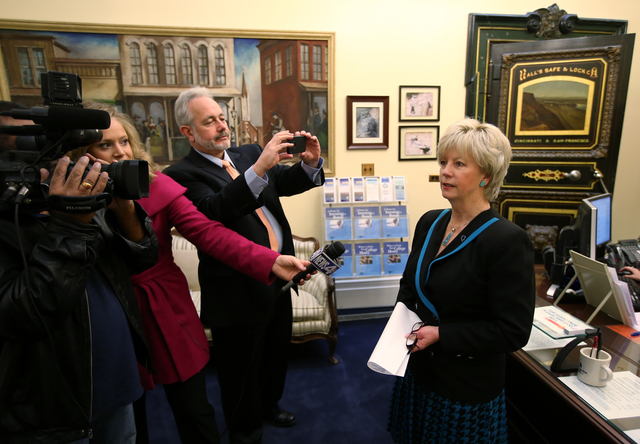 CARSON CITY –Nevada's official 2014 election season got off to a busy start Monday, with more than 60 candidates filing for public office, including two GOP lieutenant governor candidates in what will be one of the most watched Nevada races of the year.
GOP state Sen. Mark Hutchison filed for lieutenant governor in Carson City, while his GOP opponent Sue Lowden made her race official in Las Vegas later in the day.
Hutchison chatted briefly with Gov. Brian Sandoval in the Capitol before filling out his paperwork. Sandoval, who has endorsed Hutchison over Lowden, is expected to file for his second term as governor on Friday.
Hutchison reiterated several familiar campaign themes in comments made to reporters prior to filing his paperwork, including his desire to push for state sovereignty to combat what he said is an over-reaching federal government.
Hutchison, who is in the middle of his first four-year term in the state Senate, represented Nevada and Sandoval in the legal challenge to the constitutionality of Obamacare.
"I want to continue to fight for Nevadans," he said. "We need to rein in the federal government through the states."
Hutchison reiterated his position that a proposed water pipeline to ship rural Nevada water to Southern Nevada is not the way to satisfy Las Vegas' water needs. Nevada needs to take a closer look at desalination efforts in Mexico or Southern California to allow Nevada to draw more Colorado River water, he said.
Lowden brought her son Paul and 14-year-old granddaughter Vanessa with her along with half a dozen supporters when she filed at the Grant Sawyer Building. Lowden said she was confident she would win the GOP primary.
"I think I'm going to win because I have the people on my side," Lowden said. "A lot of people are saying, 'Thank you for giving us a choice.'"
Asked how she felt her chances would be against Democrat Lucy Flores in the general election, Lowden said she is focused now only on the GOP primary.
"I can't think about the general yet," Lowden said. "The only thing I can think about is the primary. I learned my lesson last time."
Flores plans to file on Tuesday in Carson City.
In the 2010 U.S. Senate race, Lowden was considered to be the strongest Republican candidate to challenge U.S. Sen. Harry Reid, D-Nev., in the general election. But after Reid's campaign targeted her for defeat, Lowden lost to Republican Sharron Angle, a tea party candidate whom Reid easily defeated.
Lowden said the next 90 days until early voting begins will go quickly.
"It's going to be a very intense three months and I'm geared up for it," Lowden said.
The GOP lieutenant governor primary will be one of the most closely watched races this year because of the potential ramifications if Sandoval decides to challenge U.S. Sen. Harry Reid for his seat in 2016. Sandoval has not commented on such a scenario, saying only he is focused on his re-election campaign.
Also filing were candidates and incumbents seeking Congressional seats, statewide constitutional offices, legislative seats and local county positions.
Clark County District Attorney Steve Wolfson filed to keep his seat. Wolfson was appointed to the job in January 2012 after David Roger resigned. He has more than $750,000 in campaign contributions and the endorsement from the Las Vegas Police Protective Association, the county's largest police union.
Also in Las Vegas, U.S. Rep. Joe Heck, R-Nev., filed for re-election at the Clark County Election Department. He's seeking a third two-year term representing Congressional District 3 in Southern Nevada. Erin Bilbray, a Democratic political consultant, plans to file papers to challenge him next week.
Heck said his priorities if re-elected would continue to be jobs and the economy because Nevada is still struggling to recover from the recession and its unemployment rate remains high at 8.8 percent. He has introduced a bill to extend for two years his legislation to forgive taxes on "shadow income" from mortgage debt forgiveness. He also expressed hope immigration reform would be voted on this year.
In the race for Congressional District 4, which covers parts of Clark County and all or part of six other rural counties, two Republicans filed to challenge U.S. Rep. Steven Horsford, D-Nev. Niger Innis, a civil rights advocate and tea party favorite, filed as well as Assemblyman Cresent Hardy, R-Mesquite.
Innis said he's not a career politician and plans to reach out to minorities, women and young voters, which he said the Republican Party has failed to do in the past.
"I want to bring a refreshing change to the district," Innis said. "I'm not a politician. I'm a leader."
Horsford, a freshman, plans to file for re-election on Monday, March 10.
In other statewide races, Republican Adam Laxalt, who is running for attorney general, filed in Las Vegas. His Democratic opponent, Secretary of State Ross Miller, is scheduled to file on Thursday.
State Sen. Barbara Cegavske, R-Las Vegas, filed her bid for secretary of state while another lawmaker, Assemblyman Andrew Martin, D-Las Vegas, filed for the job of controller. So did Republican controller candidate Barry Herr. State Controller Kim Wallin, who is running for state treasurer as a Democrat, also filed, as did her GOP opponent, businessman Dan Schwartz.
As treasurer, Wallin said her first priority would be to find a way to keep the Millennium Scholarship program healthy. The program, which offers $10,000 scholarships to qualified Nevada high school graduates, is funded through 2018.
She said it is important Nevada have a trained workforce, and that statistics show Millennium scholars receive college diplomas 46 percent of the time, compared with 38 percent for other students.
Schwartz said he was more qualified than Wallin because he worked in finance for 35 years and started several businesses. He also said he could get a better return on investment of Nevada's general fund than the current Treasurer Kate Marshall, who is expected to file soon for secretary of state. Schwartz said that under Marshall's watch Nevada's financial investments have returned only 0.5 percent. He said he would aim for a 2 percent return using still safe investments.
"I'm going to set a benchmark for returns," Schwartz said. "It takes someone who understands investments."
Candidate filing runs through March 14. The primary is June 10 and the general election is Nov. 4.
Review-Journal reporters Ed Vogel and Francis McCabe contributed to this report.
Contact Capital Bureau reporter Sean Whaley at swhaley@reviewjournal.com or 775-687-3900. Follow him on Twitter @seanw801.