Hydrant Club something to bark about in downtown Las Vegas
December 24, 2013 - 6:24 pm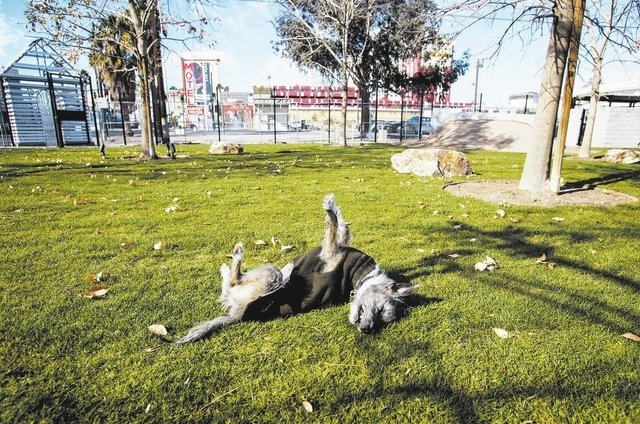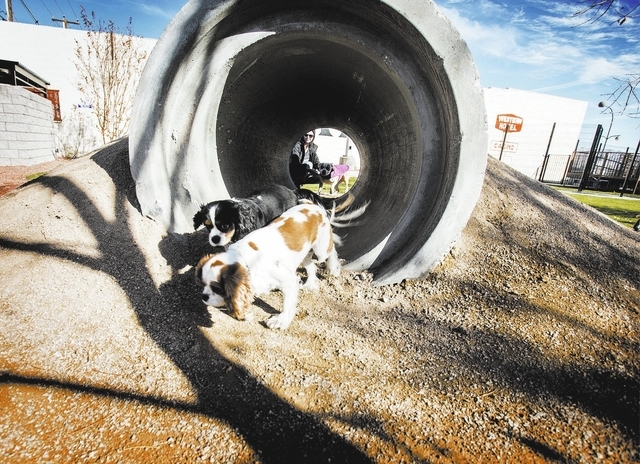 For downtown Las Vegas to become a better place for people it's going to need a nice place for dogs, too.
That's what Cathy Brooks is hoping to provide with the Hydrant Club, a members-only private park where people can exercise and play with their dogs.
It's a grass- and tree-covered oasis from the surrounding area that's characterized mostly by concrete, asphalt and a lack of shade. Not a neighborhood people would want to live with their pets, especially in the summer.
With the Downtown Project, a $350 million real estate, technology and small business fund backed by Zappos CEO Tony Hsieh, attracting new people to the formerly forlorn area, Brooks sought to tap into new demand for upscale services.
With support from Downtown Project she led the conversion of the property at 9th and Fremont streets from a vacant lot to a place where people would pay to play with their dogs. The park opened earlier this month after about a year in development.
"It is really important for a dog community to have a place to be," said Brooks, who moved to Las Vegas from the San Francisco Bay Area to build the project.
Brooks described the dog park near her former home as a place not only where dogs played but where people became friends through their pets.
She recalled going to the dog park in 2006 after one of her own pets died.
"I knew this was a group of people who would understand the pain I was in," she said.
Brooks wants to find a similar circle of people in Las Vegas.
She said the city and county have nice dog parks but the public facilities have fewer controls which can result in people allowing dangerous or non-vaccinated dogs to roam common areas.
Brooks' facility, called Hydrant Club, is more controlled than public parks.
People can buy memberships that vary in price from around $40 to more than $115, depending on the level of access they want.
The dog play area is grassy, with large shade trees covering most of the property. There's also a water play area and an indoor area. A large fence separates the dog play area from the street.
Some memberships are weekend or weekday access only. Others include supervised dog play dates and more flexible access.
Brooks says she expects about 150 to 200 memberships and, if she makes her goals, thinks there might be demand for another location.
Brooks also screens dog behavior before allowing them into the facility. The idea is to make sure the dogs won't fight or bite.
She said "as long as your dog doesn't pick fights and doesn't take dogs' toys," it would likely pass the screening.
For more information on the Hydrant Club call 702-721-9663.
Contact reporter Benjamin Spillman at bspillman@reviewjournal.com or 702-383-0285. Follow him on Twitter @BenSpillman702.