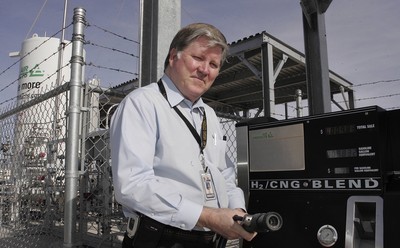 Hydrogen-powered cars are already on the road, and one company plans a limited release of models to the general public later this year.
The cars run quietly, emit only distilled water and can range more than 250 miles, just like gasoline-powered vehicles.
But these wonder vehicles have a "chicken or the egg" problem, notes the U.S. Department of Energy: very few fueling stations. Without those stations, who's going to buy hydrogen cars? If no one's buying the cars, who wants to build a fuel stop?
Las Vegas recently signaled support for a multistate effort to slice through that conundrum by building hydrogen fueling stations in six Western states, allowing those with hydrogen cars — at first, California residents, mostly — to hit the highway without worrying about running out of juice.
"We don't have to wait 30 years to show that it will work," said Dan Hyde, transportation and fleet services manager for the city of Las Vegas, which has been active for almost a decade in adopting alternative fuel vehicles.
If states can show that they're serious about backing hydrogen fuel cell technology, he said, it will attract businesses, investment and resources in the field.
"They'll come to the table, and I think we'll attract the kind of grant money that we need to get this started," Hyde said.
How much that will take isn't clear. While the costs aren't insignificant, they've come down substantially even in just the last few years.
For instance, Las Vegas' hydrogen fuel stop cost about $10 million six years ago. Building the same station today would cost closer to $2 million, Hyde said, and would be one-fifth as big.
Las Vegas uses the stop to fuel two hydrogen-powered buses and for a Honda FCX that's being road-tested by city staff who drive a lot. Some vehicles also use a combination of natural gas and hydrogen. It's not open to the public.
Hydrogen centers in California are, however, and that's where the hydrogen highway-system ball got rolling.
The California Fuel Cell Partnership said the state has 179 fuel cell vehicles on the road, along with 24 hydrogen fueling stops, mostly clustered around Los Angeles. The goal is to have 100 fueling stations and 2,000 hydrogen vehicles in California by 2010.
In the grand plan, accessible hydrogen stops would be established in Nevada, Utah, Colorado, New Mexico and Arizona as well.
"We're now trying to establish a synergy … in order for people to be able to go seamlessly through those states and through those cities," said Las Vegas Mayor Oscar Goodman during his annual State of the City address.
"That's our responsibility in order to make sure our planet is going to be healthy for those who follow us here."
Having said that, broad access to hydrogen-powered vehicles is for the most part several years away.
Some automakers expect to bring cars to market as soon as 2010, according to the fuel cell partnership. But showroom-level production isn't expected for at least another decade.
Honda does plan to release limited numbers of its hydrogen-powered sedan for lease in Torrance, Santa Monica and Irvine, Calif., later this year.
The "hydrogen highway" concept is part of the much larger Western Climate Initiative championed by several Western governors and the premiers of two Canadian provinces.
It sets goals for emissions reductions for participating states.
So far, Nevada has not signed the accord, although the state is participating as an observer, said Melissa Subbotin, a spokeswoman for Gov. Jim Gibbons.
Gibbons did establish a Nevada Climate Change Advisory Committee, which is supposed to report its recommendations for reducing greenhouse gas emissions by May 31.
Contact reporter Alan Choate at achoate @reviewjournal.com or (702) 229-6435.