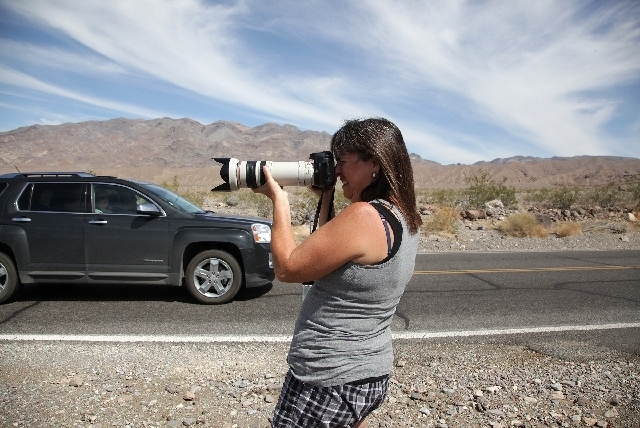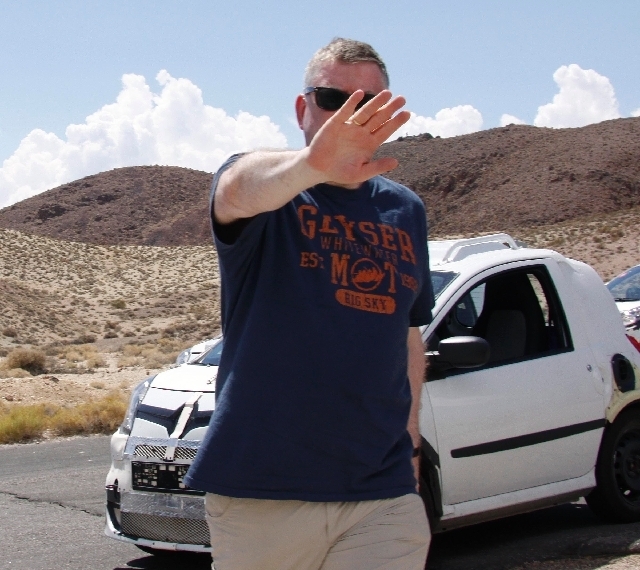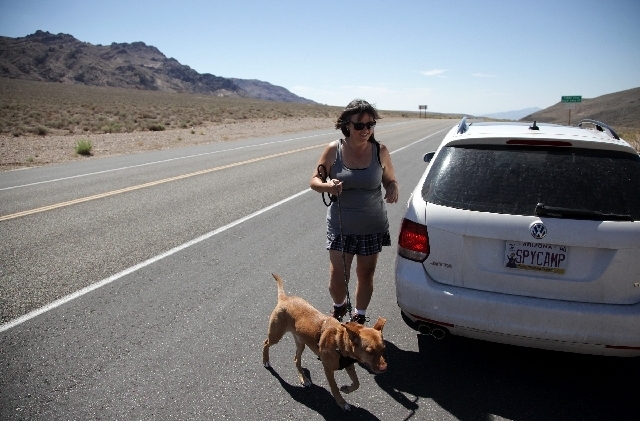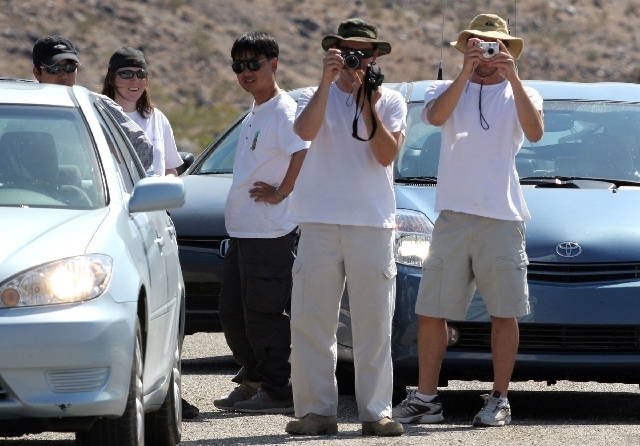 DEATH VALLEY NATIONAL PARK, Calif.
Near the end of a slow day of stalking test cars, Brenda Priddy passes a black Volkswagen draped in camouflage on the road near Stovepipe Wells.
She saw the same car last week, but the engineers testing it blocked her view with a chase vehicle before she could get the shot.
Priddy makes a U-turn.
The world's best known automotive paparraza insists she doesn't chase cars, but she's not above following them.
She quickly catches and then passes the test car as the road begins its steep climb toward Towne Pass. An engineer in the minivan in front of the Volkswagen sees her go by and raises a radio to his mouth.
Priddy pulls off at a rest stop a few miles up the road and gets out with her camera, but her target never arrives. Shortly after spotting her, the test car makes its own sudden U-turn and heads the other way.
She just shrugs and climbs back behind the wheel.
THE HOT SPOT FOR TESTING
Priddy has spent her past 20 summers this way.
From June to October, she leaves her home in suburban Phoenix to prowl the roads between Death Valley and the Nye County town of Beatty in search of test cars and automotive engineers.
The spy photos she captures are a hot commodity for car magazines eager to publish the first images of next year's models. Death Valley is the place to find them.
Automakers have been testing cars in the park for decades. Nowhere else on Earth offers the same combination of long, steep grades and temperatures that regularly soar into the 120s. The road from Stovepipe Wells to Towne Pass climbs from sea level to almost 5,000 feet in about 17 miles, and it's hot the entire way.
This year alone, the National Park Service issued testing permits to every major automaker in the world, 32 companies in all.
Beatty serves as base camp for many of the test crews, which maintain garages in and around the town of about 1,000 residents.
BMW sets up at the middle school. Mercedes-Benz rents out the auto shop at Beatty High. Sometimes in summer, the company's flag can be seen fluttering from the pole in front of the school.
In addition to providing welcome revenue for the rural Nye County School District, the car companies regularly supply shop students with state-of-the-art tools, diagnostic equipment and on at least one occasion an entire car.
The only drawback, according to one former district administrator: German engineers need to be reminded now and then that a school is no place for a refrigerator full of beer.
LONG AND LONELY DAYS
Priddy spends a lot of time in Beatty. Most years, she rents an apartment with a view of the Honda garage on one side and the Volkwagen garage on the other.
She has been known to toss a handful of sand across the dirt road leading to VW's shop so she can check it later for tire tracks and other signs of activity.
Out on the road, the test cars are easy enough to spot. The car companies usually cover the prototypes in tarps, plastic ridges and wild swirling patterns to mask their new contours.
Company logos are often covered or removed. To the untrained eye, it can be hard to tell the manufacturer, let alone the make and model.
Priddy's 53-year-old eyes are well trained. She can identify almost any vehicle at a glance, and she has learned to pick out test convoys from across the valley, based solely on the way the shiny dots of vehicles are spaced.
Closer up, she scans windshields for the brightly colored federal permits the crews must display while testing in the national park.
Her days can be long and lonely — just her and Hunter, a dog she found injured and abandoned three years ago near Death Valley's Daylight Pass.
She might follow cars up and down the road to Towne Pass or Dante's View 10 times in a day or sit in a parking lot the whole time, waiting for the cover to come off a single prototype.
She shoots maybe 400 pictures on a slow day, a few thousand on a busy one. Her nights are spent editing her work, sending it out to publications and researching cars for the next day's hunt.
She often works seven days a week.
Her office is a 2-year-old Volkswagen Passat wagon that runs on diesel and gets 42 miles to the gallon. It already has more than 56,000 miles on the odometer, "most of it Death Valley miles," she says.
On most days, the car is stocked with up to seven cameras, a laptop, maps, audio books and a cooler loaded with bottles of iced tea, apples and energy bars.
She also brings extra food and water for Hunter in case they get stuck somewhere or the pursuit of a prototype unexpectedly turns into an unscheduled overnight trip.
KNOWING WHERE TO LOOK
On this day, Priddy stops in front of the park's visitor center in Furnace Creek to photograph a different black VW, this one with Arizona plates and a test permit in the window.
She quickly dismisses it as "just a mule," the term for a prototype fitted with the body of an older model while engineers test internal components such as the engine or drivetrain. Cars like that don't look like much in a spy photo.
A few parking spots away, she also shoots an Audi SUV with VW hubcaps and a sensor taped to the roof. The vehicle doesn't impress her, but it's better to have the picture anyway, just in case. "I shoot first and figure it out after."
Another good spot, just up the road, is Furnace Creek Ranch, where test crews often stop for lunch.
There Priddy finds a line of Hyundai prototypes with "Manufacturer" plates out of Michigan. She has already shot these cars but decides to take a few more photos, mostly to see the reaction from the gaggle of Korean engineers standing nearby. No one tries to stop her. The only resistance she meets is from one man who offers a half-hearted, "Please, no pictures."
Priddy moves in closer to point out a sign in the window of one of the prototypes. It warns that any attempt to photograph the car "may be strictly penalized upon laws concerning trade secret protection."
She found the threat so funny the last time she saw it, she posted a picture of it on her Facebook page.
"If they say, 'No, don't take pictures,' that means go for it," she says.
Some engineers seem to enjoy the cat-and-mouse game and even play along a little. One year, a different Hyundai crew used duct tape to write "Hi Brenda" on its test car.
Others don't treat it like a game at all.
Priddy has been menaced, chased and threatened. Once, early in her career, she had her camera shoved back into her face so hard it broke her nose.
Last week, Priddy was on a remote road shooting pictures of a new Acura when she was approached by a member of the test team. The man, probably an engineer, told her, "This would be an awful place to die."
"The car wasn't even that important really," Priddy says.
This sort of thing happens about once a season — a confrontation bad or dangerous enough to warrant a detailed report, often with pictures, to local law enforcement or a car company's corporate headquarters.
Most of the time, crews simply cover their cars or drive them someplace else.
Priddy's defense against bad behavior is to never stop shooting. Her files are filled with photos of engineers flipping her off, mooning her or trying to block her frame with their hands.
On her company's Facebook page, she has an entire photo album devoted to pictures of test crew members taking pictures of her.
THE MOM AND THE MUSTANG
Priddy stumbled into the world of automotive espionage in 1992 in a parking lot within a mile of her Arizona home.
She had her two young kids in the car with her when she spotted a prototype she thought her then-husband might like to see.
"I didn't even know what it was," Priddy says. "He's the car person in the family. He's probably never thrown out a car magazine in his life."
The car turned out to be the next Ford Mustang. One of her pictures of it wound up on the cover of Automobile magazine that November.
At the time, she was working as a bookkeeper and shooting weddings on the side, but within a year of selling that first photo, she started stalking test cars full time.
Her son and daughter often came with her.
"They kind of grew up doing this with me," she says.
Priddy has never been the type to hide in the bushes with a giant lens, but she did at least try to conceal her identity early on by driving rental cars and swapping them out every week or two.
She stopped doing that because the rentals kept breaking down, which can be a serious problem on a summer day in Death Valley.
"The good engineers will stop if I have an issue. Other people will drive by and laugh," she says.
One year, some crew members from Porsche saw her stranded on the side of the road. As they drove by without stopping, a guy leaned out the window and said in a heavy, German accent, "Ah, Brenda, too bad."
Priddy has since dropped any pretense of being undercover.
She hands out rubber bracelets promoting her photography business, sometimes while dressed in a "Beware Female Spies" T-shirt or a baseball cap that says "Espionage" on it.
And she drives her own car now, decorating it each year with a new Arizona vanity plate designed to be noticed. One year it said IGOTCHA; another year Priddy used the German word for female spy.
This year's plate reads SPY CAMP, which doubles as a promotion for her newest venture: For $750 you can ride along with her for a few days and learn the trade.
About a dozen people have taken the camp so far, but Priddy is not worried about training future competitors.
"I'm sharing, that's all. I don't think any of them are going to do this as a living. Nobody wants to come back here in the summer."
Here's one pro tip, free of charge: Sometimes the most interesting thing about a test car is under the hood. But how do you get a shot of that?
Priddy and a partner once waited for a driver to go to the restroom and then splashed a little antifreeze under the man's car. When the guy came back, they pointed the puddle out to him, and he popped the hood to look for the leak, allowing her to sneak a few pictures of the engine.
"I don't think he ever saw me take my camera out," she says.
TROUBLE DOWN THE ROAD
Priddy finally bags the elusive black Volkswagen about a half hour after she lost it on the road to Towne Pass.
She finds it again on California Route 190 near the main road back to Beatty, a place she knows test crews like to use as a staging area.
This time, the engineers don't bother trying to hide. They drive right past Priddy as she fires away with her camera from the side of the road.
She will send the photos to an automotive expert she knows in Europe to see if there is anything newsworthy about the car, but she isn't terribly optimistic. "It's probably nothing. Nothing that's really going to pay the bills."
Priddy plays up the spy stuff because it's fun and good for business, but she actually considers herself a journalist. Her dog's full name is Hunter S. Thompson Jr.
And like a lot of freelance journalists these days, she is feeling the pinch from cheap Internet competition and the withering market for newspapers and magazines
She still commands anywhere from $100 to $1,000 for a set of pictures, but she only sells about one out of every 10 sets to a shrinking pool of buyers.
Five years ago, she had enough work to keep two other photographers on the payroll full time. Now she works alone and wonders if anyone will be able to make a living at this five years from now.
Priddy says only two or three other companies in the country specialize in this kind of photography. But a legion of amateur car enthusiasts are out there now who are perfectly willing to trade camera-phone photos for a magazine subscription or less.
"Sometimes it doesn't matter if you're first or your picture is the best," she says. "It's really that everybody wants it for free."
So, after 20 years in the automotive espionage business, Priddy is thinking seriously — and for the first time — about what she might do next.
From the bottom of Death Valley, all she has come up with so far is this: "I can live anywhere, I can do anything, but I never want to put my cameras down."
Contact reporter Henry Brean at hbrean@reviewjournal.com or 702-383-0350.