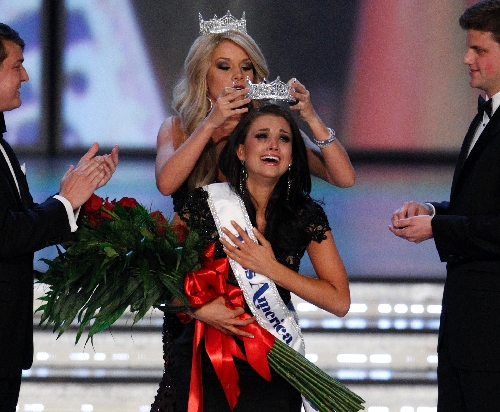 Down to 42 contestants from a field of 11,000, the surviving "American Idol" contestants are hoping their luck doesn't run out in Las Vegas.
"Sing for your life. Right before 'The Green Mile,' " said judge Randy Jackson, referring to the hit movie about the long walk inmates take on death row.
They made it through seven audition cities. Twenty-four will go on to Los Angeles.
The stage this week is "Le Reve" theater at Wynn Las Vegas, where Jackson and fellow judges Steven Tyler and Jennifer Lopez will decide who goes home.
"They're very excited to be on a stage like the one they're on," said host Ryan Seacrest, "and feel like it's a true performance, as opposed to some of the auditions they've had."
The 11th season of the Fox hit show got under way Wednesday with the Savannah, Ga., auditions.
Encore Theater was used Wednesday for a media session with the judges.
Security guards stood outside the space formerly occupied by the five-star Alex Restaurant, where filming was taking place.
THE SCENE AND HEARD
The Miss America pageant scored its best TV numbers since 2004 during Saturday's telecast at Planet Hollywood. During the final half-hour of the two-hour show on ABC, the telecast drew an average audience of 8 million viewers and earned a 2.2 rating, a 6 share with young adults (18-25). The pageant may have received a boost from viewers who were tuning out of the New England-Denver NFL playoff game, which the Patriots turned into a rout by halftime. The much-hyped game was the highest-rated TV program of the week. The pageant, won by Miss Wisconsin Laura Kaeppeler, increased its overall audience and surged by 13 percent in adults (18-49) over last year's broadcast.
Eva Longoria has a morbid ending in mind for "Desperate Housewives." During an interview recently with Melanie and Michael of the KSNE-FM 106.5 morning show, co-star Felicity Huffman said Longoria wants the show to end with the housewives going off a cliff a la "Thelma and Louise."
Charly Kayle, a former member of the morning trio at KKLZ-FM, 96.3, with Mike O'Brian and Jim Tofte, has moved to a morning show at KOIT radio in San Francisco.
SIGHTINGS
Michael Buble and his family, backstage with Celine Dion on Tuesday after her show. Bubba Knight of Gladys Knight and the Pips, at the screening of "Red Tails" on Tuesday at Brenden Theaters (Palms). St. Louis Rams running back Steven Jackson, co-hosting a benefit gathering at Joe's Stone Crab (Forum Shops at Caesars) on Tuesday for The Steven Jackson Foundation.
THE PUNCH LINE
"During a charity auction over the weekend, Donald Trump bought $12,000 worth of Tim Tebow memorabilia. Or as it was known on Monday, 15 bucks' worth of Tim Tebow memorabilia." — Jimmy Fallon
Norm Clarke can be reached at 702-383-0244 or norm@reviewjournal.com. Find additional sightings and more online at www.normclarke.com. Follow Norm on Twitter @Norm_Clarke.