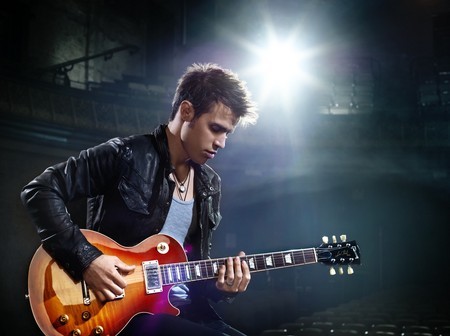 I interviewed "American Idol" winner Kris Allen because he's playing an acoustic show at 9 p.m. today at B.B. King Blues Club at The Mirage ($10). He's a man of few words.
Question: Is your wife, Katy, here?
Answer: Nah. She couldn't find a flight.
Q: How is she handling all this fame?
A: I get to see her a lot, which is really great. And she's dealing with it great.
Q: What do people say when they approach you?
A: Aw man, you do awesome on "Idol." … The other night, I got, "Aw, I voted for the other guy — but can I take a picture with you?"
Q: Do you have any other TV stuff coming up? Like, are you gonna be on "Wife Swap" or anything?
A: I'm going to sing the national anthem at the NFC Championship Game. That'll be cool, wherever that'll be.
Q: Have you heard from anyone you knew from when you sold shoes or from when you were in high school orchestra?
A: Not really. Not that I can remember.
Q: Is there anything you'd like to talk about, musically, socially or a cause or anything? You can tell the world anything you want.
A: Wow. That's putting me on the spot, man. If I was to tell anybody anything: Do good and be good.
THE STRIP GOES PORN
The Adult Entertainment Expo will pepper the Strip with porn stars. So, Tera Patrick signs copies of her book, "Sinner Takes All," at 6:30 p.m. today (not Saturday, as I wrote previously) at Town Square Borders.
Check out today's Neon section for my chat with naughty superstar Sasha Grey — and to get ticket details for the porn convention and porn awards.
IN NIGHTCLUBS
Rock star and porn director Dave Navarro appears tonight at Bellagio's Bank. … John Legend celebrates a birthday at Aria's Haze around 11:30 p.m. Saturday. … Z-Trip and Too $hort are deejaying at the Palms' Playboy Club at 11 p.m. today. … Today, porn star Kayden Kross walks a 10 p.m. red carpet into Venetian's Tao. … Joanna Angel and DJ Jess appear at 10 p.m. today at Palms' Moon. … On Saturday, Stormy Daniels walks an 11:30 p.m. red carpet at Tao. … Also Saturday: Vivid's party is at Playboy Club; Wicked's party is at Palms' club Rain. … And Penthouse magazine's model-search finals are tonight at Caesars' Pure.
Doug Elfman's column appears Sundays, Mondays, Tuesdays and Fridays. E-mail him at delfman@reviewjournal.com. He blogs at reviewjournal.com/elfman.