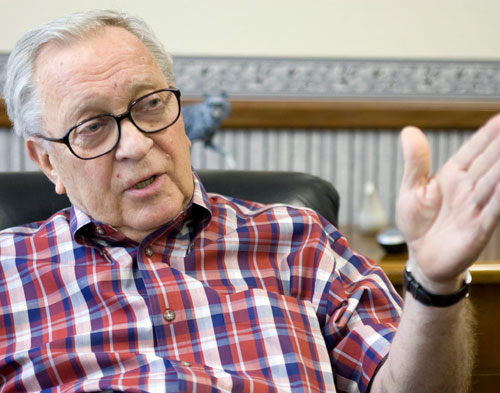 On Wednesday, KSNV-TV, Channel 3 owner Jim Rogers editorially endorsed Democratic Sen. Harry Reid in his bid for re-election. Like many of Reid's supporters, including many of those who write letters to the R-J on his behalf, Rogers cited the desperate, nay crucial, need for Nevada to keep Reid because of the power he wields in Washington as the Senate majority leader. ( I would link to it, but Channel 3 has not yet posted it.)
How can Nevada possibly surrender all that power and be represented by a rookie? is the refrain.
That editorial aired the same morning the R-J printed a column from Kathryn Jean Lopez, an editor with National Review Online.
Lopez wrote: "Speaking in June, Reid said: 'I think when … the accounting's done on the books, you'll find that my role as majority leader has been very, very good for Nevada.' He added, 'I control what goes in and out of the Senate, and as a result of that Nevada's gotten far more than its share.' The Las Vegas Review-Journal checked that with reality: 'The stimulus bill … is supposed to give some relief to a nation battered by unemployment, home foreclosures, and state budget shortfalls. Yet Nevada, where all of those problems are intense, is getting less help from the federal government than most other states on a per person basis. In total stimulus funds, the state has a per capita rank of 50th out of 51 (that's 50 states plus Washington, D.C.); in education funding, it's 51st; in transportation, it's 48th; and in Medicaid funds, it's 47th.'"
But the question really shouldn't be whether Reid has power or has been able to use it, but whether anybody should. I thought the Constitution was written to create a tension between the branches of government such that power would be checked and balanced and no one could wield too much of it. The Founders did not revere power, they rightly were suspicious of too much power in too few hands.
Power is addictive. Power is seductive. Power overwhelms and consumes.
Since I've been rereading parts of George Orwell's "1984" in light of recent court rulings giving police free surveillance rein, Bigt Brother-style, I ran across this passage in the book that sounds like it should end with B-movie mad scientist chortle:
"You are ruling over us for our own good," (Winston Smith) said feebly. "You believe that human beings are not fit to govern themselves, and therefore —"
He started and almost cried out. A pang of pain had shot through his body. O'Brien had pushed the lever of the dial up to thirty-five.
"That was stupid, Winston, stupid!" he said. "You should know better than to say a thing like that."
He pulled the level back and continued:
"Now I will tell you the answer to my question. It is this. The Party seeks power entirely for its own sake. We are not interested in the good of others; we are interested soley in power. Not wealth or luxury or long life or happiness; only power, pure power. What pure power means you will understand presently. We are different from all the oligarchies of the past in that we know what we are doing. All the others, even those who resembled ourselves, were cowards and hypocrites. The German Nazis and Russian Communists came very close to us in their own methods, but they never had the courage to recognize their motives. They pretended, perhaps they even believed, that they had seized power unwillingly and for a limited time, and that just around the corner lay a paradise where human beings would be free and equal. We are not like that. We know that no one ever seizes power with the intention of reliquishing it. Power is not a means; it is an end. One does not establish a dictatorship in order to safequard a revolution; one makes the revolution in order to establish the dictatorship. The object of persecution is persecution. The object of torture is torture. The object of power is power. Now do you understand me?"