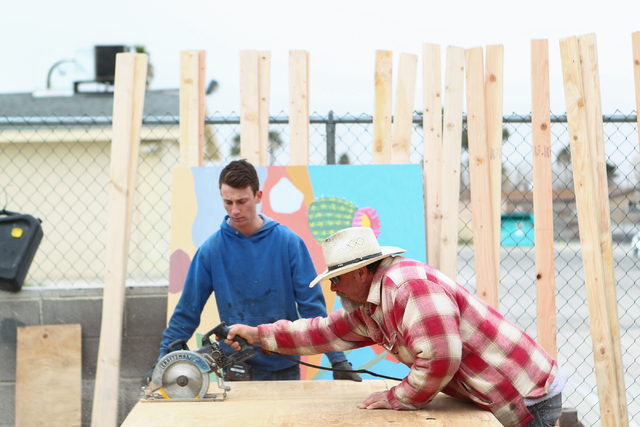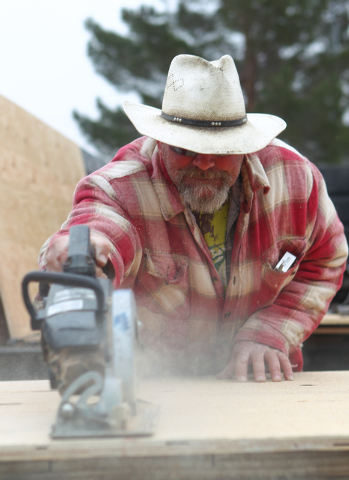 One neighbor saw workers installing art-covered boards on an abandoned home Thursday and blurted out "Thank God."
The neighbor on the other side dissed the city of Las Vegas' beautification effort as "a waste of money," adding the money would be better spent on caring for people's health and safety.
Nestled in between at 106 Shiloah Drive was a first-time city project, the brainchild of Ward 3 Councilman Bob Coffin, who believes painting the boards with original artwork helps eliminate eyesores.
The pilot program costing $16,550 will cover 10 homes with art created by Las Vegas muralist Marcus Tracy.
The unveiling of the first home on Shiloah Drive showed boards painted with cheerful desert scenes featuring roadrunners, butterflies, bunnies, birds, tortoises and plenty of cacti.
"It's awesome. I love artwork," said Stephanie, a new mother who asked her last name not be used.
The house has been an abandoned eyesore for about two years, unless you count the people who break in to find shelter. Trash is everywhere. Signs where a mattress was burned are visible.
But while Gary and Stephanie liked what they saw, Gary made a prediction: "It ain't going to take long before someone will come by and take those boards down to get into there." He also asked that his last name not be used.
Gary doesn't think the art will be covered with graffiti.
The more dismal view was taken by Carlos Poliak, a retired garbage man, now 74, who starting in 1976 became a perennial candidate for public office, including county commissioner, governor and U.S. senator. He believes the beautification will accomplish nothing for the neighborhood near East Charleston Boulevard and North Pecos Road.
Coffin said he hopes to see more unemployed artists involved in the program that is loosely based on Cincinnati's "Future Blooms" program,
Future Blooms paints doors, windows, awnings and flower boxes on abandoned buildings. The philosophy is that improving the appearance creates a sense of place and revitalizes neighborhoods. The program began in October 2009 and two years later had finished painting the 500th home. The project is funded by the nonprofit Keep Cincinnati Beautiful.
Coffin first suggested painting art on the boards on boarded-up homes in 2011, but it took time for the city staff to find a grant for the pilot program for blighted and neglected homes.
The city's code enforcement team boards up abandoned homes to keep them secure and ward off squatters. Coffin said the cost is about $2,000 to $3,000 to do the work at each home and the art aspect would be a small aspect of that work.
Coffin believes turning plywood into an artist's palette will improve the inner city. Gary and Stephanie hope he's right. Poliak is just not a believer.
Contact reporter Jane Ann Morrison at jmorrison@reviewjournal.com or 702-383-0275.