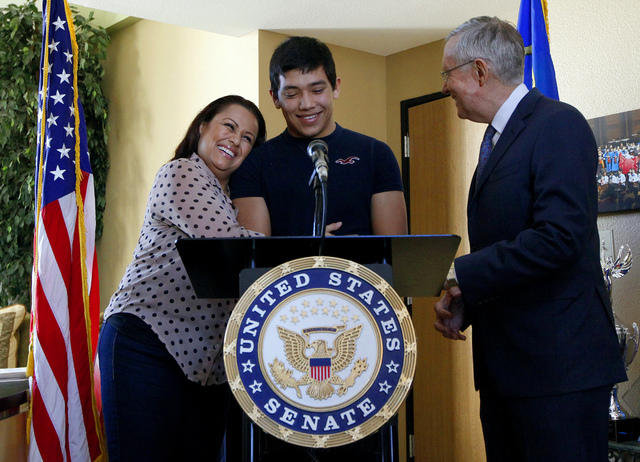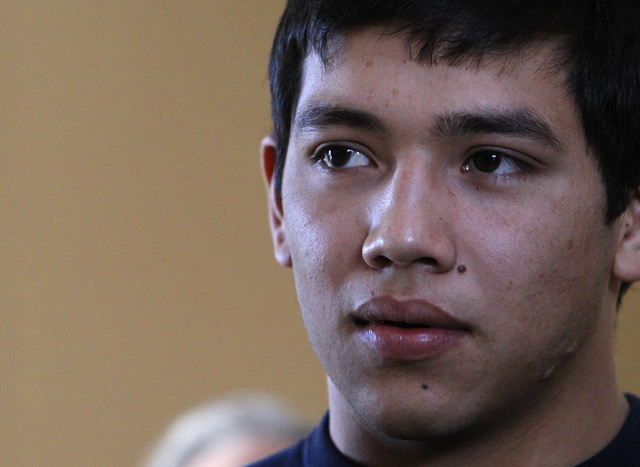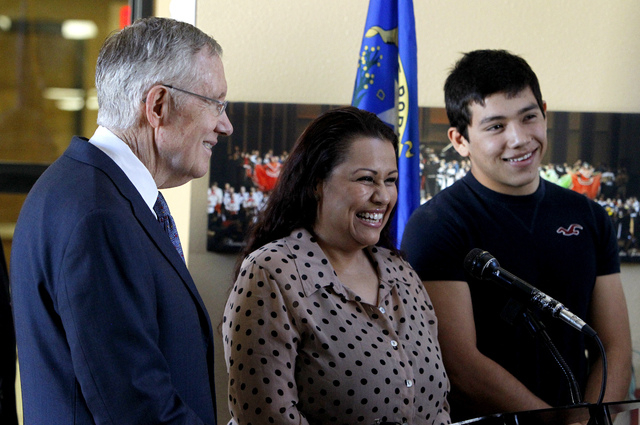 A 17-year old immigrant boy and his Mexican mother were reunited after more than a decade apart, thanks to a new Obama administration policy that no longer penalizes minors who lie to authorities, U.S. Sen. Harry Reid said Monday.
Reid's office worked on the case of Edith Fawkes and her son, Brahyam Zurcher, who arrived in Las Vegas last Wednesday. On Friday, Edith Fawkes became a U.S. citizen, making her son a new American at the same time.
The boy was long barred from entering the United States because at age 11 or 12, he lied to immigration authorities and told them he was an American citizen, according to Reid. Lying to immigration officials is an administrative violation but no longer is for children who can't now be held responsible for statements they make as minors, Reid said.
"Brahyam and I just met, but he's been on my mind for a long time," Reid said at a news conference at the Latin Chamber of Commerce, where the son and mother flanked the senator. "He's an only child. This has been a real difficult time for his mother. … Common sense, patience and you wait long enough, justice can stick its head in all of this."
Reid said the administration changed its immigration policy dealing with minors late last year.
"Statements made by children cannot be used against them, period." Reid said, noting the policy could help thousands.
Fawkes said she came to the United States in 2002 to find work, but she had to leave her son behind in Mexico. Over the years, she said, she visited her son 17 times — mostly for Christmas and his birthdays. But she was frustrated in her attempts to move him to Las Vegas to live with her until she approached Reid's office.
"They never gave up," she said of Reid's staff.
Reid personally sent letters to members of Congress and authorities on her behalf, she said.
"I'm really thankful," she said. "I finally get to have my son with me. I have been able to wake him up, see his eyes and take him to school. … After 12 years, we share the same roof, the same house. I'm a full-time mother again. That's what I wanted. We're having a normal life."
Zurcher, who has limited English speaking skills, already has started his junior year in high school in Las Vegas. He is in a special class for students like him, according to Reid, who said he already is making "amigos."
Speaking in Spanish, the teenager said he hoped to finish high school and college and perhaps become a lawyer so he can help people like himself and his mother.
Asked how he liked Las Vegas, he smiled widely and said, "Me gusta mucho," or "I like it very much."
The change in policy regarding minors is just the latest move by President Barack Obama to help young immigrants. In June 2012, he took executive action to allow some 800,000 young people to stay in the United States without fear of deportation after they came here illegally with their parents. The action allowed so-called DREAMers to work and get driver's licenses.
Obama and Reid have both called for comprehensive immigration reform, which Reid said has the support of a majority of Americans but is being blocked by Republicans in Congress. An immigration reform bill has passed the Democratic-led Senate, but not the GOP-controlled House.
"We have to get comprehensive immigration reform now," Reid said. "There's so many tragic cases that need to be resolved. And that can happen if we have comprehensive immigration reform."
Despite Obama's repeated appeals for reform, his administration has deported nearly 2 million people — the highest number under any sitting president — according to faith leaders and immigration advocates, who have been protesting outside the White House and getting arrested.
Reid, asked whether he believes there should be a moratorium on deportations until there is reform, said he would like to see the Obama administration address the issue, but he emphasized the best answer is to fix the broken immigration system.
"I would hope that administratively, the president will do what he can to take a look at deportations, but he is being burdened by the law as it exists and we need to change it," Reid said.
Already, Obama for the past couple of years has put a priority on deporting immigrants with criminal records instead of having authorities pursue cases against noncriminal immigrants who are living and working here illegally.