Immigrants facing job losses cut back on money sent home to families
February 11, 2009 - 10:00 pm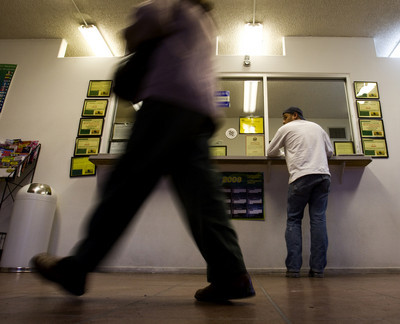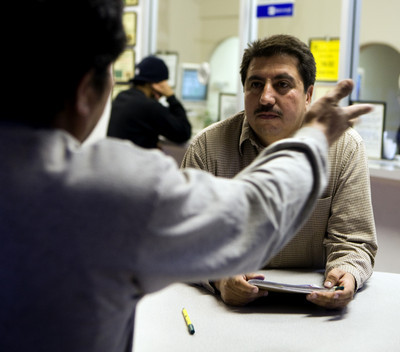 Their recent stories are familiar: layoffs, constant financial worries, the struggle to put food on the table for their families.
But many of the men, waiting in line on a Friday afternoon at the Broncos money-transfer business on East Desert Inn Road haven't seen the families they are supporting in months or even years.
"It is for them I am here suffering," said Antonio Solano, a 48-year-old laborer from Mexico City who last saw his wife and five children in 2005.
Then Solano teared up.
"As the kids grow, they don't even know me," he said in Spanish.
Solano and other immigrants who came to the United States for work are dealing with the same dismal economic environment as everybody else, where even manual or day-labor jobs are hard to come by.
The added difficulty for immigrants such as Solano is deciding at what point it is no longer financially worthwhile to live in a country where their loved ones do not.
"I am a poor, humble person. I'll do anything. But if there is no work, I'll go to Mexico," said Solano, who recently lost his job painting cars and is working at a car wash, where he makes $5 an hour plus meager tips.
Solano comes to Broncos on payday every two weeks to wire $250 to his wife. That's down from the $400 he used to be able to send. Any less and his wife won't be able to afford enough food for the children, he said.
There is precious little work in Mexico as well, and none of it pays enough to support his family, Solano said. But if he were to go back, at least he would be with them.
Nobody knows for sure how many immigrants have chosen to return to their homelands in the wake of the U.S. economic meltdown.
"The government simply doesn't keep track of that, but the signs are there," said Rakesh Kochhar, associate director for research at the Pew Hispanic Center, a nonpartisan research organization.
One of those signs is a decrease in the amount of remittances sent from the United States to Mexico lately.
The money sent home by Mexican migrants in the United States fell in 2008 for the first time on record, according to Mexico's central bank.
Remittances, which are Mexico's second-largest source of foreign income after oil, dropped 3.6 percent to $25 billion last year compared with $26 billion for the previous year.
Experts blamed both the U.S. recession and a crackdown on illegal immigration for the decrease.
Undocumented immigrants are more likely to leave the United States than those with legal status, because they might have fewer options and connections here.
"Those without documents, whose legal statuses are in question, have a greater likelihood of being unemployed or laid off," Kochhar said. "In Nevada, Hispanics are among the hardest hit because their jobs were concentrated in the construction and hotel industries, and those were the hardest hit."
Leopoldo Hernandez, 23, knows all about that. Standing outside a Broncos on Friday with his eight-month pregnant girlfriend, Carla Palia, Hernandez talked about his recent layoff from a construction company.
"There's no work. So many people are leaving," said Hernandez, who has been in the United States for four years.
In fact, Hernandez and Palia, 21, went to Broncos to wire a buddy's final paycheck from the construction company to him. He already had gone back to Mexico.
Reveriano Orozco, the owner of Broncos, has had a front-row seat from which to watch the ever-darkening economy's effects on immigrants.
His profits have fallen 35 percent over the past year.
"I'm losing my shirt," he said.
Orozco had to close five of his nine Las Vegas Broncos branches in recent years and has laid off dozens of employees.
Still, he believes many immigrants are choosing to stay in Las Vegas and ride out the recession.
"People are established here," Orozco said. "Returning to Mexico isn't an option. And people are still crossing the border to come here, looking for work."
Mariano Lemus Gas, general consul of Mexico in Nevada, agreed.
"People are staying, hoping the economy will be better in 2010. Many Mexicans have deep roots here."
Fewer undocumented immigrants came to the United States in recent years than earlier in the decade, according to the Pew Hispanic Center, which analyzed U.S. Census Bureau data to come up with immigration estimates.
About 800,000 undocumented immigrants entered the United States each year from 2000 to 2004, according to the center. But only about 500,000 entered the United States each year from 2005 to 2008.
Bardomiano Rodriguez, a 46-year-old landscape worker, came to the United States in May hoping to provide a better life for his wife and three daughters in Mexico. He picks up whatever landscaping jobs he can, but on average finds work only three days each week.
When Rodriguez first arrived, he was able to send home about $500 every two weeks. Now, he can only afford to send $300, despite sharing a house with seven other men also working to send money home to Mexico.
Rodriguez hasn't decided at what point he'll give up and go home.
"I'm always worried. All the time I'm saying to myself, 'There is no work. What am I going to do?' "
The Associated Press contributed to this report. Contact reporter Lynnette Curtis at lcurtis@reviewjournal.com or 702-383-0285.
Slideshow