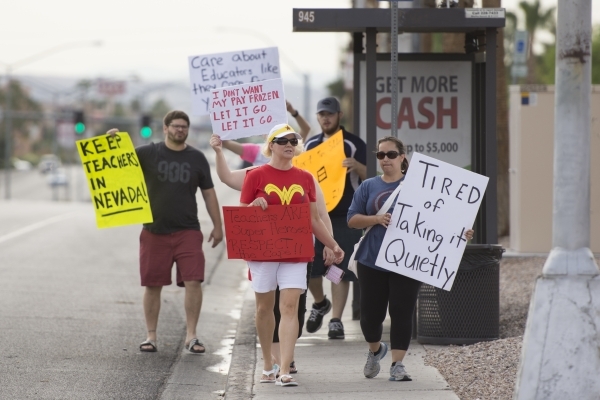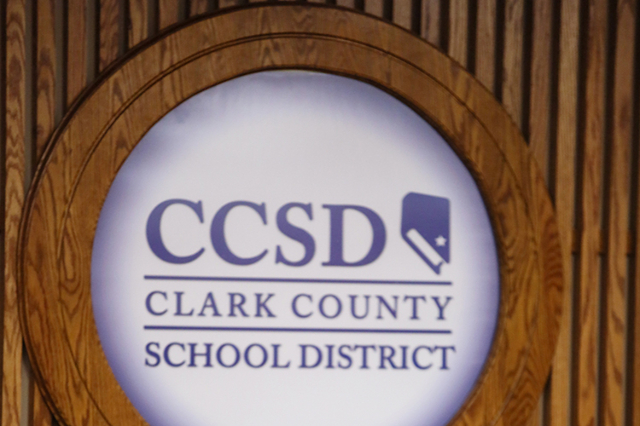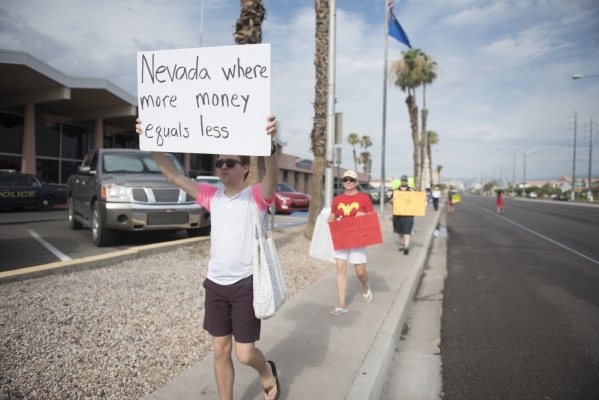 As it struggles to fill hundreds of classroom vacancies, the Clark County School District will head to arbitration with the local teachers union to break a deadlock over a new contract and pay raises.
The Clark County Education Association, which represents 18,000 teachers, announced late Wednesday that the two sides had declared an impasse in negotiations, prompting the need to select a third-party arbitrator who ultimately will decide whether the school district can afford to pay million of dollars in salary increases.
The process likely will take months, though the union told members in a message on its website that its negotiation team has asked district officials to continue engaging in "meaningful" discussions to reach a resolution.
The district and union last entered arbitration three years ago, when an arbitrator sided with the district and ruled it could rescind automatic pay raises for teachers. The year before, a different arbitrator went the opposite way and awarded teacher raises, after which the cash-strapped district cut 1,015 teaching positions to offset the cost.
District spokeswoman Michelle Booth said it already has identified budget cuts, including the delay of school maintenance projects, to pay for about $30.2 million in teacher raises.
"We will highlight the fact that in order to offer the (pay) increases that we did offer, we had to identify cuts," Booth said of the arbitration process.
"I want to make it clear for teachers that we do have the teacher shortage in mind," she added. "We offered an increase for starting teachers so that we are more competitive."
The union, which has demanded a contract package valued at $70 million, would not make anyone available for an interview Thursday.
The proposal would require the district to pay for a hike in retirement contributions and ensure raises for longevity and for teachers who advance their education. The new contract also would boost the amount the district pays for monthly health insurance premiums and set a new salary schedule that starts at $40,000 and tops out at $91,000.
The current teacher pay scale starts at about $35,000 and tops out at $72,000.
Earlier this month, the district offered a counter-proposal that would cost about $40 million.
The offer includes bonuses for teachers who advance their degree, a boost in the amount paid for monthly health insurance premiums and a new salary schedule that starts at $40,000 but tops out at $78,000.
Frustrated teachers plan to rally in front of The Venetian on Friday, drawing attention to their rising health care premiums, a pay freeze announced in June and the more than 700 classroom vacancies that remain unfilled two months after the school year started.
Greg Bailey, a high school science teacher in his second year, also highlighted the legislative committee charged with studying how to reorganize the district and its teacher turnover rate, which hovers above 7 percent.
"If you add the uncertainty of deconsolidation, rate of turnover and pay issues, a new teacher or a teacher thinking of relocating to Nevada would definitely think twice about joining an organization that undervalues their No. 1 asset as much as CCSD," Bailey said on Thursday.
"I don't think it's intentional," he added, "but there's just a lack of leadership."
Contact Neal Morton at nmorton@reviewjournal.com or 702-383-0279. Find him on Twitter: @nealtmorton