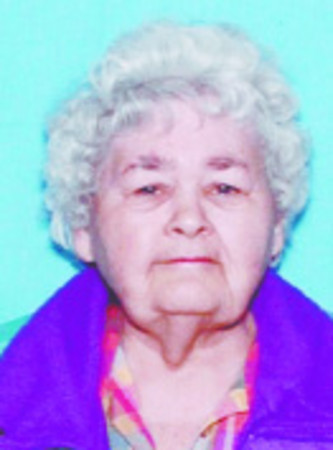 NORTH EASTERN AVENUE
Police seek help in slaying of woman found dead at home
Las Vegas police are asking for help in identifying a suspect in the slaying of a 74-year-old woman found dead in her apartment this weekend.
Constance Wiesner's body was found Saturday in her apartment at Arthur McCants Manor, 800 N. Eastern Ave., near East Washington Avenue. The complex provides subsidized housing for senior citizens.
The manner of death was blunt force trauma to the head, according to the Clark County coroner's office. The cause of death was listed as homicide.
People may call Crime Stoppers at 385-5555 or the homicide unit at 828-3521.
DEC. 30 INCIDENT
Man, 48, held in bank robbery in which fake bomb was used
Authorities on Friday arrested a man accused of using a fake bomb to rob a Nevada State Bank in December.
Darrell Cleon Bolar, 48, faces a federal charge of bank robbery in connection with the Dec. 30 incident, in which authorities say he entered the bank, placed a package on the counter and claimed it was an explosive device.
After getting the money, Bolar put the package on the counter and left, authorities say. The bank, at 230 Las Vegas Blvd. South, near Bridger Avenue, was evacuated as police investigated the package. It had a cigar box with batteries and wires and was deemed safe.
Bolar was arrested without incident by FBI agents at his apartment at 3955 Swenson St., near Flamingo Road. He is being held without bail at the North Las Vegas Detention Center.
GREEN FLAG-WEST EXERCISE
Military craft to increase noise in skies over Nevada, California
Nellis Air Force Base officials say there will be increased military aircraft activity through the end of the month in Southern Nevada and Southern California as the Air Force takes part in exercises called Green Flag-West, beginning Monday.
Units from Britain and Canada will join the 549th Combat Training Squadron at Nellis and the 12th Combat Training Squadron at Fort Irwin, Calif., supporting Canadian Task Force 1-10 and ground units from across the country.
Flight paths between Nellis and Fort Irwin will cross near Mount Charleston and north of Pahrump to the Mojave Desert in California's Inyo and San Bernardino counties.
ESTIMATED $30,000 IN DAMAGE
Arson suspected in fire at closed downtown LV hotel
Fire investigators are looking into the possibility that arson was the cause of a blaze that damaged an abandoned downtown hotel Monday night.
Las Vegas Fire Department spokesman Tim Szymanski said the fire in a first-floor unit of the El Cid Hotel might have been intentionally set in three different places.
The two-story annex to the hotel, on the corner of Seventh Street and Bridger Avenue, had been boarded up for years, but furniture was still inside the rooms, Szymanski said.
When firefighters arrived at 7:40 p.m., they found heavy flames coming from one of the units. They rescued a man inside one of the rooms who was trying to escape. He was taken to University Medical Center with slight smoke inhalation, Szymanski said.
The fire gutted the room and caused roughly $30,000 in damage. Szymanski said homeless people have been known to live in the abandoned building.