December 10, 2008 - 10:00 pm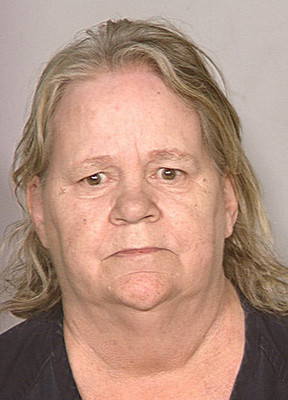 roommate killed
65-year-old woman arrested in slaying
A 65-year-old woman was arrested Tuesday in connection with the slaying of her 72-year-old roommate, Las Vegas police said.
Police did not identity the victim, but said she was shot to death.
Jeannie Twigg was being held in the Clark County Detention Center without bail on a charge of murder with a deadly weapon.
She is scheduled to appear in court Thursday.
Police said they went to the King's Row Trailer Park, 3660 Boulder Highway, near U.S. Highway 95, after being contacted shortly before 8 a.m. by a woman who was concerned about the welfare of the two roommates.
The caller had received disturbing mail from the roommates and could not reach them by phone.
Police discovered the deceased woman and Twigg in the home. Twigg was uninjured. Police have not determined a motive in the slaying.
U.S. CENSUS DATA
Elko County leads state in median income
New statistics released by the U.S. Census Bureau show Elko County has the highest median family income in Nevada, thanks to the mining industry.
According to estimates gathered between 2005 and 2007 in counties with populations of 20,000 or more, the median family income in Elko County was more than $70,000.
Nationally, Elko was 196th in median family income.
The census estimates about one in four Elko County workers has a job in natural resources, including agriculture, forestry, fishing, and hunting and mining.
CRITICAL INJURIES
Las Vegas man hit by train in New Mexico
A 49-year-old Nevada man who got out of his car while stuck in traffic Tuesday near Prewitt, N.M., was hit by an Amtrak passenger train, a state police spokesman said.
Department of Public Safety spokesman Peter Olson said Nathaniel DeBoles of Las Vegas was airlifted to University of New Mexico Hospital in Albuquerque. A hospital spokeswoman said DeBoles was in critical condition late Tuesday.
DeBoles got out of the vehicle when wintery weather caused a traffic backup about 10:15 a.m. on an Interstate 40 frontage road, Olson said.
Witnesses say he crossed the tracks, then a freight train passed westbound and the Amtrak train passed eastbound. The witnesses said the eastbound train then stopped, Olson said.
Other people in the vehicle became concerned when DeBoles didn't return and found him by the track with severe injuries to the left side of his body, he said.