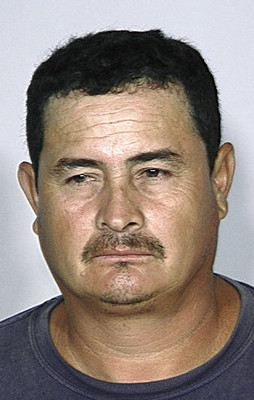 23-YEAR FUGITIVE
Arrest made in slaying in Los Angeles in 1985
Las Vegas police on Thursday arrested a man wanted for a 23-year-old bar slaying in Los Angeles.
Gerardo Garibay, 43, fled to Mexico after the 1985 slaying, obtained false identification and Social Security cards, and traveled to Florida and California before arriving in Las Vegas, according to police.
Detectives identified him after running his fingerprints in a database for an unrelated investigation, police said.
He is being held at the Clark County Detention Center as a fugitive.
LAS VEGAS BOULEVARD
Woman, 19, dies after early morning crash
A 19-year-old Las Vegas woman died after being injured in an early morning accident Friday.
Erika Bauermeister was driving south on Las Vegas Boulevard near Serene Avenue in a Ford Focus when the car crossed over the median into the northbound lanes, Las Vegas police said.
The Ford struck a Jeep Grand Cherokee head-on at 2:52 a.m., and Bauermeister and her passenger, 21-year-old Jason Lowe, were thrown from the vehicle. They were not wearing seat belts, according to police.
The driver of the Jeep, 41-year-old Leslie Lockwood of Redlands, Calif., was taken to University Medical Center along with Bauermeister and Lowe.
Lockwood and Lowe suffered moderate injuries, police said.
Bauermeister suffered critical injuries and died at 10:40 a.m., police said.
AIRPORT INCIDENT
Firearms case against Jerry Lewis dismissed
A misdemeanor firearms charge against showman Jerry Lewis has been dismissed by a Las Vegas judge.
Justice Court Judge Karen Bennett-Haron dismissed the case Friday after attorneys agreed on a deal to let the 82-year-old entertainer off without fines.
Lewis was cited in July for trying to carry an unloaded concealed weapon through McCarran International Airport.
He later said the .22-caliber Beretta was a gift that he'd placed in a carry-on bag more than a year ago.
He said he forgot it was in the bag until he was stopped at an airport security checkpoint.
Lewis' lawyer, Ross Goodman, said Lewis was forced to forfeit the engraved gun.
Goodman called the quick resolution "a good result for great guy."