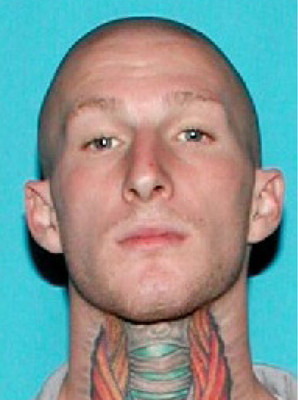 ON SUPERVISED RELEASE
26-year-old arrested after short standoff
Authorities arrested a man alleged to be an American Nazi gang member for parole violations Friday after a short standoff with the Metropolitan Police Department's SWAT team.
Chad Mikitaroff, 26, was on supervised release after serving 51 months in an Idaho prison following a 2002 conviction for distributing narcotics, according to the U.S. Marshals Service.
Mikitaroff, who has an elaborate and colorful tattoo of a cut-open neck, moved to Nevada in 2005.
Police confiscated four firearms after they descended on a home in the 4800 block of Jay Avenue near Gowan Avenue and North Decatur Boulevard.
Mikitaroff initially barricaded himself inside the home but later surrendered to authorities, the Marshals Service said.
He was booked into the North Las Vegas Detention Center. A court date has not been scheduled.
INCIDENT AT EXCALIBUR
Death of newborn declared homicide
The death of a newborn who was found on Mother's Day in the trash at the Excalibur was a homicide, the Clark County coroner's office said Friday.
The cause of death of the child found in a restroom near a bank of elevators May 11 was ruled to be "perinatal neglect."
The body was found wrapped in a hotel gift bag and a pillow case around 9:40 p.m. by hotel employees, Las Vegas police said.
At the time, investigators said they didn't know whether the mother gave birth to the child somewhere in the casino, or whether the child was left in the restroom by someone who came in from the street.
Lt. Lew Roberts told the Review-Journal at the time that the infant had an intact placenta with an umbilical cord.
SPOKESWOMAN COMMENTS
Polygamist leader Jeffs is 'doing just fine'
A sheriff's spokeswoman in Arizona's Mohave County said polygamist sect leader Warren Jeffs is doing well just days after he was rushed to a Las Vegas hospital for an undisclosed medical problem.
The 52-year-old prophet of the Fundamentalist Church of Jesus Christ of Latter Day Saints was flown to Las Vegas on Tuesday after being found weak and convulsive in his cell. He was returned to the Mohave County jail in Kingman late Wednesday.
Sheriff's spokeswoman Trish Carter said Jeffs spent part of Friday walking in the jail exercise yard and was drinking plenty of fluids and eating. She said he "appears to be doing just fine."
Jeffs is awaiting trial in Arizona on charges of being an accomplice to sexual conduct with a minor stemming from marriages he is alleged to have arranged between underage girls and older men. He already has been convicted of two counts of felony rape as an accomplice in Utah.
DESERT INN ROAD CRASH
69-year-old man killed when truck hits wall
A 69-year-old man died Thursday after his 2001 GMC Sierra pickup struck a curb and rolled over a block wall, Las Vegas police said.
Police said the man wasn't wearing a seat belt and was thrown from the truck. The single-vehicle crash occurred about 5 p.m. on Desert Inn Road west of Pecos Road.
Police said the truck struck the wall, rolled over and struck a tree and light pole before stopping.
Witnesses said the man, who was not identified by police, was driving fast in the center lane before the crash.
The incident is under investigation.