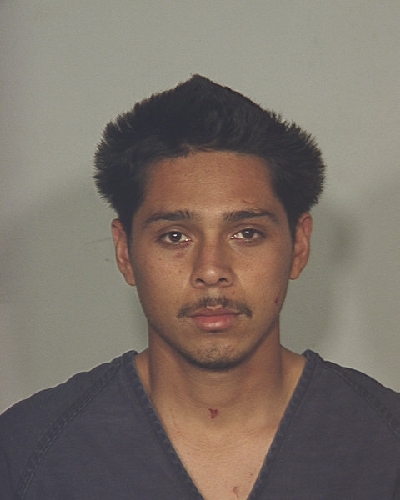 TEEN'S BODY FOUND SUNDAY
Victim identified; police arrest man on murder, other charges
The Clark County coroner's office on Tuesday identified the slaying victim discovered Sunday morning as 14-year-old Diana Janet Soto of Las Vegas.
Las Vegas police said 19-year-old Juan Rivera was arrested in connection with her death.
The coroner's office did not release the cause and manner of death.
Rivera is being held in the Clark County Detention Center with no bail set on several charges including murder, sexual assault and robbery.
Police said the teen 's body was found at 6:48 a.m. Sunday by a passerby in the 4700 block of East Owens Avenue, near Nellis Boulevard.
Detectives reported finding the body of a young female who was dead from possible trauma to the neck and head.
The victim's physical characteristics matched that of someone on a missing persons report, which stated that she had not been seen or heard from since Saturday.
By talking to family members of the victim, they were able to identify Rivera as the suspect, police said.
They did not say what relationship, if any, Rivera had with Soto.
Rivera is scheduled to appear in court this morning.
MURDER-SUICIDE
Coroner IDs couple found dead Monday in NLV home
A couple found dead in a murder-suicide in a North Las Vegas home Monday was identified by the Clark County coroner's office Tuesday as Tamequa Williams and Nahshun Lomax.
Williams, 31, died from a gunshot wound to the head, the office reported. The manner of her death was a homicide. Lomax, 35, died in a suicide, from a gunshot wound to the head.
North Las Vegas police Sgt. Tim Bedwell said officers responded to the home in the 300 block of Copper Pine Avenue, near North Fifth Street and Tropical Parkway, at 1:19 p.m. A caller had reported an argument between the two people.
But when officers arrived, no one answered the door, Bedwell said.
At 2:06 p.m. police were called over a fight in progress between the two people. The caller was a third party in the home who told dispatchers that one person was possibly deceased.
Officers arrived and found Williams and Lomax dead.
According to Clark County court records, Lomax had an extensive criminal history including pleading guilty to domestic battery in 2008. He received a sentence of 12 months to 30 months in prison.
CHARGED WITH MOLESTING TWO GIRLS
Former LV police officer gets four- to 10-year prison term
A former Las Vegas police officer charged with molesting two girls during his time on the force was sentenced to four to 10 years in prison.
In October, Richard Gagnon pleaded guilty via an Alford plea, to two counts of attempted lewdness with a child under 14 years of age. An Alford plea means a defendant doesn't admit wrongdoing but acknowledges prosecutors have enough evidence to prove their case.
Gagnon was sentenced Monday by Judge Donald Mosley.
Gagnon was arrested in December 2008 by North Las Vegas police and charged with 26 counts of lewdness with a minor under 14, according to court documents.