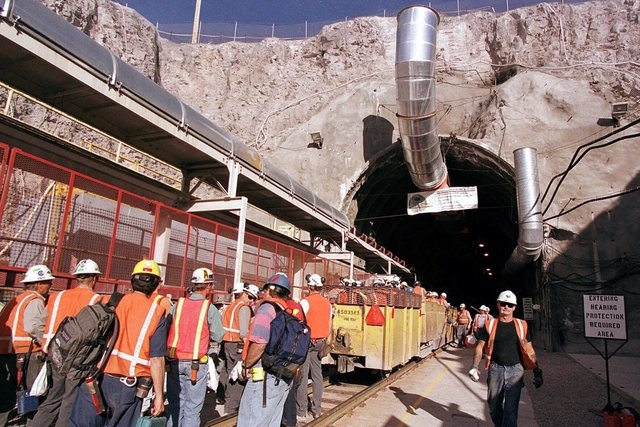 WASHINGTON — As the dust settled Thursday from Senate Democrats enacting a far-reaching change in filibuster rules, a side tussle broke out between Nevada's senators over what it might mean for the state's long fight against Yucca Mountain.
Majority Leader Harry Reid engineered a 52-48 vote that swept away Republicans by invoking the "nuclear option" rules change to do away with filibusters on most federal nominees. Afterward, GOP Sen. Dean Heller said he worried fellow Republicans might exact revenge.
"This is a sad day for the United States Senate, and a scary day for Nevada," said Heller, who voted along with other Republican senators against the nuclear option. "Now, the opening of Yucca Mountain is a renewed risk."
Heller referred to a threat made by Sen. Lamar Alexander, R-Tenn., in June that "a vote to end the filibuster is a vote to complete Yucca Mountain," the proposed Nevada nuclear waste site that Reid largely has succeeded in killing.
The filibuster change enacted Thursday applies to nominations, and not to legislation like what would be necessary to revive Yucca. But Republicans said in June that if and when they regained Senate control it would not take much to weaken the rules further to do away with filibusters on bills that, for instance, could repeal Obamacare, establish school voucher programs — and send nuclear waste to Nevada.
Yucca Mountain enjoys broad support in the House, with more than 300 House members voting for the project in the most recent test votes taken in July. And Republicans maintain that at least 51 senators support reviving the project, an assertion that has not been tested because Reid has been clear he would block any bills that tried it.
In response to Heller, Reid spokeswoman Kristen Orthman said the Republican's point was "clueless."
"It is disingenuous and frankly not true for Senator Heller to suggest a project that Harry Reid has already defunded and ended would miraculously rise from the dead," she said.
If Heller was so concerned, Orthman said, maybe he should try to persuade Republicans not to follow through on the threat.
"Maybe he should start convincing his Republican colleagues to not turn Nevada into the country's nuclear waste dumping ground," she said.
Contact Stephens Washington Bureau Chief Steve Tetreault at stetreault@stephensmedia.com or 202-783-1760. Follow him on Twitter @STetreaultDC.