In Las Vegas, Jackson fans share sorrow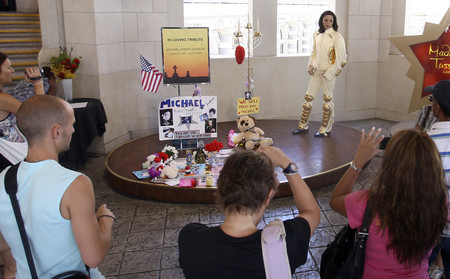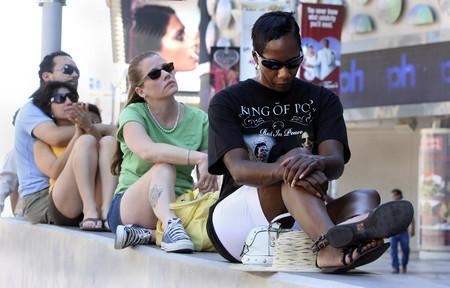 The theater was dark and the mood wasn't any brighter.
Clutching handkerchiefs and tubs of popcorn, dozens of wet-eyed Michael Jackson die-hards gathered in auditorium 7 at Rave Motion Pictures on Tuesday to watch the memorial services for the pop icon on the big screen.
They clapped along to the beat as Jennifer Hudson thundered through Jackson's stirring "Will You Be There," they chanted their hero's name in unison — "Michael! Michael! Michael!" — they laughed when Brooke Shields recalled an incident where she and Jackson once snuck into Liz Taylor's bedroom to get a peek of her wedding dress the day before the ceremonies.
Some snapped pictures, the flash of their cameras briefly illuminating the shadowy room, others clutched loved ones in their arms.
But mostly, they cried.
"It was very emotional," said Mary Rios, a newfound Jackson fan who spoke in soft tones. "You couldn't help but cry."
The sentiment ran high throughout the ceremony, with the mood ranging from celebratory outbursts to such complete and total silence you could hear yourself breathe.
For those who grew up with Jackson's music, it was an especially powerful moment.
"I wrote letters to him," said Angelo Mayfield, a lifelong Jackson fan with forearms smothered in tattoos. "I just kind of had to come and say goodbye. It's unbelievable to think that he's gone."
Jackson devotees flocked to the theater to be around fellow fans and mourners, turning the auditorium into something of a group therapy session.
"I'd rather be around the fans paying homage to Michael than being at home paying homage to Michael by myself," said Craig Forbus, 49, who saw Jackson perform with the Jackson 5 in the early '70s.
"It brought everybody together," added Michelle Berkowitz, a mom with two children in tow.
"It was beautiful," said her 13-year-old son, Adam.
On the Strip, Mary Ouellette snapped a picture of Jackson's image on the Planet Hollywood big screen, then wiped a tear away.
"I hope everyone remembers him for the nice person he was, not the negativity," said Ouellette, who's from Albany, N.Y. "You can't grow up famous and be completely normal. It's impossible — I'd love for people to step into his shoes."
Ouellette said she became a fan of Jackson when he broke onto the scene as a member of the Jackson 5.
They were born in the same year, she said, and it became fun for her to watch his progress.
"He was just a great entertainer. Always," she said.
Her opinions were echoed by 15-year-old Allison Cox, a Palo Verde High School sophomore who was born after almost all the King of Pop's biggest hits were released.
The Las Vegas teen attended the memorial service for Jackson in Los Angeles and watched a live feed from the Nokia Theatre, near the Staples Center.
"Before the event, I wasn't a huge fan of Michael Jackson. I liked some songs, but being with the big fans showed how great he was," Cox said. "It was moving how they showed he was such a great guy and how he tried to change everyone's lives."
Makeshift memorials were also set up at Madame Tussauds at The Venetian, where Jackson's wax likeness was displayed in the entrance, and a vacant house on Palomino Lane near Rancho Drive, once occupied by the pop superstar.
Stuffed animals, cards, notes and flowers were piled on the fence of the house.
"I remember the girls would just line up out here, trying to see Michael," said neighbor Dell Bartolome, after taking a picture next to the memorial.
Susan Mucha, also a neighbor, said "even old people" loved Jackson.
"Show me someone who didn't try the moon walk, at least once," she said with a laugh.
Contact reporter Jason Bracelin at jbracelin@reviewjournal.com or 702-383-0476. Contact reporter Mike Blasky at mblasky@reviewjournal.com or 702-383-0283.
Video