In Las Vegas, Labor Secretary promotes trades, calls for minimum wage hike
December 9, 2013 - 5:39 pm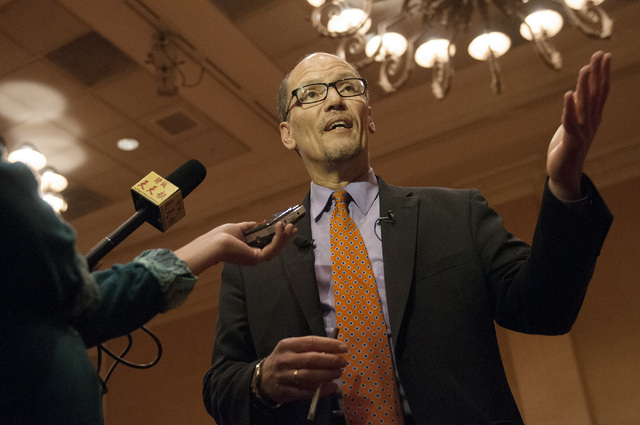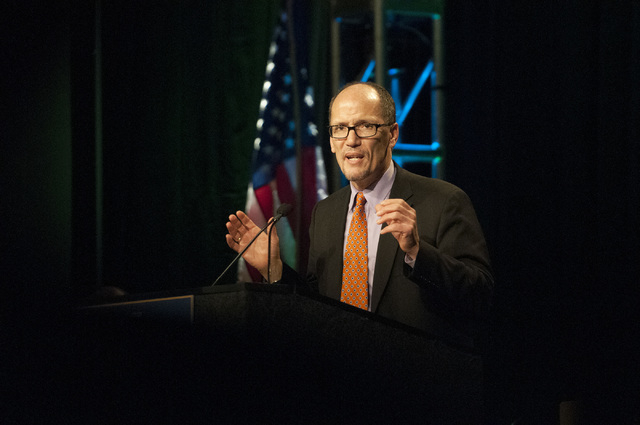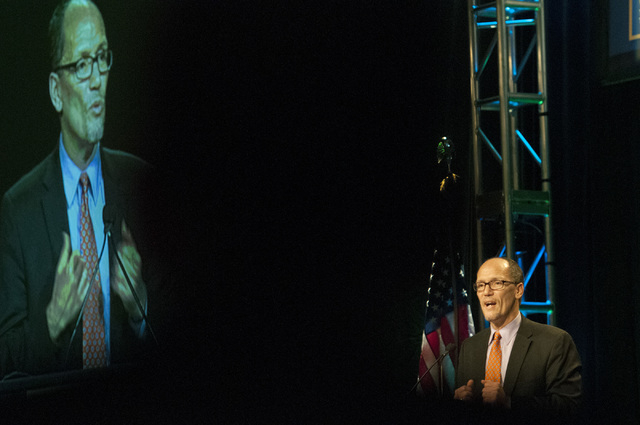 America's economic survival depends on training more middle-class workers in manufacturing, building and other trades, Labor Secretary Thomas Perez told a union group meeting Monday in Las Vegas.
Perez also made the case for raising the federal minimum wage so people with low-paying jobs don't have to live in poverty. And he argued for extending unemployment benefits in the meantime to help workers still struggling to find work as the nation's economy makes a slow but steady comeback.
"It really is a matter of fairness," Perez told reporters at a news conference, speaking of a minimum wage hike. "Nobody who works a full-time job should have to live below poverty."
He said U.S. production has increased 94 percent since 1979 yet real wages have gone up only 3.2 percent during that same time period. The federal minimum wage is $7.25 an hour. President Barack Obama supports proposed legislation by U.S. Sens. Tom Harkin, D-Iowa, and George Miller, D-Calif., that would increase that to $10.10 an hour, Perez said. In Nevada, the minimum wage is $8.25 an hour.
Getting personal, Perez said his father worked two jobs to make ends meet and ensure his children got a good education. Perez said he was 12 years old when his father died an early death.
Perez, on the job as labor secretary only 130 days, said this was his third trip to Las Vegas, although he joked that he doesn't gamble and so he hasn't personally profited from his trips.
"Mama doesn't have a new pair of shoes yet," Perez said.
He spoke at The Mirage to the International Union of Painters and Allied Trades convention, which was attended by 450 tradesmen and women from across the country.
Perez applauded the trade group for "investing in human capital" by training new workers. He said he worried that America was losing its edge when it comes to apprenticeships. On a recent trip to Wisconsin, he said he learned the average manufacturing worker there was 59 years old.
"We've got to do something about that," Perez said. "We need to redouble our efforts."
One of the biggest challenges, he said, is giving employees the skills they need to compete and to get good paying middle class jobs, including building bridges, highways and houses.
"We need to elevate the stature of these industries," Perez said. "We cannot allow our human capital to crumble. This is a matter of national security. This is a matter of our economic survival as a nation."
In general, Perez said America's economic future is looking brighter with the national unemployment rate falling to 7 percent. Nevada's highest-in-the-nation rate is 9.3 percent.
The national jobless rate is the lowest in five years, he said, as the nation counted 45 consecutive months of job growth that created 8 million jobs. Even the construction industry is making a comeback, he said, with Nevada adding 3,000 such jobs last month and the overall jobless rate in the building industry dropping to 8.6 percent.
"We have a lot of work to do in this nation to rebuild this economy," he said. "We made a lot of progress, but we've got a long way to go."
That's why Perez called for Congress to extend long-term unemployment benefits, which are set to expire a few days after Christmas on Dec. 28. He said lawmakers have a bipartisan history of extending such benefits during economic crises, including during the Bush administration.
"It was the right thing to do," Perez said of the past extensions. "It's clearly still the right thing to do."
On Saturday, President Barack Obama called on Congress to extend unemployment benefits. He said 1.3 million Americans will lose their jobless benefits if Congress does not act before the end of the year.
Some 17,600 Nevadans who have been out of work for more than six months would lose federal benefits when the Emergency Unemployment Compensation program runs out Dec. 28.
As new or recently unemployed persons go into 2014 and exhaust their 26 weeks of payments, there would be no federal extension. By June, another 21,900 Nevadans would be entirely off benefits.
The average weekly check is $314 in Nevada.
Democrats reportedly are seeking a year's extension of extended jobless benefits, at an estimated cost of $20 billion to $25 billion. House Speaker John Boehner, R-Ohio, told reporters Thursday he was open to an extension but put the onus on Democrats to come up with a plan.