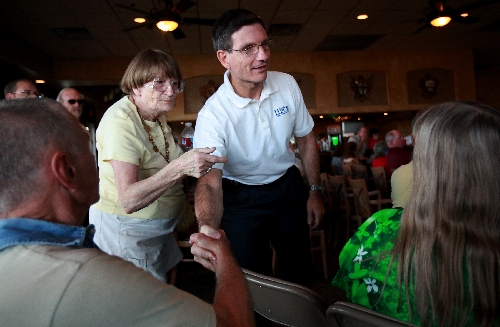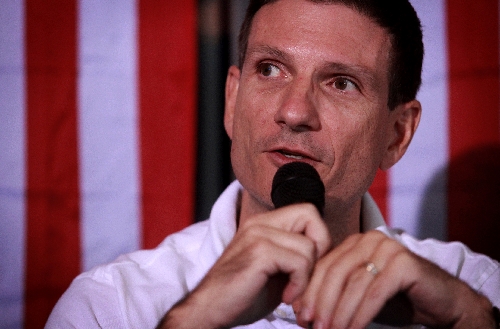 Joe Heck's background as an emergency room physician and Iraq war veteran is splashed across his campaign materials and highlighted in his speeches.
Then there's a part of his background about which he rarely speaks — his family's struggle after his father received debilitating injuries — that also shapes the political philosophy of the Republican candidate trying to unseat Democratic U.S. Rep. Dina Titus.
The Heck family's story includes the breadwinner suffering sudden and traumatic injury that left him unable to work, and the family relying on social services and cooperation with neighbors to get by.
"I was very young, and my parents did a very good job making sure the kids didn't know what the problems were, as most parents do," Heck, 48, said of growing up with his parents, Joseph and Mary, and two younger siblings.
Still, he added, "We could always tell."
The life-changing experience came when Heck's father was a grocery manager in Long Island, N.Y., in the late 1960s and gunmen barged into the store. A female customer screamed as a robber pulled a sawed-off shotgun out of his coat, prompting Joseph Heck to lunge and knock the woman clear of the blast.
"As he did so, he got hit with the shotgun blast in the side of his back and head," Heck said, describing how those and related injuries required years of recuperation.
During that period, the family received food stamps and assistance from the grocers union, and pooled resources with the family of a man with whom Joseph Heck shared a hospital room.
"Whoever got their disability check first were the ones who bought the food for both families," Heck said.
It still wasn't enough for the family to avoid being overwhelmed by the high cost of living in Long Island, leading them to move to northeastern Pennsylvania when Heck was a teen.
Showing empathy toward those experiencing the loss of their jobs and homes has been one characteristic of the 3rd Congressional District race.
In her first television ad, Titus presented homeowners who staved off foreclosure with help from her congressional office. On the campaign trail, Titus speaks about her work to provide more government assistance to prevent foreclosures and extend social services to growing numbers of needy Nevadans.
Heck's campaign includes a "Joe knows jobs" tour, in which Heck has visited or worked with people at a convenience store, an auto repair shop and a printing plant. And he has kicked off debates and public appearances by asking onlookers, "Are you better off now than you were two years ago?" He reminds them Las Vegas has lost about 100,000 jobs since Titus took office.
When Heck talks about his family's experience, he speaks of conservative values and faith.
"I look at it as personal responsibility and self-sufficiency," he says of how the families pooled resources. He spoke of families helping families, saying, "That is what being a Christian is about."
Heck acknowledges his childhood experiences contribute to a more nuanced views on social services than what is typically associated with ultraconservative politicians and their Tea Party rhetoric.
He also is quick to add that recognizing a role for government in helping people doesn't undermine his conservative outlook.
"I've never said that safety net services are evil," Heck said. "Government's job is to provide safety net services. And there was a point in time where we had to rely on those services.
"It raises eyebrows at times, because I don't fit the stereotype. But I believe in the core fundamental principles of the Republican platform of personal responsibility, lower taxes, controlled spending, meaningful but not onerous regulation, strong national defense."
Heck moved to Las Vegas in 1992 after completing medical training at the Philadelphia College of Osteopathic Medicine and the Albert Einstein Medical Center.
Since then, he has worked as an emergency room physician, gone to Iraq as an Army reservist, run homeland security and medical consulting businesses, and served a term in the state Senate.
He also married his wife, Lisa, a nurse. They have three children: Monica, Chelsea and Joseph III.
His campaign material leans heavily on his medical, military and business experience.
Heck says he was motivated to run for office following the 2003 legislative session, in which legislators and Republican Gov. Kenny Guinn passed an $836 million tax increase.
"I can continue to sit on the couch and scream about it, or I can continue to get up and try to do something about it," Heck recalled thinking. "So I ran for state Senate."
In the Legislature, Heck used his experience as a doctor when he led the charge to get the state Board of Pharmacy to let residents buy prescription drugs from Canada. He also pushed for more accountability in verifying the effectiveness of childhood immunization programs.
Heck also invokes his status as a physician on the campaign trail, particularly when it comes to talking about the Patient Protection and Affordable Care Act, which Titus supported and Heck opposes, despite liking certain provisions.
"When I talk about the health care bill, I take off the candidate's hat and put on a physician's hat," he said.
He said his medical experience not only would have helped in crafting health reform legislation, but also would benefit debate on other issues.
"It teaches you to be analytical, to be able to cut to the chase, get rid of the collateral information that is kind of just cluttering the decision-making process."
Although Heck views his experience as a strength, his opponent hopes to turn it into a weakness.
In a recent debate, Heck asked Titus how she, as a college professor, could stand behind ads attacking his record on health care that have been deemed misleading while continuing to demand honesty and integrity from her students.
Titus turned the attack around. She said Heck sided with insurance companies over women's health by voting against a mandate to require insurance to cover a specific vaccine for HPV, a virus that can lead to cervical cancer.
"What will you say to your patients? What will you tell them when they come in with cervical cancer because they couldn't afford that vaccine that you voted against having insurance companies cover," Titus said, renewing the attack that first cropped up in 2008 when Heck lost his re-election campaign for state Senate.
Heck continues to call the accusation a distortion and bristles at a third party ad that said the vote shows he is "dangerous to women."
"I've taken care of thousands of women. To say, 'Joe Heck isn't concerned about women's health care needs,' just doesn't make sense."
Heck's campaign team seems to realize a compelling back story won't be enough to knock off Titus. After launching the TV portion of their campaign with a positive, biographical spot, they switched to negative attacks on Titus, including trying to tie her to polarizing House Speaker Nancy Pelosi, D-Calif.
In 2008, Heck lost his state Senate re-election bid by 765 votes to Shirley Breeden, who rode to victory on a Barack Obama-inspired wave and attacks on Heck's vaccine vote. His defeat suggested that having a compelling bio­graphy isn't enough.
"This cycle, biographies and résumés matter less than what we have seen in other cycles," said Nathan Gonzales, who follows Congress for the Rothenberg Political Report. "This cycle you don't want to be a Democratic incumbent. If you are not that, you have a decent chance of winning."
Contact reporter Benjamin Spillman at bspillman@reviewjournal.com or 702-477-3861.