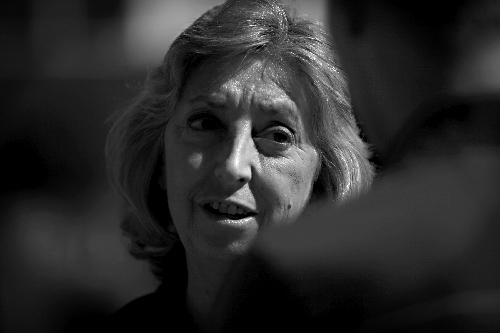 It is not surprising considering her background that U.S. Rep. Dina Titus, the freshman Democrat representing Nevada's 3rd Congressional District, entered politics.
Titus' great-grandfather was in the Georgia Legislature. Another relative, James Lindsay Seward, represented Georgia's 1st District in Congress in the mid-1800s.
Her immigrant Greek grandfather ran a restaurant near the town square in West Point, Ga., that attracted regulars from the courthouse and City Hall who conducted business at a long table in the back of the dining room.
In addition to the regulars, he served President Franklin D. Roosevelt, who received therapy to relieve the symptoms of polio in nearby Warm Springs, Ga.
"He was so thankful to be in this country and loved FDR," Titus, 60, said of her grandfather.
Her father, Joseph Titus, who died in 2007, ran the building department in Tifton, Ga., and later in Henderson. He also ran unsuccessfully for city office in Tifton. He owned a motel and other small businesses that Titus references on the stump to emphasize an empathy for small-business people.
In his obituary, Titus recalled him as a good storyteller and lifelong Democrat who "cussed at the TV whenever George Bush came on."
Although perhaps unsurprising that Titus entered politics, her approach — in politics as in life — can defy the expected.
Titus dropped out of high school, but only because she was ready to get out of Tifton, Ga., the town near the Alabama border where she grew up. Even without a high school diploma, she was accepted at William & Mary college.
"They just let me in because I had good grades and good test scores, and they just didn't look at the diploma," Titus recalled.
She received a bachelor's degree from William & Mary, a master's degree from the University of Georgia and a Ph.D. from Florida State University.
Before coming to Nevada, she taught briefly at North Texas State University before finding a home three decades ago at the University of Nevada, Las Vegas, where she taught political science.
It was in Las Vegas where she married professor Thomas C. Wright, who studies Latin American history.
It was also in Las Vegas where Titus, with encouragement from her father, made the jump from studying politics to becoming a politician.
Titus was elected to the state Senate in 1988 and was minority leader from 1993 through 2008, the year she was elected to Congress. She also published two books.
"That's what made me a good teacher, all those years in the state Legislature," Titus said. "The students appreciated the fact I was there and I knew how the process worked there as well as what was in the book."
Although the title of minority leader made Titus a legislative insider, she was willing to buck conventional wisdom to challenge Henderson Mayor Jim Gibson for the Democratic gubernatorial nomination in 2006.
Analysts believed Gibson stood a better chance than Titus of defeating then Rep. Jim Gibbons, R-Nev., who had lined up the funding and support needed to become the Republican nominee.
Titus built her own campaign and won the primary. She lost to Gibbons who, with strategist Sig Rogich and about $6 million in campaign funding, stoked derision of Titus' Southern accent and stuck her with the pejorative moniker "Dina Taxes."
"The main lesson was that we came out of that primary with $3,000; they came out of the primary with $3 million," Titus said. "If we hadn't had that primary, I think it would have been a lot different."
The outcome was especially frustrating to Titus because in the closing weeks Gibbons was alleged to have assaulted a cocktail waitress in Las Vegas, accused of having hired an illegal immigrant housekeeper from Peru and reported to have engaged in a pay-for-play scheme with a defense contractor while in Congress.
His approval rating was already sinking by Election Day, and Titus regrets the public didn't have more time to re-­evaluate the choice in light of the scandals.
She also resents criticism of her accent, which some said distracted voters from her positions and made her more vulnerable to attacks.
"I do think it is harder on women than men," she said of the criticism. "Nobody cared if George W. Bush had an accent."
She continued, "I can't change the accent. If you ever heard my mother talk, it is who I am. If you are that shallow that is what makes a difference, I'm probably not going to get your vote anyway."
Even though she lost the gubernatorial campaign, Titus proved she could build a following and compete for higher office.
"She never lost a campaign before that," said Billy Vassiliadis, a former Titus student who now is one of Nevada's leading political consultants. "I'm a huge believer that you learn more from losing than winning. Losing calls for intro­spection, calls for reflection."
In 2008, Titus set her sights on Congress and defeated Rep. Jon Porter, R-Nev., with an assist from then-candidate Barack Obama. Titus won by about 5 percentage points over Porter, even though Obama defeated Republican John McCain by about 12 percentage points in the 3rd District.
The result suggested Titus had work to do to shore up support for 2010, and that's what she set out to do.
In Washington she impressed leadership with her knowledge and willingness to cast tough votes in favor of the Patient Protection and Affordable Care Act and the American Recovery and Re­investment Act. Those key initiatives for Obama and congressional leaders have been criticized in her home district.
"What distinguishes Dina is her extra­ordinary legislative ability learned over her years as a leader in the Nevada state Senate," House Majority Leader Steny Hoyer, D-Md., said. "She knows how to take the problems people have and translate them into policy which will try to help them."
At home, Titus made her office a clearing­house for assistance and information to help constituents cope with home foreclosures.
Her district is among the hardest hit by job losses and foreclosure, issues that will be her political undoing if Heck has his way. The notion Republicans would use economic despair to cudgel Democratic incumbents prompted Titus to bring the issue to the fore in January in her own way.
During a closed-door meeting with congressional freshmen and Speaker of the House Nancy Pelosi, D-Calif., Titus said Democrats would be "f—-d" if they didn't start taking cues from an anxious electorate and turn the focus to improving the economy.
"I tend to be probably too outspoken," Titus said. "I'm used to students asking me a question, and I think I'm supposed to give them an answer. And so I tend to do that. Probably in politics you should maybe not be so forthcoming, but I can't change my style."
Initially the showdown was portrayed as evidence of disunity among Democrats. But it later proved that Titus was ahead of the political zeitgeist in sensing what party leaders appeared to have overlooked.
They eventually shifted their rhetoric from the health care debate to the economy, the issue Titus correctly asserted was of greater import to the electorate.
"The way I do that is by being here in the district every weekend," Titus said recently describing how she reads the political landscape. "People know me. I've taught thousands of people in this valley, all the way from valet parkers to judges. And so people know me."
Contact reporter Benjamin Spillman at bspillman@reviewjournal.com or 702-477-3861.