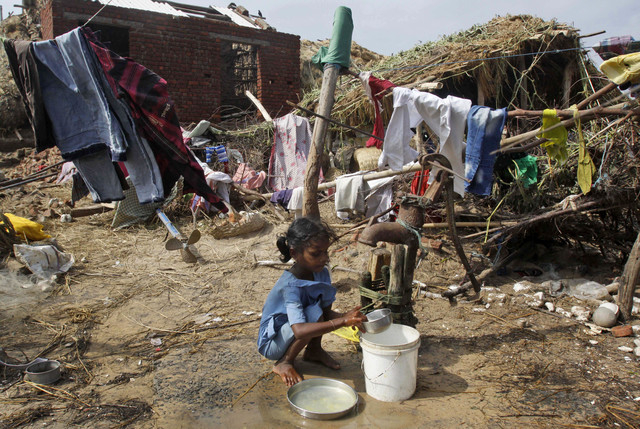 BEHRAMPUR, India — Mass evacuations spared India the widespread deaths many had feared from a cyclone that roared ashore over the weekend, officials said Sunday, as the country sorted through the wreckage of flooded towns, tangled power lines and tens of thousands of destroyed thatch homes.
Cyclone Phailin, the strongest storm to hit India in more than a decade, destroyed hundreds of millions of dollars' worth of crops, but more than 20 hours after it made landfall in Orissa state on the east coast, authorities said they knew of only 17 fatalities.
The final death toll is expected to climb as officials reach areas of the cyclone-battered coast that remain isolated by downed communication links and blocked roads, but the evacuation of nearly 1 million people appeared to have saved many lives.
"Damage to property is extensive," said Amitabh Thakur, the top police officer in the Orissa district worst-hit by the cyclone. "But few lives have been lost," he said, crediting the mass evacuations.
On the highway to the seaside city of Gopalpur, where the storm made landfall early Saturday night, two tractor-trailers were lying on their sides, while a hotel nearby was in tatters, with tables and chairs strewn about.
"We were terrified," A-1 Hotel owner Mihar Ranjan said of himself and 14 other people who had been huddling inside when the wind ripped the tin roof off the building.
On Sunday, Gopalpur's power lines sagged nearly to the ground and a strong surf churned. But some shops were open, doing brisk business selling bottled drinks and snacks, and locals expressed relief that the damage wasn't worse.
A mermaid statue remained standing on Gopalpur's boardwalk, where most decorative street lamps still stood along with most of the city's buildings.
"Everyone feels very lucky," said Prabhati Das, a 40-year-old woman who came from the town of Behrampur, about 7 miles inland, to see the aftermath.
Phailin weakened significantly after making landfall as a Category 4 storm, with sustained winds of up to 131 mph according to Indian meteorologists. Those numbers were slightly lower than the last advisory issued by the U.S. Navy's Hawaii-based Joint Typhoon Warning Center, which reported maximum sustained winds of about 138 mph and gusts up to 167 mph four hours before the storm hit land.