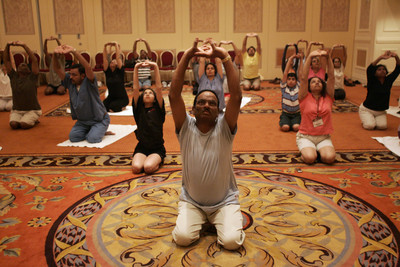 Five months ago, Swadeep Nigam thought security could be a major issue at the National Association of American Physicians of Indian Origin convention currently under way at the Venetian.
Nigam, an immigrant from India who also is the Clark County Republican Party treasurer, said his concern was spurred by virulent anti-Indian comments that hit the Internet in the wake of the public health crisis arising out of clinics owned by Dr. Dipak Desai, perhaps the most prominent physician of Indian origin in Las Vegas.
"My mind went right to what happened in Phoenix," Nigam said. "When emotions run high, you don't know what can happen. I thought it might have to be canceled."
Four days after the Sept. 11, 2001, terror attacks, an Indian immigrant was murdered in Phoenix by a man who thought he was of Middle Eastern descent.
Nigam wasn't the only one thinking the event at the Venetian might have to be canceled because of safety concerns. The executive committee of the Indian physician group also considered the action, according to Las Vegas physician Dr. Pramod Kumar, chairman of the AAPI convention, which has more than 2,000 registrants and ends Sunday.
"We discussed cancellation on several occasions," Kumar said. "But we finally decided we had been planning this for two years and we had to go ahead."
AAPI represents the interests of more than 40,000 physicians in the United States, the largest ethnic medical organization in the country.
In a poll Nigam conducted on a Web Site he created three years ago for the South Asian community — vegasdesi.com — 55 percent of the 170 people surveyed favored the convention being held in Las Vegas.
This week, AAPI members have been going to meetings, enjoying nightlife and practicing yoga in the morning before events.
"I think people understand this unfortunate occurrence isn't caused by an ethnic group," Kumar said. "Physicians of Indian origin are some of the top doctors in the world."
Dr. Sanjay Gupta, an Indianapolis physician who heard about the Las Vegas heptatitis C outbreak on CNN, said he has heard that some physicians named "Desai" have seen patients leave their practice because they associate the name with the hepatitis outbreak.
"Unfortunately, prejudice is human nature," he said. "But most patients make their decisions on how their physicians treat them."
Although Kumar downplayed the safety concerns AAPI physicians had about the Las Vegas convention, he did say some physicians had been worried that if the media spotlight were still sharply focused on Desai, the reputations of all Indian doctors could be tainted, particularly if AAPI members were asked to comment on the case.
Kumar said the executive committee decided that committee members would not comment on the case.
"It's a legal matter now, and all the facts aren't in," he said.
Desai's license has been suspended as various agencies conduct investigations into the hepatitis C outbreak at the Endoscopy Center of Southern Nevada.
Health officials in late February urged patients of the clinic to be tested for hepatitis and HIV because of unsafe injection practices documented there.
Dr. Harry Auluck, an Oakland, Calif., psychiatrist, said he finds it hard to believe that syringes and single-dose vials of medication were reused, as public health officials allege.
"These things happen, but they shouldn't," he said.
Though administrators with the federal Centers for Disease Control and Prevention have urged medical organizations to talk about infection control in the wake of the hepatitis outbreak at Desai's clinics, the AAPI convention, which has seminars on everything from constipation and heart trouble to hypertension and stem cell research, is not dealing with the issue.
"Believe me, everyone knows what and what not to do," Kumar said. "What happened in Las Vegas really made the point."
A retired physician from New Jersey who asked that his name not be used said he thinks infection control should have been part of the convention.
"If it helps this kind of thing from happening again, it's worth it," he said. "Infection doesn't have anything to do with Indians or non Indians. It's just something we have to prevent."
Contact reporter Paul Harasim at pharasim@reviewjournal.com or 702-387-2908.