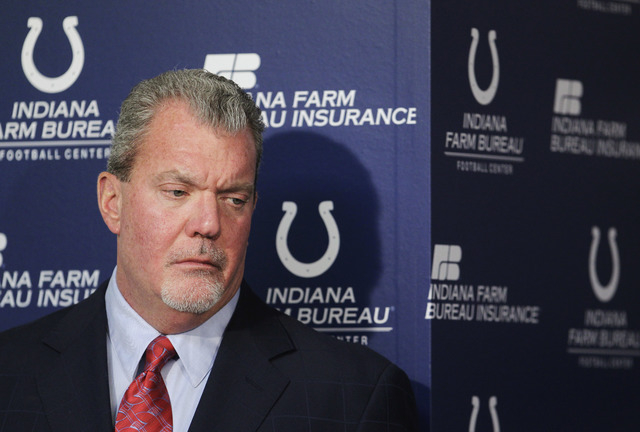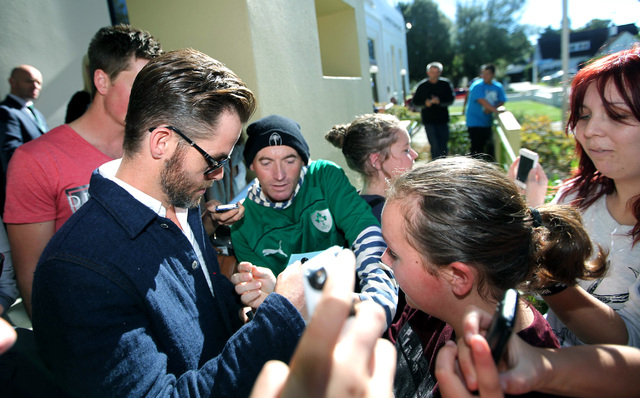 NOBLESVILLE, Ind. — Indianapolis Colts owner Jim Irsay has been released from jail after being held overnight following a traffic stop in which police said they found multiple prescription drugs inside his vehicle.
Irsay was stopped late Sunday after he was spotted driving slowly near his home in suburban Carmel, stopping in the roadway and failing to use a turn signal. Police say the 54-year-old Irsay failed several roadside field sobriety tests before he was arrested.
Carmel police said the drugs found in Irsay's vehicle weren't associated with any prescription bottles found inside.
Hamilton County Sheriff's Department Deputy Bryant Orem says Irsay faces a preliminary misdemeanor charge of driving while intoxicated and four felony counts of possession of a controlled substance.
Irsay faces a hearing March 26 at 1:15 p.m.
Other well known names in the headlines for bad behavior:
— Chris Pine, known for playing Captain Kirk in the "Star Trek" movies, pleaded guilty Monday in a Wellington, New Zealand, court to a charge of drunken driving.
The 33-year-old American was fined $79 and had his New Zealand driver's license suspended for six months during a hearing at the Ashburton District Court.
Police pulled over Pine early on March 1 after he'd attended a party to mark the end of filming on the movie "Z for Zachariah," which is due for release next year. Fairfax Media reported that Pine told police he'd consumed four vodka drinks. Police told the court that a blood test found Pine's blood-alcohol level was 0.11 percent, which is over New Zealand's legal limit of 0.08 percent.
— After a weekend in jail, Chris Brown is facing a court hearing over his dismissal from rehab and whether he should be given additional penalties, which could include more time behind bars.
The Grammy-winning R&B singer spent the weekend in a downtown Los Angeles lockup after a judge ordered him to be arrested for violating the rules and regulations of his treatment. Court records did not elaborate on the reason for Brown's dismissal from the facility in Malibu that was treating him for anger management, substance abuse and issues related to bi-polar disorder.
Brown, 24, had been under court orders to remain in treatment since November, one month after he was arrested in Washington, D.C., after a man accused him of punching him in a confrontation outside a hotel. That case remains pending, and Superior Court Judge James R. Brandlin has not yet scheduled a probation violation hearing to address whether he would penalize the singer for the arrest.