Indigent board meets in public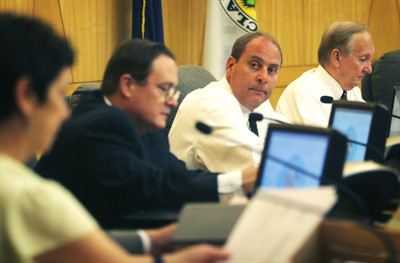 Not many people showed up for Friday's meeting of Clark County's newest agency, but the event was notable for another reason: It was held in public.
In a break with the past, the county is making openness a priority as it takes over management from the courts of a system to select private criminal attorneys for indigent defendants.
Out are the judges who ran the system for decades.
In are the Office of Appointed Counsel and its director Drew Christensen, who heads a committee that chooses contract attorneys and monitors their performance.
Christensen, formerly an attorney in Public Defender Phil Kohn's office, led the committee of 10 officials who on Friday awarded 35 adult criminal court and eight juvenile court contracts.
Contract attorneys, also known as conflict or track attorneys, represent indigent defendants who cannot be represented by a full-time public defender because of a conflict of interest. This occurs most often in cases with co-defendants who might implicate each other.
The Review-Journal highlighted the contract system's lack of rules and oversight in a series last year. The stories prompted the formation of District and Supreme court panels to examine indigent defense across the state, and the creation of Christensen's office.
In January, before the Office of Appointed Counsel was up and running, Clark County Chief District Judge Kathy Hardcastle convened a panel of her own behind closed doors to pick contract attorneys. The secrecy of the proceedings drew criticism and, out of protest over Hardcastle's involvement in the process, one panel member withdrew.
That panel met a few weeks after the Nevada Supreme Court issued an order declaring that judges should have no input in the way contract public defenders are chosen.
Over the years, part of the problem with the contract system was the appearance of cronyism that stemmed from judges hand picking contract defenders to appear before them regularly. Many of the same attorneys, regardless of performance, had their contracts renewed year after year.
The county wants to distance itself from those days and to make Christensen's office responsive to concerns from the public.
"There had been some criticisms of the court when they held this kind of meeting and didn't let people in," Assistant County Manager Jeff Wells said. "One of the purposes of this committee is to hear complaints and concerns throughout the year."
Christensen's agency inherits a budget of $5.5 million from the courts.
Contract attorneys will be paid $4,500 a month for an unlimited number of low-level felony cases. Previously, the contracts paid a flat monthly fee of $3,000.
These and other attorneys also will be eligible to defend cases that carry possible life or death sentences; such cases pay hourly fees. Lawyers will receive hourly fees for any time spent in jury trial.
It remains to be seen how much the increase in county spending will be offset by new measures to prevent contract defenders from excessively billing in cases that pay hourly fees.
Partly as a result of mismanagement, court appointments cost the county about $7 million last year, $2 million more than projected.
"This new office is focused on expending its resources wisely and it will help give us more precise information that we can use to develop a more accurate budget in the future," said county spokesman Erik Pappa.
David Carroll, director of research for the National Legal Aid and Defender Association and a member of the Supreme Court's indigent defense commission, said the new county agency is a sign of progress.
"The big key is the judiciary is out of the decision-making process," Carroll said. "These changes are positive steps forward."
The new one-year contracts awarded by the Indigent Defense Selection and Appointment Committee go into effect July 1, the same day the Supreme Court is set to hold a public hearing on other indigent defense issues.
Christensen said his office will bring accountability to the system.
"If we see something happening, we can eliminate someone from getting any new appointments," he said.
Contact reporter Alan Maimon at amaimon@reviewjournal.com or 702-383-0404.