Infamous topless club may get new life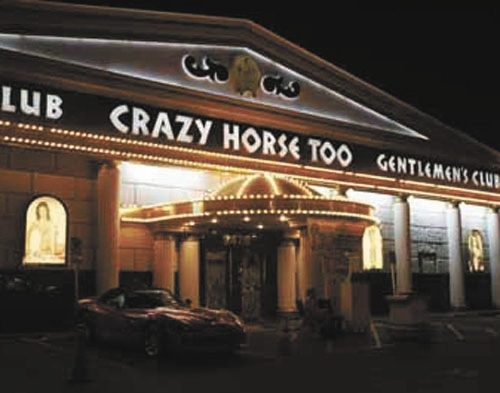 A notorious Las Vegas topless club could reopen thanks to a city ordinance approved Wednesday, but it's unlikely good fortune for the owners of Crazy Horse Too will do much for a man who was paralyzed during an altercation there.
The City Council voted 6-1 in favor of an exception to land use rules that prevented topless dancing and booze at the club, which gained infamy in 2001 when tourist Kirk Henry suffered a catastrophic neck injury after a bar tab dispute with club workers turned violent.
The vote came with an assumption the new owners would make a $1.4 million donation to the city, an amount similar to a fine owed by former Crazy Horse owner Rick Rizzolo. The donation wouldn't excuse Rizzolo from the fine.
And while Councilman Bob Coffin, who proposed the ordinance, wants to get some or all of the money to Henry, City Attorney Brad Jerbic has advised council members such a move wouldn't pass legal muster.
Coffin said the city should help Henry even if it isn't legally responsible for his catastrophic injuries because the Crazy Horse operated for years with a privileged license despite several reports of violence and criminal activity.
"It has been a black mark on our city for many years," said Coffin, who asked Henry attorney Stan Hunterton to show a picture of Henry before the injury on the large-screen televisions in council chambers. "I didn't really know all the details about the thugs running this place except they seemed to have a lot of clout around here, they kept their license."
Rizzolo, who has been suspected of having ties to organized crime, has been to federal prison for violating tax laws and has been ordered by a court to pay Henry a $10 million judgment.
Despite the order and allegations Rizzolo is socking money away to fund a lavish lifestyle, Henry has only seen about $1 million of the amount he is owed.
Coffin said, "Nobody has done anything for Kirk Henry."
Henry wasn't at the meeting, but he and his wife, Amy, are supportive of Coffin's efforts.
"They need the money," Hunterton said. "It has been a real struggle."
Although council members and city officials appear sympathetic to Henry's plight, Jerbic said there is little they can do legally to help out.
If the council votes at its July 18 meeting to accept the donation, the money would belong to the taxpayers and couldn't simply be handed to Henry.
"The donation to the city cannot be used to compensate Mr. Henry," Jerbic said he advised the council's recommending committee, which includes Coffin, on Tuesday.
The altercation that injured Henry was one of a string of incidents that gave the Crazy Horse, under Rizzolo's leadership, a bad reputation.
After the Henry injury, the judgment against Rizzolo and tax law charges, Rizzolo lost control of the club, and it was taken over by the federal government.
The club lost its licenses in 2007, and, according to city rules, entitlements for topless dancing and booze could never again be restored to the site.
The vote Wednesday merely approved an ordinance that lifts rules that imposed permanent prohibitions on the revival of lapsed licenses for nonconforming uses, such as a topless club within 1,500 feet of another adult business.
And it contained language that limited it to properties where the lapses were because government action "made continued operation impossible," which, with other conditions, meant it can apply only to the Crazy Horse site.
It means the new owners, Canico Capital of Southern California, who have no connection to Rizzolo, will have better odds of finding a buyer willing to pay more than the approximately $3 million they paid for the property.
That is because the potential to open a lucrative adult club makes the site much more valuable.
While Coffin held out hope Tuesday that perhaps there was still a way to help Henry, he also expressed frustration at the notion that no one was ever held criminally liable for the injury and little justice has come from the civil courts.
"The system failed Mr. Henry in the Las Vegas area when he needed it," Coffin said.
Contact reporter Benjamin Spillman at bspillman@ reviewjournal.com or 702-383-0285.