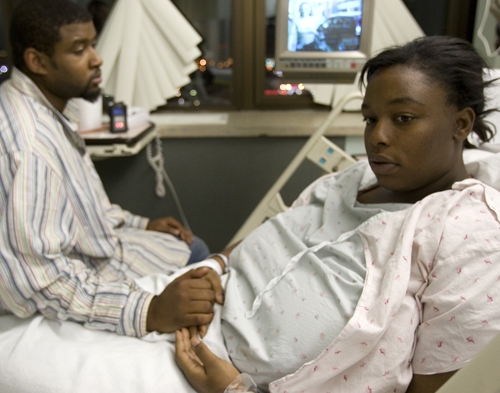 An autopsy of the baby born to Roshunda Abney, the 25-year-old Las Vegas woman who waited to be treated for more than five hours at University Medical Center, found that an infection caused Abney's water to break, resulting in a child born almost 15 weeks premature, Clark County coroner's records show.
After leaving UMC's emergency room on Nov. 30 and going to Valley Hospital Medical Center — where she says she was turned away — Abney went home and gave birth to a baby girl, who died.
Could the baby, named Angel, whose age was pegged at about 25 weeks by the coroner's office, have lived with prompt medical care?
"Our office can't answer that question," Coroner Michael Murphy said. "That's outside the purview of this office. We don't get into quality of care issues. … Clinicians will have to roll up their sleeves to determine that."
Toxicology tests showed no evidence of "drugs of abuse" or alcohol in the baby.
Studies done by the National Institutes of Child Health and Human Development of early pre-term births in hospitals between 1998 and 2002 found that about half of all babies born at the 25th week survived in a hospital setting.
Jacob Hafter, who has filed lawsuits on behalf of Abney, her fiance and their child against both UMC and Valley Hospital, said the autopsy "validates everything we thought. There is a strong chance of viability if the baby is born in the right environment. It is absolutely tragic that these two hospitals failed to help this young woman."
Abney is now in Mississippi and was unavailable for comment.
Hafter alleged that both UMC and Valley violated the federal Emergency Medical Treatment and Active Labor Act, EMTALA, for failure to screen and treat Abney. In February, the Centers for Medicare and Medicaid ruled that UMC committed an EMTALA violation.
Hafter said he recently sought a $225,000 settlement with UMC. That followed an April 8 ruling by U.S. District Judge Roger Hunt, which said EMTALA does not pre-empt a state sovereign immunity law, which limits damages against government entities to $75,000 per claim. UMC is operated by Clark County.
"They're fighting the settlement for my three clients — which works out to $75,000 a claim — when they've already been found guilty of an EMTALA violation," Hafter said. "What they're doing is wasting taxpayers' money. The attorney for UMC makes money at taxpayer expense billing up hours when there is no case. No jury is going to rule against this family after what was done at UMC. UMC should be trying to expedite things for this family."
Hafter categorized UMC attorney Lynn Hansen as "tight" with UMC Chief Executive Officer Kathy Silver. Hafter said he was not suggesting that Silver was trying to help enrich Hansen, but he said he does find "their relationship interesting because this kind of thing has happened in many other cases where UMC had no defense."
UMC spokesman Rick Plummer does not buy Hafter's argument: "I'm sure Mr. Hafter would want nothing more than for UMC to just settle, but we're waiting to evaluate the medical aspects of the case from the coroner's office."
Plummer added: "Ms. Hansen has had a friendly, professional relationship with Kathy Silver. Ms. Hansen has worked on UMC matters since 1987 and has never associated with Kathy outside the professional relationship."
In his order, Hunt also discussed Valley Hospital, which is private. He said the state's $350,000 damage cap in malpractice cases does not apply to federal EMTALA violations. If a jury found in Abney's favor, it could award any damages it chose.
"Valley Hospital was the safety net in this case," Hafter said. "But they were rude to my client, didn't want to help her. They're just as responsible as UMC was."
Kenneth M. Webster, an attorney for Valley, said the facility maintains its staff "acted appropriately at all times and Ms. Abney chose to leave the facility on her own accord without giving Valley the opportunity to render any evaluation or care."
Webster added that because hospital officials have not had the opportunity to see or review the report from the coroner's office, they cannot comment on its findings.
Dr. John Nowins, who practices internal medicine and obstetrics and gynecology in Las Vegas, said the infections that led to Abney's premature delivery — acute chorioamnionitis and acute funisitis — are well-known to clinicians.
Chorioamnionitis is a condition in which the membranes that surround the fetus and amniotic fluid in which the fetus floats are infected by bacteria. Funisitis refers to an inflamed or infected umbilical cord.
The infections usually start in the mother's urogenital tract, moving up to the uterus where the fetus is.
When women first come in for prenatal care, Nowins said, doctors try to ensure that they rid the woman of any infections.
"We want a birth canal that is clean and clear," he said.
But Abney, who has said she did not know she was pregnant, did not have prenatal care.
After state and federal investigations, UMC put into place a series of corrective actions, including removing certified nursing assistants from all assessment work and putting in place early triage by a registered nurse.
Nowins said the delivery of a baby at 25 weeks of pregnancy means specialists are needed immediately.
"This is a tough, tough case," he said. "When you have a lady with no prenatal care who doesn't know she's pregnant for months and who isn't immediately treated as pregnant, you're looking at something very high risk."
Contact reporter Paul Harasim at pharasim@review
journal.com or 702-387-2908.