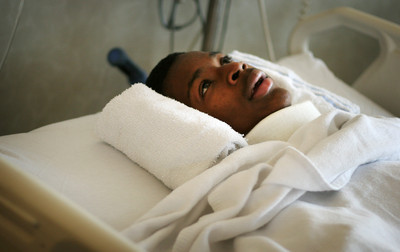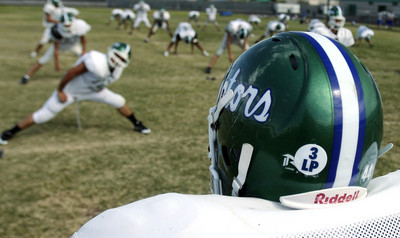 The scariest day in LaQuan Phillips' life began as one of the proudest in his football career.
Hours before he and his Green Valley High School football teammates took the field against visiting Centennial on Sept. 5, Phillips was informed by coaches that he had been chosen as one of four Gators captains for the game.
It was the first time the 17-year-old senior, a starting weakside linebacker since his junior season, had served as a team captain.
"It was the greatest feeling to know that I had proved something to the coaches that week," Phillips said. "For them to call my number out and say, 'You're going to be captain this week.'"
That same night, joy turned to tragedy.
Seven minutes, 25 seconds before halftime in Green Valley's 24-20 loss, Phillips was involved in a collision. He lay face down after the play, not moving while athletic trainers scrambled to his side.
Paramedics arrived in less than 10 minutes, and Phillips was transported to Sunrise Hospital, where he successfully underwent surgery on Sept. 7 to alleviate swelling on his vertebrae.
Though Phillips still has a bruised spine that has caused temporary paralysis, he was upbeat Monday about his recovery.
After an 11-day stay, Phillips left Sunrise Hospital on Tuesday for Sacramento, where he will begin the rehabilitation process and try to walk again at Shriners Hospital Northern California.
"It's usually a full recovery," he said of the injury. "It's all determination. You could either have no optimism about it and it won't go anywhere, or you could be like me and always look at the positive side and be ready to move."
FAMILY OF FAITH
Phillips has been raised by his aunt, Delphine Lakes, since his mother LaJuana died of breast cancer at age 37 in 2000.
Since the injury, Lakes has received support seemingly everywhere she turns.
Phillips' friends and teammates have visited Sunrise Hospital daily, and letters have been pouring in from faculty throughout the Clark County School District.
Lakes has never doubted Phillips' recovery, using her Christian faith as a foundation of hope for the family.
"LaQuan's spirit, I had nothing to do with," she said of his mind-set. "I nurtured it to bring it to the fullest. It has to be between LaQuan and how strong his faith is. He believes it; I believe it. It's a done deal."
The athletic lineage in Phillips' family is strong. His father, Vince, is a former IBF light welterweight champion.
"Cool" Vince Phillips compiled a 48-12-1 record in an 18-year career highlighted by an upset of Kostya Tszyu in May 1997.
Vince Phillips, who now trains fighters in Topeka, Kan., awakened to the news of LaQuan's injury in a phone message the morning after.
"I was devastated," he said Monday at the hospital. "I shed some tears and didn't understand it."
Vince Phillips plans to move back to Las Vegas soon to be closer to LaQuan's extended family after years of traveling domestically and abroad for his boxing career. He watched proudly as his son oozed optimism from his hospital bed about recovering.
"His spirit is one in a million," Vince Phillips said. "He's ready to stand forth and deal with whatever comes his way. He's stronger than we are, but that gives us strength, too."
'A SPECIAL PLAYER'
The 5-foot-9-inch, 160-pound Phillips was one of the Gators' most versatile defenders, said Green Valley coach Matt Gerber.
"The position we had him playing in, he was asked to do a lot," Gerber said. "He had to go into pass coverage, he could play inside and hit, cover backs and receivers when teams would come four and five wide on us. He was a special player to have in that aspect."
Phillips flashed a charismatic grin when asked what his favorite part of playing football was.
"Everything," he said without hesitation. "I know we always talk about, 'We hate conditioning,' but I like conditioning, too, you know? There's no one thing that keeps you more in shape for the sport. So I loved every aspect of it."
Phillips' teammates will wear "LP3" decals — his initials and jersey number — on their helmets the rest of the season. Fundraisers for Phillips' treatment will carry on at Green Valley home games.
One of Phillips' closest friends, Green Valley senior defensive end Derrick Garrett, said Phillips is in the Gators' thoughts.
"He's always here," Garrett said, pointing to his decal.
The Gators are 1-2 heading into Friday's Southeast League opener at home against Foothill.
George Baker, Centennial's coach, has been giving his players updates on Phillips since the injury occurred.
"Once we realized the severity, it had a sobering effect on everybody," Baker said.
GETTING BACK UP
The timetable for Phillips' recovery is volatile.
"It could take weeks to months to start to see signs of improvement," said Michael Seiff, the Sunrise Hospital neurosurgeon who operated on Phillips.
Though it is not yet certain, Seiff said it appeared Phillips' bruised spine is not as severe as a "spinal cord crush" injury. That would give Phillips a better chance of fully recovering, Seiff said.
"The few patients I've seen who have recovered some if not all function have a bad bruise on the spinal cord as opposed to a crush injury," Seiff said.
With that in mind, Phillips refuses to acknowledge any possibility other than full recovery.
"They said it could be six weeks or six months," he said. "But it's on me, so I'm aiming for the quickest recovery."
As is Garrett, who visited his teammate frequently at Sunrise Hospital.
"It was really tough when I saw him and he had back spasms and he was in pain," Garrett said. "I didn't like seeing that, but it's also a good thing because he's getting feeling."
Because the Shriners facility where he will receive further treatment is tied to the University of California at Davis, Phillips can take some of the few remaining classes he needs to finish high school there, Lakes said.
Phillips already has passed all the proficiency exams necessary to graduate, Lakes said.
"Once we get settled, I will let Sacramento know to get in touch with his counselor here and they will make study arrangements," she said. "He should be back in June to walk with his class."
That would mean everything to Phillips, who hopes to participate in collegiate athletics at some point. He mentioned Georgia Tech as a possible destination.
Not even temporary paralysis has prevented Phillips from mapping out his future.
"It's really tough, but when you know it's temporary, and you know you're going to make a full recovery, you can always look to the bright side," he said. "I know it's temporary, so I'm just looking forward to getting back up."
Contact reporter Tristan Aird at taird@reviewjournal.com or 702-387-5203.
NevadaPreps.comIn-depth high school sports coverage