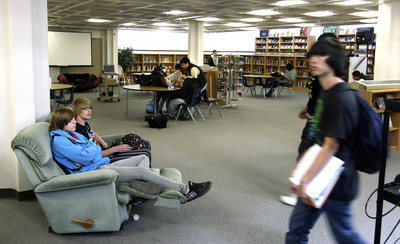 Iron Man looking ready for blastoff.
The Incredible Hulk growling in rage.
And about 30 students deeply buried in other worlds and other lives.
Giant-size depictions of superheroes in the library of the Southeast Career Technical Academy hint at what this unique library offers.
Its collection of comic books, graphic novels, which are illustrated like comic books, and Japanese manga has captured the students' imagination.
The vocational high school at 5710 Mountain Vista Drive near Russell Road has an enrollment of 1,800, but students already have checked out 15,000 books this school year. They're on pace to surpass last year's total of 18,000.
Southeast Academy is considered one of the district's high-achieving schools with 96 percent of the senior class already having passed an exit exam required for graduation. Members of last year's graduating class were awarded nearly $4 million in college scholarships.
In an indication of their enthusiasm for reading, students are known to line up outside the library at 6:30 a.m. on Thursdays and Fridays to get books for the weekend, especially stories with cliffhanger endings and continuing story lines.
Christopher Gonzales, 17, a junior, said students have to know what's going to happen next. "People really get into (story) series," Gonzales said.
Jamie Smith, the school librarian, said he has one student who "is obsessed with Star Wars (books). God bless him."
The school library is a cross between a comic book store and a basement den with its mishmash of sofas, recliners and chaises donated by teachers or purchased at yard sales. Students are encouraged to put their feet up and read.
Jacksen Smith, 15, and Brandon Sloan, 16, said they're in the library every lunch break.
The librarian is a former Blockbuster video store manager with an eye for presentation. Jamie Smith said he modeled his library in the style of a Barnes & Noble or Borders bookstore to make it a fun, interactive place.
He said the image of a school library as a "mausoleum" of people reading books "by dead white guys" is long past.
The comic book versions of many of those classic books, such as "The Jungle" by Upton Sinclair, can also be found on the library shelves.
Not all the graphic novels and mangas are about space aliens or heroes in tights. The collection includes some graphic novels about midlife crisis, such as "Our Cancer Year" by underground comic writer Harvey Pekar, and the Pulitzer-prize winning "Maus," Art Spiegelman's story of the Holocaust as told by mice.
Some graphic novels can be counted as credit toward meeting an independent reading requirement for English class. Books are weighted by points. A student might be expected to read 45 points worth of books every quarter. The graphic novel "American Born Chinese" by Gene Yang, for instance, counts as three points toward meeting the goal.
Smith said he supplements his library by scavenging at yard sales and used-book stores. He believes his library has the district's largest collection of graphic novels, or hard-cover comics, but he was unable to confirm it.
While Smith has sometimes removed books for "dicey" content, he has never encountered any resistance against stocking the library with comics.
"Reading is considered reading," Smith said.
Contact reporter James Haug at jhaug@ reviewjournal.com or 702-374-7917.